This article is intended to give you the information you need to make informed choices when considering a home in an age-restricted or active lifestyle community and prepare you to ask your agent the right questions before making a very important and exciting decision.
With a little research and forethought, it may be possible to lower your property tax bill substantially or, in some cases, avoid paying property tax altogether.
Property Taxes 101
Property taxes are different than most other taxes in that the IRS isn't involved at all. Instead, local governments (municipal, county, and state) levy these taxes in order to pay for public services and upkeep. As such, the amount which you pay on your property can vary wildly throughout the country, sometimes even from one city to another in the same county.
Additionally, the time of year when you're assessed is another variable to consider. Some states spread payments over the course of a year. New Jersey, for instance, requires quarterly payments while Illinois splits the payments into two sums.
Other states, like Florida, have a single annual due date of November 1st with a grace period lasting until March 31 of the following year. Whatever the case, it is best to pay your tax bill as soon as you can to avoid the possibility of a late payment which can result in a lien.
Avoid Paying Full Price
You may be thinking, "This seems like too much, especially given how much my current home has appreciated in value". In many parts of the country, relief is available to lessen the tax burden on seniors which will, in turn, help you enjoy retirement more comfortably in a place of your choosing.
Some senior property tax exemptions are small, such as the rather paltry $8,000 in Cook County, Illinois. On the other end of the scale, Houston offers a $160,000 tax exemption on top of an additional 20 percent to seniors which, depending on the assessed value of a Houston home, may eliminate the need to pay property tax altogether.
Additionally, in some states, veterans are eligible for property tax exemptions. For example in Maine, veterans 62 years or older are entitled to a $6,000 property tax exemption. As mentioned earlier, these exemptions vary quite a bit from location to location so it is best to ask detailed questions of your agent to ensure you are benefitting from all of the exemptions and tax breaks you are entitled to.
Trust the Experts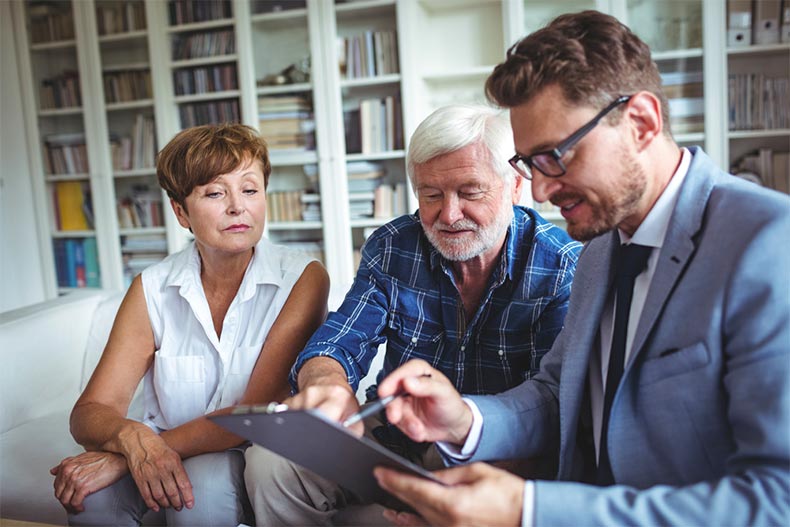 Navigating tax forms and assessments can be difficult, especially if you are looking in an area of the country you are not familiar with. As such, it is critical to have an agent you trust with an in-depth knowledge of the area that you are interested in.
These are a few questions you can ask your agent so you'll be able to figure the actual cost of ownership when considering a new home or second home. This is important information and is best to know early in the process before the excitement of a beautiful home in an attractive community might sway you to make a decision that's maybe a stretch in terms of your budget.
What is the property tax rate in this community?

When are property taxes due?

How is the value of my home assessed and by whom?

How often is the value of this home assessed? Annually? Every five years?

What are market trends like in this community? How have homes appreciated over time?

Are there exemptions available to me based on my unique circumstances? If so what are these exemptions and how can I take advantage of them?
But Wait, There's More
There are other variables in place to keep in mind when shopping for a home. In many parts of the country, your property tax rate can vary not only based on the value of your home, but on your income as well.
Exemptions are available to seniors in certain states. Age can also be variable here, with some exemptions starting for residents 65 years or older. Other states, like Washington, define a senior as a person over 61 years old. Complicating matters further, some states have residency requirements, making it difficult for part-time or seasonal residents to enjoy the same tax exemptions as a full-time resident.
You should also consider other factors when calculating the total cost of ownership of a new home. In some states, property taxes are quite low while income taxes, even on retirement income, are comparatively high. Hawaii is an excellent example of this.
Other states like Louisiana have a relatively high property tax which is generally offset by more modest home VALUES
( compared to similarly sized homes in other states. As such, it is best to consider your total tax burden and not focus solely on taxes assessed on the home you're considering.
Trust Is Everything
Trust is a key component of the agent/homebuyer relationship and a good agent, such as a 55places local expert, should be able to answer these questions or help you find the information you need to make a sound decision.
You can also find the information yourself by visiting the office or website of the local tax assessors office to get all of the details on what your specific tax situation will be. The assessor's website is particularly useful in that tax rates can change year to year and it is best to check in occasionally for announcements in case you've missed a mailing.
Whether consulting your agent or tax assessor, don't be bashful about asking too many questions. This is important information and these professionals are here to help you.
By asking the right questions and understanding the specific tax rules in the area you're considering, you'll be able to effectively plan for your new home and possibly even reduce your tax burden. You can use that money you've wisely saved with your diligence to better enjoy retirement and get to the most out of your new home in an active adult community.
After all, you've earned it