Every year, as the temperature drops in places like New Jersey, Michigan, Illinois, and even Canada, thousands of retirees and active adults head south seeking warmer weather and sunnier days. This phenomenon coined the phrase snowbirds. Although sometimes referred to as "winter travelers," we'll use the term snowbird for the sake of clarity.
For decades now, snowbirds have been heading south to Florida, Arizona, and other sunny states like New Mexico, Texas, and the Gulf region. Beyond where people go, the time spent snowbirding varies from person to person. Some snowbirds head down as soon as the chillier weather comes in October and November, while others wait it out through the holiday season before making way to their winter home in January.
Whichever way you want to snowbird, you probably want to do it affordably. To help you out, 55places decided to look at the most popular snowbirding states, including Florida, Arizona, Texas, New Mexico, Georgia, South and North Carolina, and the Gulf of Mexico states like Mississippi, Alabama, and Louisiana. Within those states, we looked at metro areas that provided the most to snowbirds, including a low cost of living, access to health care, low home prices, proximity to 55+ communities, and more.
All of that gave us the definitive list of the best places to snowbird this year. Unsurprisingly, the list is dominated by Florida, with the state claiming 15 cities in the top 25 of our list. Besides warm, sunny weather and an abundance of 55+ communities, Florida residents don't have to pay income tax and largely live in areas with a lower cost of living then other snowbird states.
Besides Florida, which other states made the list? Let's take a look at the top 25 most affordable places to snowbird this winter.
1. Ocala, Florida
Population: 58,598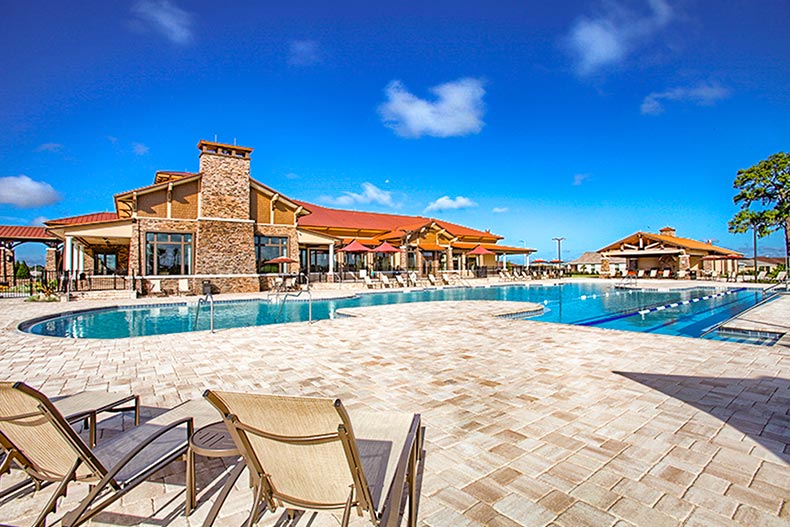 Naturally, we're starting out in Florida. Ocala has seen plenty of growth over the last decade, especially among retirees. In 2000, the population was around 45,000, and 20 years later it's estimated to be just under 60,000. One of the reasons for this growth is the area's affordability. Ocala offers a lower cost of living than coastal cities, but residents are still within driving distances of beaches and bigger cities like Orlando, Tampa, and Daytona Beach.
Nicknamed the Horse Capital of the World, Ocala is surrounded by thoroughbred farms and plenty of natural beauty. The Ocklawaha River flows through the area, while Silver Springs State Park is nearby. Perhaps most notable is Ocala National Forest, which is visited by millions annually and home to a variety of flora and fauna.
Ocala ranked No. 1 on our list because of low property taxes, a large population of those 55+, pleasant weather, a good income-to-home price ratio, and a good quality of life.
55+ Communities in Ocala
Another reason Ocala came in at No. 1 is its selection of 55+ communities that make it easy to snowbird. On Top of the World is a frequent award winner here at 55places. Its sprawling grounds are home to a variety of unique amenities, including an RC plane park, several fitness centers and pools, and a model train room. There are several other highly rated 55+ communities in Ocala too, including Oak Run, Stone Creek, Trilogy at Ocala Preserve, and SummerGlen.
2. Brownsville, Texas
Population: 182,679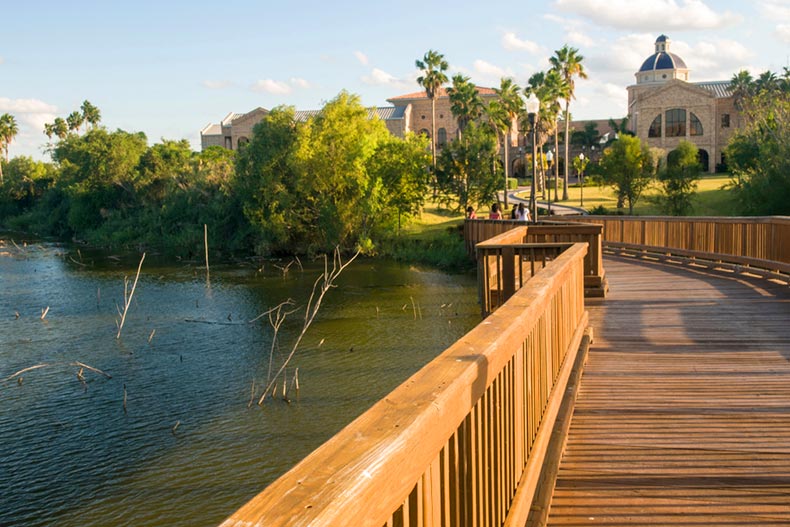 Besides Florida, the most represented state to make the top 25 is Texas. In particular, South Texas stood out among the rest. The region's popularity speaks to the desire of snowbirds to live around the Gulf of Mexico, with cities on the Louisiana and Mississippi coast also making the list.
Brownsville's location off the coast lends itself to a great selection of outdoor activities. Resaca de la Palma State Park is the largest park in the World Birding Center network, and there are two other wildlife refuges in the area: the Laguna Atascosa National Wildlife Refuge and the Lower Rio Grande Valley National Refuge. The city is also known for its history due to being the location of several battles in the American Civil War and being involved in the Mexican-American War and Texas Revolution.
The Brownsville metro area itself is home to several cities that received high marks, including San Benito and Harlingen. A big reason the area made the list is a very low property tax and a friendly tax environment in general. The region also boasts a low cost of living and a warm, coastal climate.
55+ Communities in Brownsville
There's one community on 55places.com in the Brownsville metro area: Sunshine Country Club Estates in Harlingen. The manufactured home community has a 9-hole golf course, RV storage, and a long list of clubs and activities. The area is also home to several short-term snowbird communities.
3. McAllen, Texas
Population: 141,597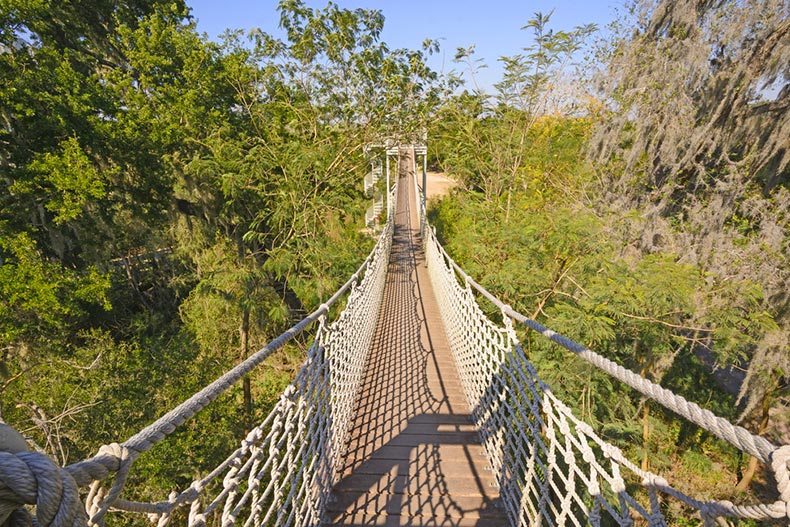 Near Brownsville is the metropolitan area of McAllen, which had five towns rank highly on our list. While not as close to the Gulf as Brownsville, McAllen residents enjoy warm weather and the city's economy is steadily growing due to international trade.
The city has plenty of culture, including the International Museum of Arts and Sciences, a Smithsonian affiliate museum, and the McAllen Performing Arts Center. Quinta Mazatlan is a Spanish-revival estate with scenic grounds that include a walking and birding trail. Speaking of birding, McAllen has a prime location on the migratory path for birds heading to North and South America, which makes it a great place for birdwatchers.
The nearby towns of Alamo, Weslaco, Edinburg, Pharr, and San Juan all ranked highly on our most affordable list. The low home prices mesh well with extremely low property taxes and a warm climate.
55+ Communities in McAllen
There are two 55+ communities on 55places.com in the McAllen metro area. Alamo Country Club in Alamo is the largest in the region with over 500 homes. The community has a 9-hole golf course, golf practice facilities, a busy clubhouse, and an ideal location near the highway. Siesta Retirement Village in nearby Weslaco is a manufactured home community with a saltwater pool and outdoor spa.
4. Sarasota, Florida
Population: 56,102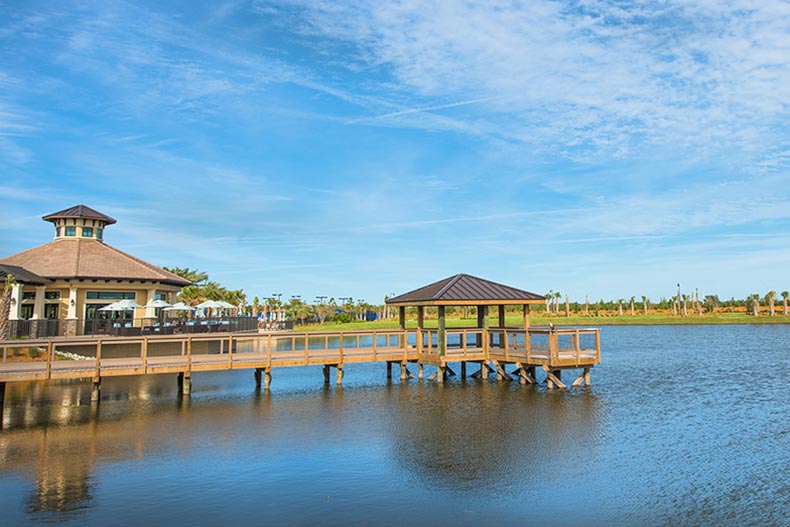 Back in Florida, we have the Sarasota-Bradenton metro area. It's not a huge surprise to see such a desirable area make the list due to its coastal locale, lower cost of living, and plenty of amenities and attractions. Another good aspect of the Sarasota metro area is its variety. While Sarasota is a classic coastal Florida community, lower prices can be found further inland in Bradenton, which still offers plenty to do.
Naturally, the region's beaches are a big draw. Many of the best ones can be found on Sarasota's key islands. These include Siesta Key, Armands Key, Lido Key, and Longboat Key, which all make for a great day out in the sun. Besides the outdoors, the area is home to a good selection of cultural touchstones, including The John and Mable Ringling Museum of Art, which celebrates art, the circus, and indoor and outdoor architecture.
The region got high marks partly because of four cities in the metro area ranking high in affordability. South Bradenton, Englewood, Sarasota, and Bayshore Gardens all scored well due to cost of living, transportation, climate, and 55+ communities.
55+ Communities in Sarasota
The Sarasota area has 68 communities that offer the floor plans, amenities, and lifestyle that those 55+ crave. The region is home to Lakewood Ranch, a large master-planned community with two age-restricted communities: Del Webb Lakewood Ranch and Cresswind Lakewood Ranch. Nearby is one of Del Webb's newest communities, Del Webb BayView, as well as Mirabella and VillageWalk of Sarasota.
5. Fort Lauderdale, Florida
Population: 182,595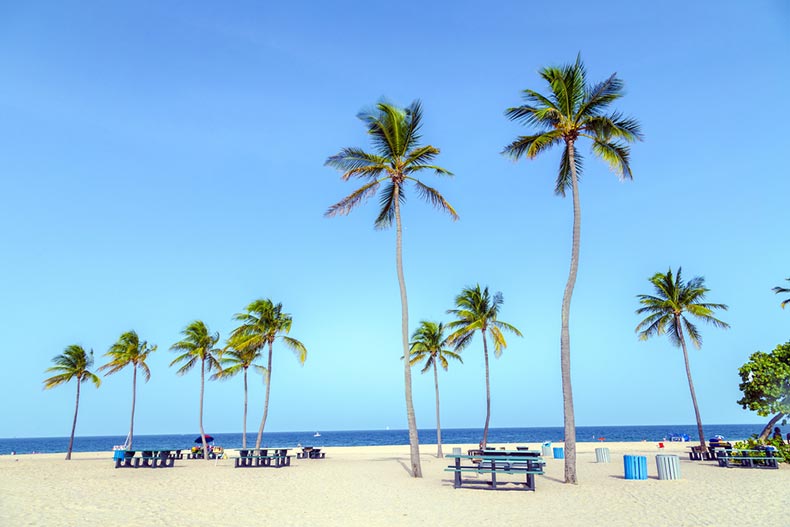 Next, we head east to Fort Lauderdale, one of the largest cities in Southeastern Florida and the Miami metro area. Most of Southeastern Florida is known as a traditional spot for retirement and snowbirds, so naturally, it appears several times in our top 25. The coastal city of Fort Lauderdale ranks the highest among some of the most desired places to snowbird.
Known as a popular tourist destination, the city has a large selection of restaurants, bars, shopping opportunities, and one of the largest cruise ports in the world. The Hugh Taylor Birch State Park runs along the beach and is home to walking trails, camping areas, and water recreation. For nights out, the Riverwalk Arts and Entertainment District offers a variety of ways to stay entertained, including the Broward Center for the Performing Arts and the Florida Grand Opera.
One of the biggest reasons Fort Lauderdale makes the top five is its weather. The city gets an average of 246 days of sun a year and has a yearly average temperature of 75 degrees. Nearby Lauderdale Lakes is a great option for snowbirds looking for low prices, including a great income-to-home ratio and a high population of those 55+.
55+ Communities in Fort Lauderdale
The Fort Lauderdale area has a handful of communities on 55places. Coral Ridge Towers is a great option for snowbirds looking for an oceanside property for a few months down south. The condo community has over 1,200 units that make it easy to spend less time on home upkeep and more time enjoying what the city has to offer. Other nearby communities include Fountainhead and Hi-Greens of Inverrary.
6. Tampa, Florida
Population: 392,890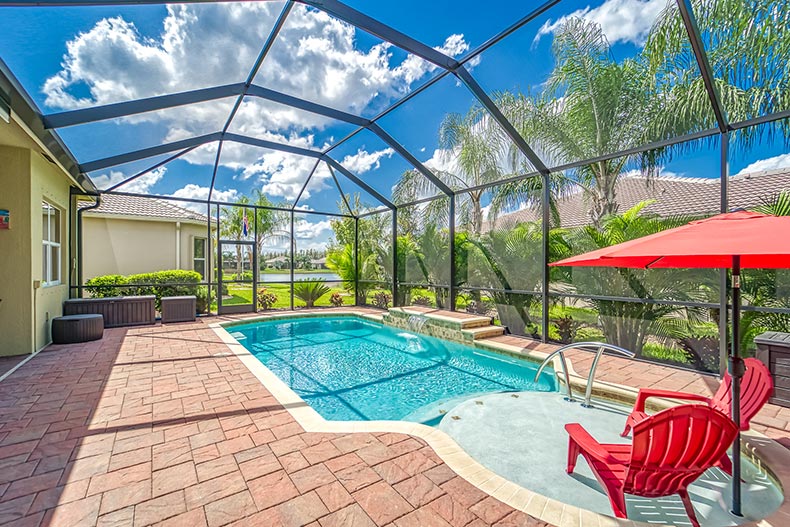 It wouldn't be a list of affordable places to live without the Tampa area. The city has been the preferred Gulf Coast destination for snowbirds and retirees for years now, whether they looking places line Dunedin, Clearwater, St. Petersburg, or anywhere else.
What makes it so great for snowbirds? The area has some of the best beaches in the country, particularly Clearwater Beach, known for its picturesque sunsets. Besides relaxing on the beach or enjoying a meal at one of the many seaside restaurants, there's plenty of culture to take in around Tampa too. That includes several theater companies, musical or otherwise, a handful of entertainment districts like Ybor City and SoHo, and professional sports teams in three major leagues. The city is also a cruise port and has several theme parks, museums, and aquariums, which are great for visiting family during the winter.
Several Tampa suburbs made the list, including New Port Richey, Holiday, and Lealman. The area's biggest factors in what makes a great place to snowbird include a great cost of living, a friendly tax environment, a warm climate, and a high quality of life.
55+ Communities in Tampa
The region is home to the two largest 55+ communities in Florida, Sun City Center and Kings Point, which both act more as their own towns than 55+ communities. The Tampa area is also home to several highly rated communities like Valencia Lakes, Del Webb Bexley, and Mirada.
7. Pembroke Pines, Florida
Population: 168,260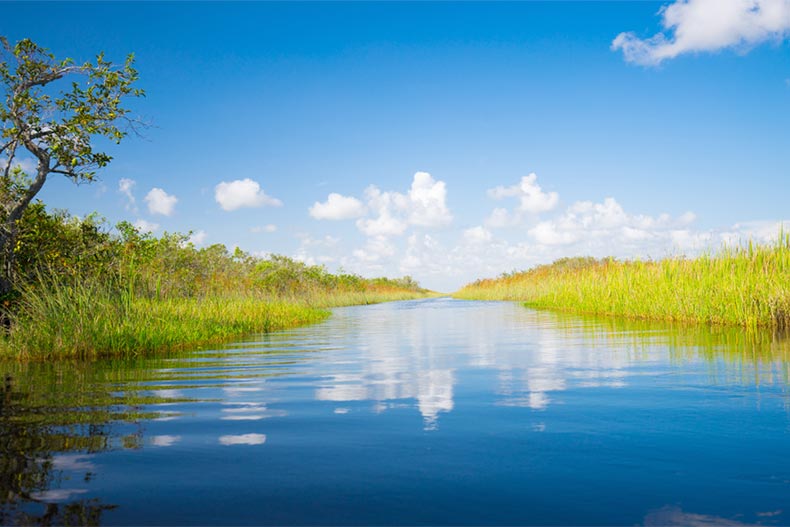 Back in Broward County, we have Pembroke Pines, one of Miami's most popular suburbs. Located a little further inland than other popular snowbird cities, the city backs up to the Everglades and is home to several dozen bodies of water.
The city's location means a tour of the Everglades National Park is always a worthwhile thing to do. Besides that, Pembroke Pines largely consists of residential areas, so snowbirds have plenty of options when choosing a place to live. Its ideal location means a day at the beach, in Miami, or anywhere else in Broward or Palm Beach County is easily accessible.
Nearby cities Opa-locka and Cooper City also ranked highly on our list. They placed there due to an ideal income-to-home location, high percentages of 55+ residents, a great climate, and low property taxes.
55+ Communities in Pembroke Pines
Pembroke Pines is home to three 55+ communities, each with over 1,000 homes and prices that start below $100k. Century Village at Pembroke Pines is one of the largest communities in the state and boasts low home prices with a huge selection of amenities. There's also the condo communities of Hollybrook Golf and Tennis Club and Park Place Pembroke Pines, which both offer similar prices and amenities, making all three a great option for snowbirds.
8. Port Charlotte, Florida
Population: 61,204
Heading back to the Gulf Coast, we find our No. 8 most affordable place to snowbird, Port Charlotte. Unlike much of the Gulf Coast, the Port Charlotte area is much less built up but is growing quickly. Snowbirds here enjoy miles of coast and easy access to Naples, Fort Myers, and Tampa.
The area is home to many outdoor recreation options, including beaches and parks like Port Charlotte Beach Park, Ponce de Leon Park, and Bayshore Live Oak Park. One of the more popular attractions is Fisherman's Village, home to a marina, shopping, dining, and entertainment options. The area also has a large selection of golf courses.
Port Charlotte has a favorable cost of living score, low property taxes, and bonuses for its warm climate. The city also has a good selection of 55+ communities—one the biggest reasons why it made the top 10.
9. Macon, Georgia
Population: 153,490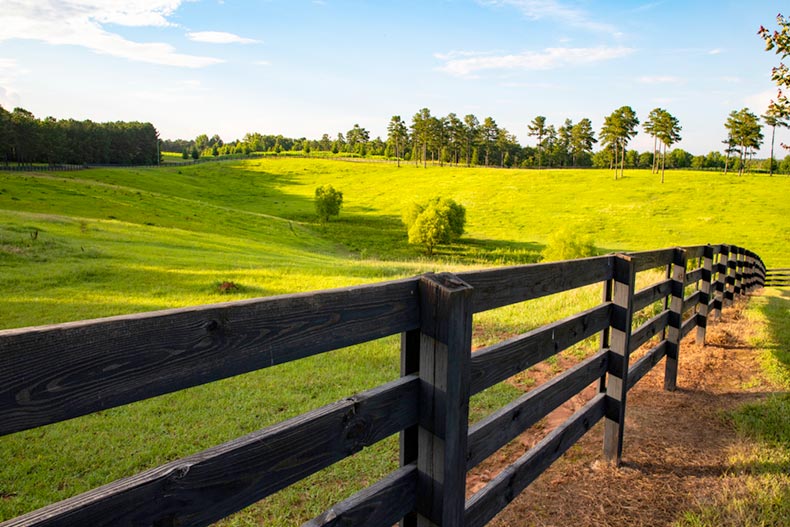 Located in the center of Georgia, Macon makes top 10 and represents our first city outside of Florida or Texas. Macon became the fourth largest city in the state after merging with Bibb County in 2012.
The city is home to a quaint downtown and scenic greenspaces further away from the city center. The Ocmulgee National Monument is a particular favorite among residents. It includes sweeping views, rolling hills, and traces of past Native American societies. Cultural landmarks in the city include the Johnston-Felton-Hay House, the Museum of Arts and Sciences, and the Tubman Museum.
Macon has a really strong income-to-home ratio, a warm climate, and very low property taxes.
10. Boynton Beach, Florida
Population: 75,720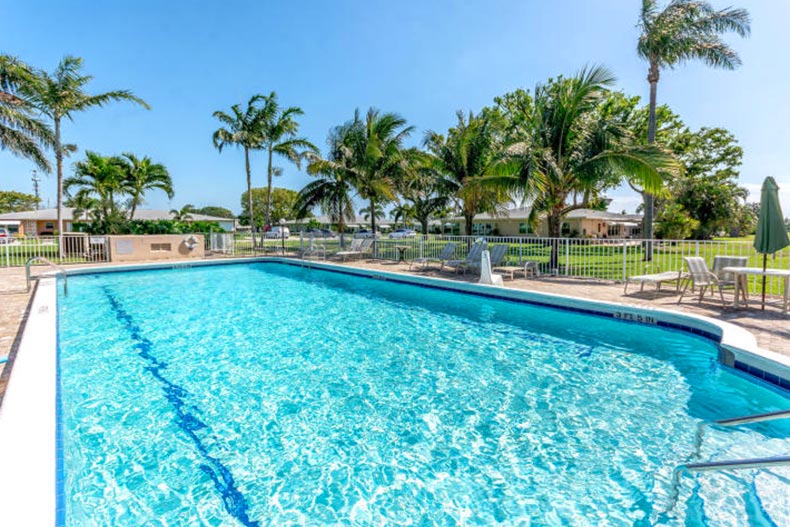 Next up is one of the most popular cities in Florida for retirees: Boynton Beach, known as "The Land of Five Minutes" because of the density of restaurants, stores, and entertainment options in the city. Boynton Beach is also a coastal city, so it has miles of shorelines leading into the Atlantic Ocean. Besides the beach, Boynton Beach is home to delis, breweries, outdoor recreation, and entertainment venues.
One of the biggest reasons Boynton Beach made the list is its selection of 55+ communities. The city has an incredible 69 communities that are ideal for snowbirds. Boynton Beach also ranked highly on cost of living, climate, and tax friendliness.
55+ Communities in Boynton Beach
As mentioned, Boynton Beach has a large amount and variety of 55+ communities. Some of the original communities in the city have low-priced homes, including many in the $100s. These include Aberdeen Golf & Country Club, High Point of Boynton Beach, and Indian Spring. However, the city is also home to newer developments that come with high prices, including Valencia Boy and Valencia Sound.
11. Fort Myers, Florida
Population: 76,591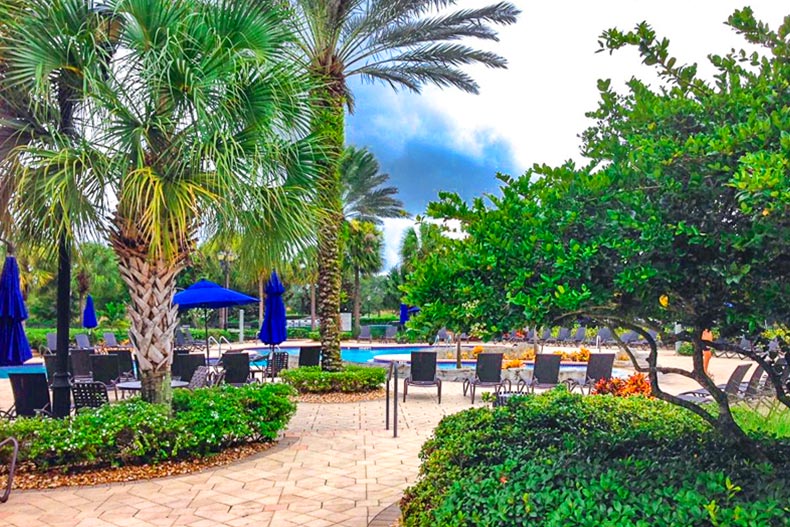 Just next door to Port Charlotte is Fort Myers, the slightly more built-up neighbor and our No. 11 selection. Fort Myers has long been known as a snowbird's paradise, including once being the winter home to Thomas Edison and Henry Ford. Both of their winter estates remain major attractions to visitors and residents of Fort Myers.
Besides the Edison and Ford estates, the city has plenty of other historic homes people can visit, including the Burroughs Home and Gardens. Downtown Fort Myers is the main entertainment district and also houses many other historic buildings and architecture. The city also enjoys plenty of water access, making boating a popular activity.
Fort Myers and North Fort Myers both scored high in several categories. They offer a huge selection of popular 55+ communities, a great income-to-home ratio, and one of the best cost of living scores on the list. Fort Myers residents also enjoy Florida's friendly tax environment.
55+ Communities in Fort Myers
The Fort Myers area has six 55+ communities and 28 active lifestyle communities. Pelican Preserve is a consistent award winner on 55places due to its selection of resort-style amenities, variety of home styles, and 38-acre nature preserve. Seven Lakes, Pine Ridge at Fort Myers, and Verandah are also popular communities in the area.
12. Atlanta, Georgia
Population: 498,044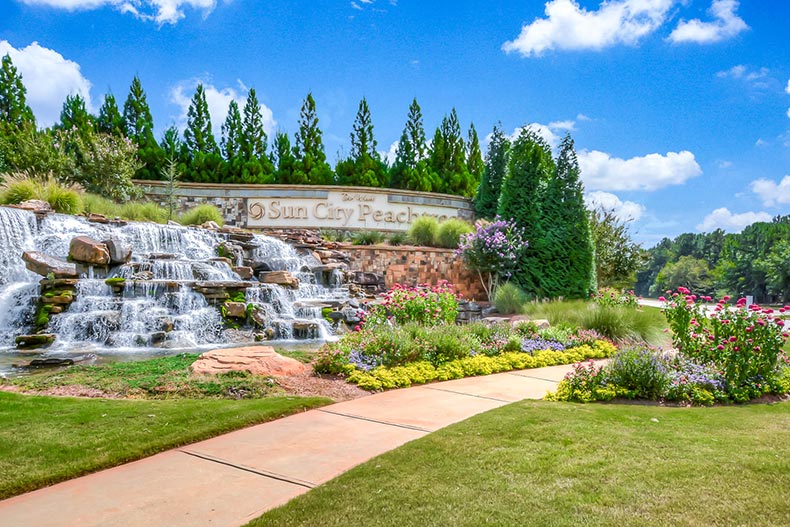 Next up, we're back in Georgia, this time in its capital, Atlanta. Georgia is increasingly becoming a destination for snowbirds and retirees, and Atlanta is the perfect place due to its increasing growth and suburban sprawl.
The Atlanta metro area blends urban and suburban lifestyles with acres of natural beauty. The city has a huge selection of cultural institutions to visit, including the Atlanta Symphony Orchestra, the Alliance Theater, the High Museum of Art, the Museum of Design Atlanta, and the Fox Theatre. The city is also home to major professional sports teams, including baseball, basketball, football, and soccer. Outside of the city, there's plenty of outdoor recreation, including Lake Lanier and Lake Allatoona.
The metro area scored high due to its quality of life, climate, and transportation.
55+ Communities in Atlanta
The majority of the city's 55+ communities are located in the area's exurbs, which gives residents some seclusion while still being near the fun. Recently, many builders have earmarked the region as a desirable place, meaning there are several newer options for snowbirds. They include Sun City Peachtree, Cresswind Georgia at Twin Lakes, Cresswind at Lake Lanier, Soleil Laurel Canyon, Del Webb Chateau Elan, and many more.
13. Sebring, Florida
Population: 10,636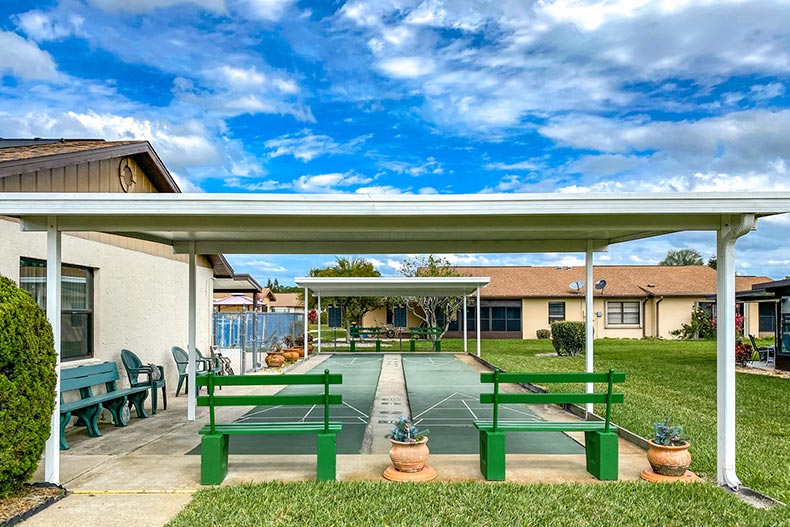 The smallest city to makes the list is Sebring, a small Central Florida community that's great for snowbirds looking to avoid big crowds and enjoy a low cost of living.
Sebring is a great place for those hoping to spend their winter outdoors. A good portion of the city is the 9,212-acre Lake Jackson, which is home to swimming beaches and boat ramps. Other lakes in the city include Dinner Lake and Little Lake Jackson, and even more are located throughout the area. Sebring has a rich history when it comes to auto racing, including hosting the annual 12 Hours of Sebring Race and several smaller races at the Sebring International Raceway.
Sebring scored high on income-to-home ratio as well as cost of living, and it has a large 55+ community.
55+ Communities in Sebring
There are a handful of 55+ communities in the Sebring area, most of which are smaller options known for their tight-knit atmosphere, including Cormorant Point and Thunderbird Hill. Highlands Ridge in nearby Avon Park is a larger option with 850 homes, three clubhouses, a restaurant, two heated pools, and two 18-hole golf courses.
14. Green Valley, Arizona
Population: 21,723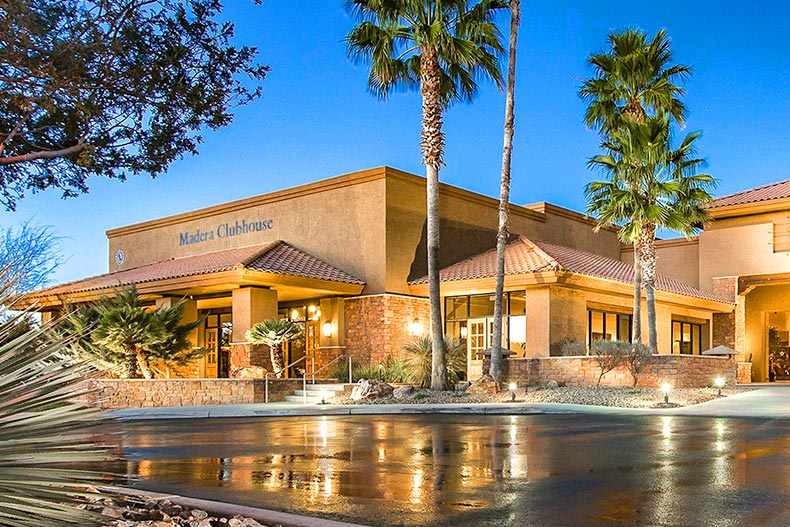 Green Valley is the only Arizona city to crack the top 25, but it's no surprise to discover it's the most affordable place to snowbird out west. The city is home to mostly retirement communities in some shape or form, and it's home to a large population of snowbirds who head north or east in the summer.
It's also home to Green Valley Recreation (GVR), a network of clubhouses, recreation centers, and amenities that are available in 13 Green Valley 55+ communities. Overall, they encompass 13 clubhouses, dozens of pools, a large pickleball complex, and much more.
Green Valley is located about 20 miles south of Tucson and is ideally located near the Santa Rita Mountains, which provide scenic views, cycling, hiking, and birding areas. The area also has the largest 55+ population out of any city on this list, one of the best cost of living scores, and has a large selection of 55+ communities.
55+ Communities in Green Valley
As mentioned, Green Valley has dozens of communities that are part of GVR, most with homes selling in the low $100s. One of the largest communities outside of the system is Quail Creek, a 4,000-home community with amenities that are tough to beat, including an art glass studio, 27 holes of championship golf, a bar and lounge, and a pickleball complex.
15. Pensacola, Florida
Population: 52,713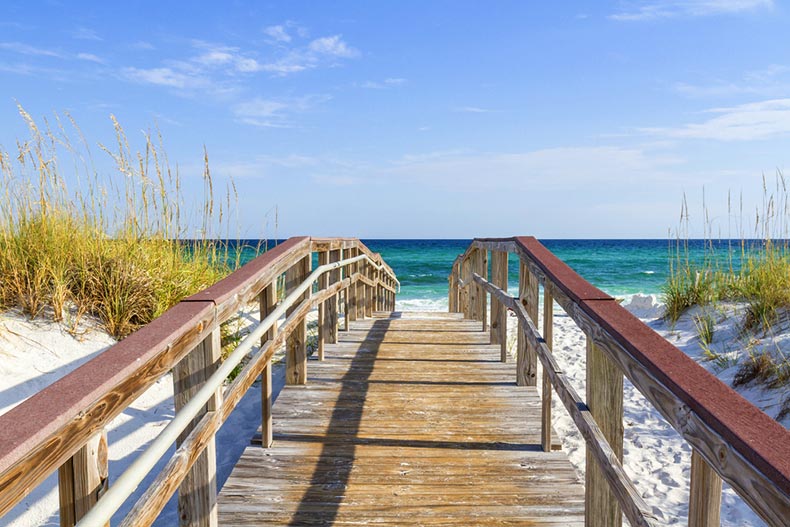 Pensacola marks the first appearance of the Florida Panhandle, which along with much of the northern Gulf Coast, is a hugely popular place for snowbirds. The area was home to one of the earliest Spanish settlements in North America, which lends itself to architecture, culture, and festivals throughout the city today.
Pensacola's location provides snowbirds with miles of pristine beaches and plenty of chances to get out on the water. The city is home to several festivals throughout the year, including the Great Gulfcoast Arts Festival held every November. Another popular activity is walking tours of the city's neighborhoods with homes from the 18th century.
The nearby city of West Pensacola also scored high like Pensacola, each getting high marks in cost of living, climate, and tax friendliness.
55+ Communities in Pensacola
There is one 55+ community on 55places.com located in the Pensacola area. Windsor Villas in Milton is a well-priced single-family home community located just off of Interstate 10.
16. Port St. Lucie, Florida
Population: 195,248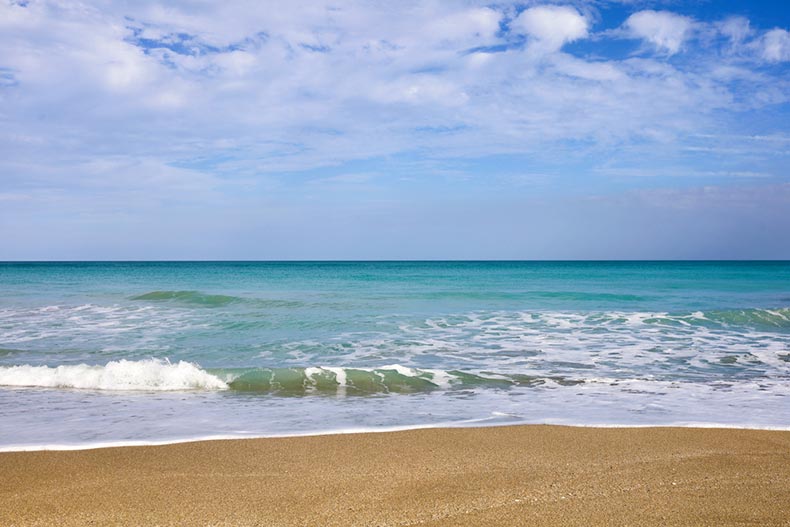 Port St. Lucie is the largest city on Florida's Treasure Coast. The city has experienced rapid growth over the last two decades, but it remains a less dense place to live than many of the cities south of it.
Much like most places to rank here, Port St. Lucie has miles of coastline and excellent weather year-round. New York Mets fans love to snowbird here so they can catch spring training games before heading back north for the season, while golf is also hugely popular in the city. Other attractions nearby include the Port St. Lucie Botanical Gardens, Oak Hammock Park, and the Elliott Museum.
The Port St. Lucie area had several nearby cities score high by our metrics, including Florida Ridge, West Vero, and Fort Pierce. They all scored high on having a large population of 55+ residents and an affordable cost of living.
55+ Communities in Port St. Lucie
Port St. Lucie has nine 55+ communities and seven active lifestyle communities. Vitalie at Tradition, Valencia Cay at Riverland, Del Webb Tradition, Cresswind at PGA Village Verano, and Cascades at St. Lucie West are just some of the popular options.
17. Daytona Beach, Florida
Population: 65,520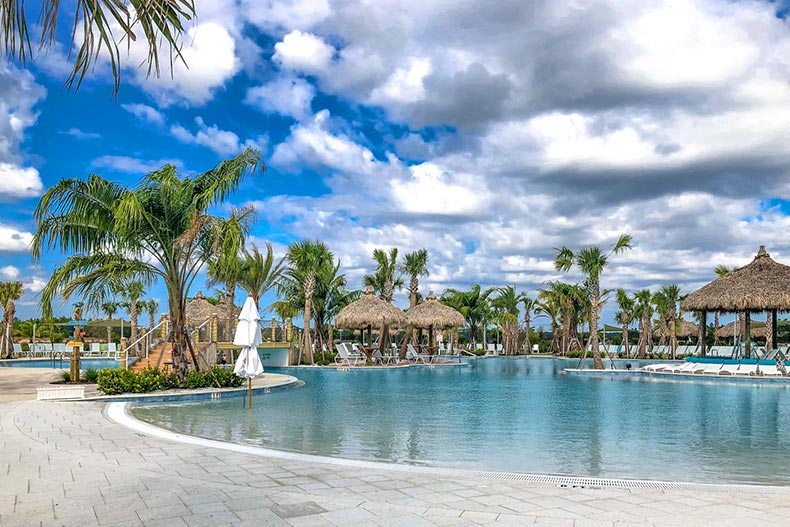 Once known as a spring break destination, Daytona Beach is reinventing itself as a place for snowbirds and retirees. It makes sense; the area has miles of beaches, plenty of restaurants to enjoy, outdoor recreation, and a bit of culture too.
Most famously, the city is known for two things: its beaches and auto racing. There are 23 miles of packed sand beaches available in the city, all of which cars can drive on during the day. It's also home to Daytona International Speedway, which hosts the Daytona 500 every February as well as several other races throughout the year. Besides that, Daytona Beach is a great place to catch a bite by the water, get some shopping done, or get in a round of golf.
Daytona Beach came in at No. 17 due to its income-to-home ratio, cost of living, low taxes, and 55+ community count.
55+ Communities in Daytona Beach
In terms of 55+ communities, Daytona Beach is most famous for being home to the first Latitude Margaritaville community. The Jimmy Buffett-inspired community has been a big hit among buyers and it continues to grow, including with a soon-to-open private beach club. Other communities in the area include Huntington at Hunter's Ridge, Plantation Bay Golf and Country Club, and Halifax Plantation, all in Ormond Beach.
18. Melbourne, Florida
Population: 80,664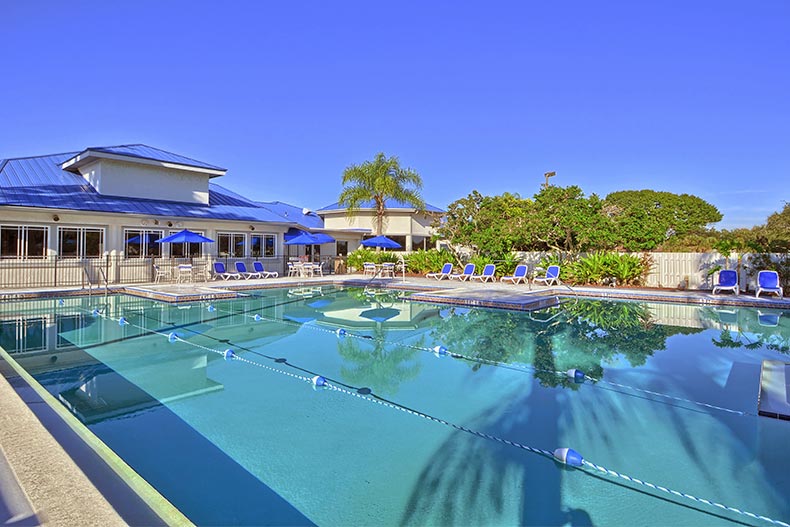 Melbourne is another good option for snowbirds who are looking for the benefits of a coastal town, but not the crowds that come with them. Located on Florida's Space Coast, Melbourne residents enjoy water access, ample outdoor space, and a low cost of living.
Besides beaches, the city is near Lake Washington, which is a great place to fish and boat. There several historic sites throughout the city, including homes and churches of architectural importance. These make for great walking tours, especially through the Eau Gallie Arts District. Melbourne also has a zoo, a good option for visiting grandchildren.
Titusville and Cocoa were two nearby towns getting high marks, as well. Each area has a high 55+ population, a good cost of living, a pleasant climate, and low property taxes.
55+ Communities in Melbourne
The Melbourne area has five 55+ communities; Bridgewater at Viera being the largest with 870 homes planned. The community plans to have a large town center with an outdoor bar, pickleball courts, and a theater. Other communities include Indian River Colony Club, Grand Isle, and Alamanda Key.
19. Orlando, Florida
Population: 275,690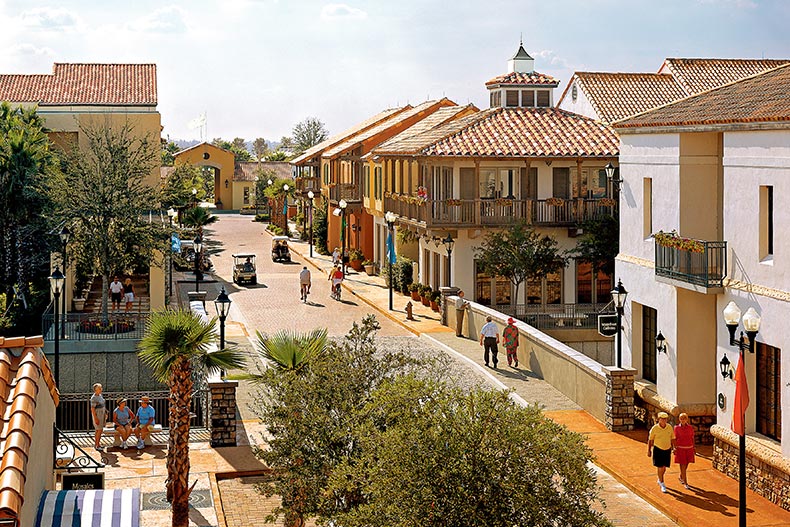 One of the world's entertainment capitals of the world is also one of the best for snowbirding. Orlando and its suburbs make for a great winter trip that keeps snowbirds busy, active, and always near fresh air.
While the area's world-renowned theme parks are always a great option, there's plenty of other ways Orlando provides snowbirds with enriching experiences. The city is also a hub for art in Florida, including the Orlando Museum of Art, the Dr. Phillips Center for Performing Arts, the Orlando International Fringe Theater Festival, and so much more. The city is also home to several shopping and entertainment districts as well as nearby nature preserves and state parks.
Nearby Leesburg also ranked highly, mostly due to its large 55+ community, low cost of living, and selection of 55+ communities.
55+ Communities Near Orlando
The Orlando area is full of popular 55+ communities, but perhaps none more so than Solivita in Kissimmee, a consistent award winner here at 55places. The community has plans for almost 6,00 homes and includes a collection of large amenity centers that include restaurants, waterways, resort-style pools, golf courses, and a sports complex. Other popular communities in the area include Twin Lakes, Del Webb Sunbridge, and Del Webb Orlando.
20. Corpus Christi, Texas
Population: 324,692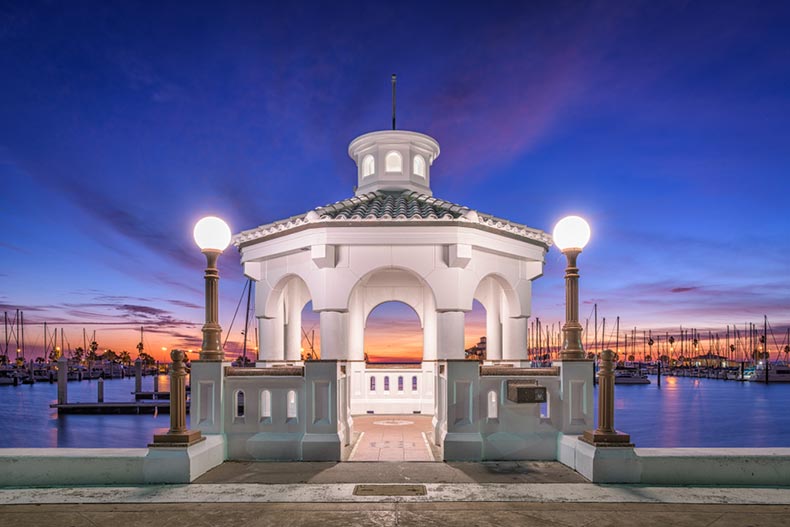 Back in Texas and on the Gulf Coast is Corpus Christi, another highly rated city in South Texas. It's one of the largest cities in the region and is home to a large bay which is also the fifth largest port in the country.
Being a port city means many attractions revolve around the water, including North Beach and the USS Lexington Museum. Laguna Madre is a well-known spot for residents looking to enjoy nature and the water, while fishing is also a popular pastime.
Popular and high-ranking suburbs include Alice and Kingsville, which along with Corpus Christi, ranked high on our list due to property taxes, climate, and income-to-home ratio.
55+ Communities in Corpus Christi
There are no Corpus Christi-area communities on 55places.com, but there are several condo communities in the area that offer rentals to snowbirds.
21. Beaumont, Texas
Population: 118,632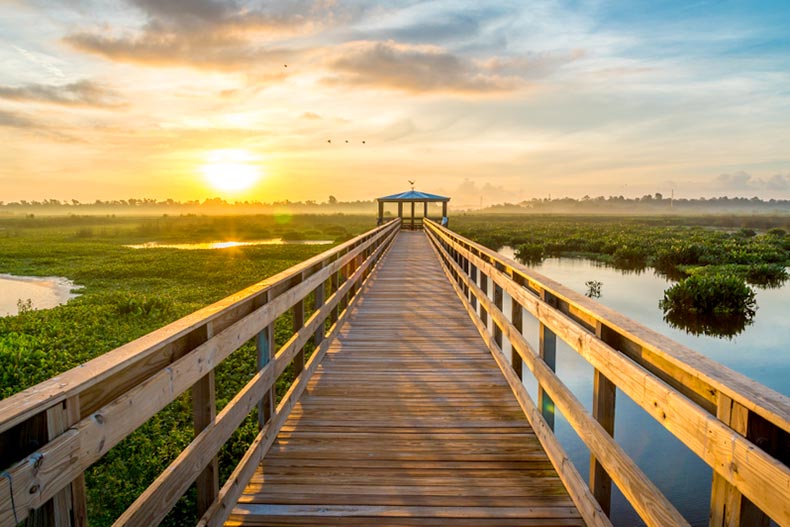 Heading east up the coast, we have Beaumont at No. 21. Much like other cities in the region, Beaumont residents have easy access to the water, a desirable feature for boaters and kayakers.
The city also has celebrated architecture and plenty of hubs for art and culture. Some of the most famous buildings in the city include the McFaddin-Ward House, the Chambers House, the Jefferson Theater, and much much more. There's also a large variety of museums in the city, including the Art Museum of Southeast Texas, the Beaumont Art League, and the Dishman Art Museum. There are also several theaters and performing art theaters in the area.
Beaumont made the list due to its low property taxes, location near the water, and warm climate.
55+ Communities in Beaumont
There are no communities located in Beaumont on 55places.com, but there are 24 active lifestyle communities in the nearby Houston area. Beaumont also has rental communities many snowbirds call home during the winter.
22. Shreveport, Louisiana
Population: 64,309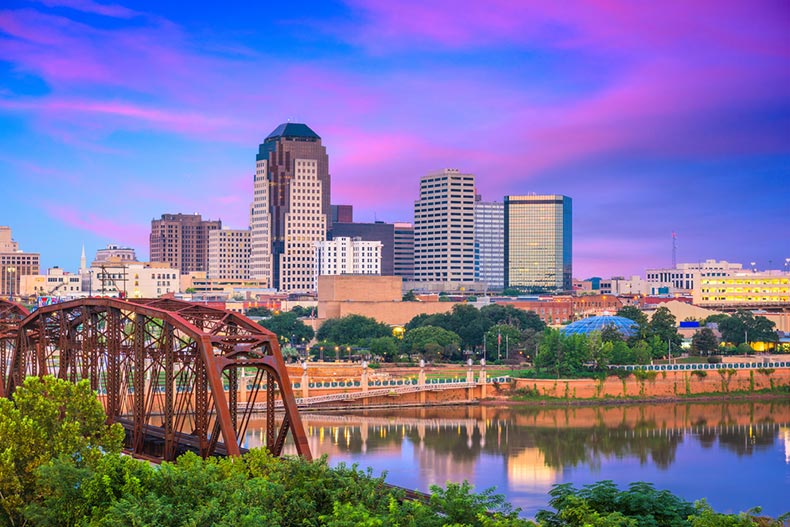 Shreveport makes our first inland city in a Gulf state, a rare type of town to make the list. Despite being near the Arkansas border, Shreveport still has plenty of water to enjoy for snowbirds who don't want to sacrifice boating or fishing.
The city is the most influential in the Ark-La-Tex region and is a center for education, culture, and commercial activities in the area. Much like a lot of the larger Southern cities, Shreveport has several dozen historic homes and celebrated architecture. Points of interest include the R.W. Norton Art Gallery, the Shreveport Aquarium, and Walter B. Jacobs Memorial Nature Park. The city also hosts several events and festivals throughout the year, including Mardi Gras celebrations.
One nearby town that also ranked highly with Shreveport is Marshall, which is actually located in Texas, which means residents enjoy lower property taxes and are still close to the city.
55+ Communities in Shreveport
There are three communities on 55places.com in the Shreveport area, all located in Bossier City. Willow Lakes is a 55+ community of 165 homes with amenities like a fishing lake, outdoor pool, and exercise room. Cypress Bend and The Crossings at Wemple are both all-ages communities with low-maintenance lifestyles and outdoor-focused amenities.
23. Gulfport, Mississippi
Population: 71,570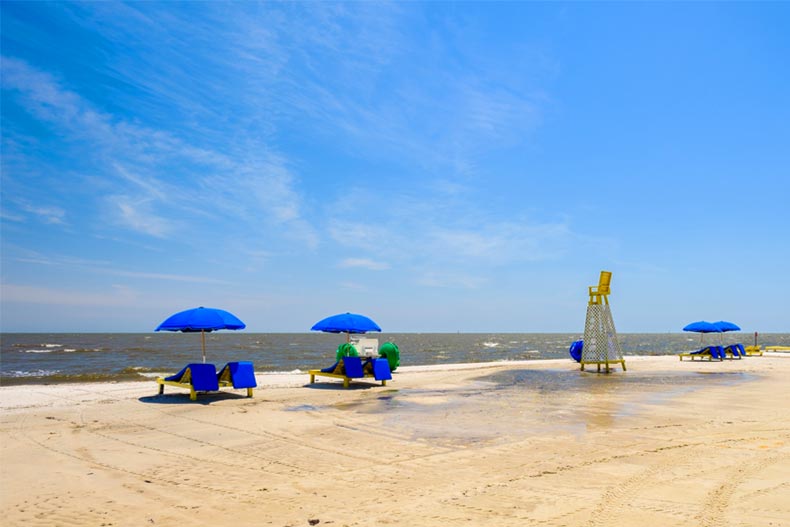 At No. 23, we have the second-largest city in Mississippi. Gulfport is another coastal city with a prime location on the Gulf of Mexico. It's part of a number of cities along the coast that welcome snowbirds every year.
Some of Gulfport's big draws are the Island View Casino, its dozens of annual festivals and events, and its shopping opportunities. Some annual festivals include a boat race, a classic car parade, and a fishing radio.
Another city nearby Gulfport is Long Beach, located next to Gulfport. Both scored high because of a good cost of living and a large population of residents 50+.
55+ Communities in Gulfport
While there are no 55+ communities in Gulfport, there are plenty of rental condo communities located just off the shore.
24. Lakeland, Florida
Population: 105,958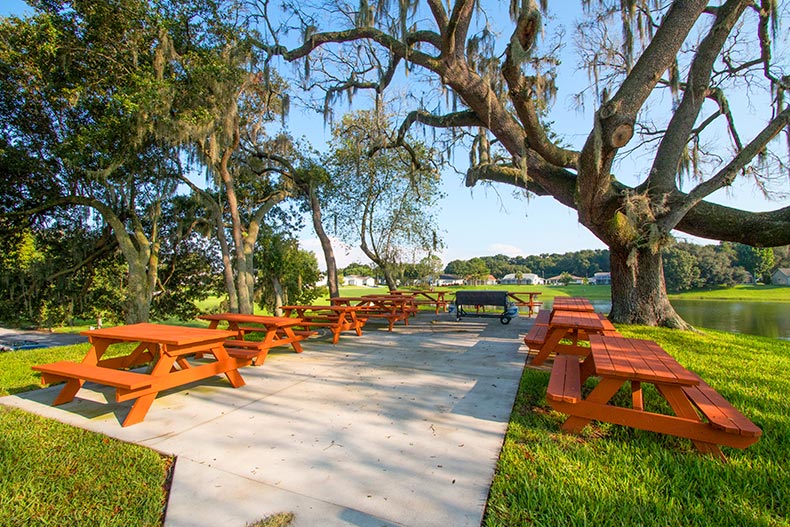 Lakeland is a great option for snowbirds looking for a slower pace of life away from the coasts. The area has plenty of history and (as the name suggests) plenty of lakes too.
While the area is located away from the coasts, the lakes provide plenty of outdoor recreation for boaters, fishers, and kayakers. Some of the most popular outdoor locales are the Circle B Bar Reserve, the Hollis Garden, the Van Fleet Trail, and Lake Hollingsworth. Other popular attractions are the Polk Museum of Art and the Florida Air Museum. Lakeland is also home to the Detroit Tigers minor league teams and their spring training camp, a great option for Michiganders who want to snowbird.
55+ Communities in Lakeland
There are several dozen 55+ and active lifestyle communities throughout the Lakeland area. One of the best-selling communities is Lake Ashton in Lake Wales, a large community with a 26,000-square-foot clubhouse, several sports courts, bowling lanes, and more. Other popular communities include Cypress Lakes, Sandpiper Golf and Country Club, and Highland Fairways.
25. Lafayette, Louisiana
Population: 126,515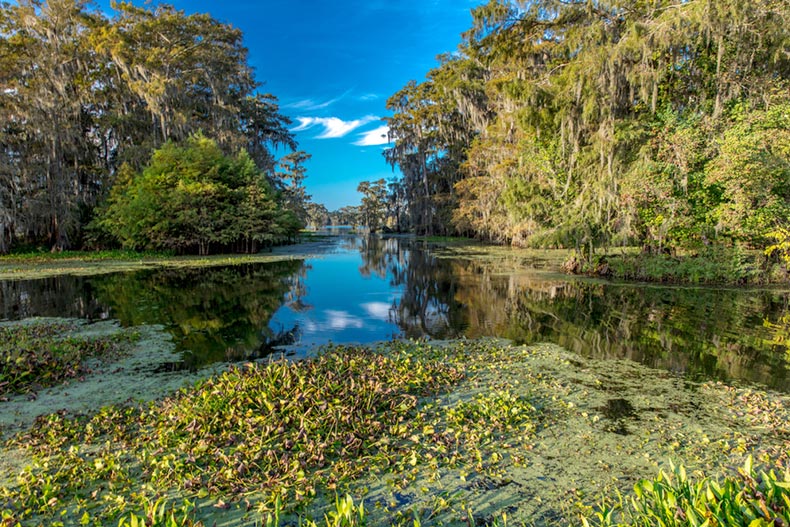 Rounding off the list is Lafayette, Louisiana, located just off the Gulf in the south-central region of the state. The city's location gives snowbirds a chance to make a trip to the shore, New Orleans, or over to Houston for a weekend trip.
Lafayette's downtown has several popular attractions. LARC's Acadian Village is a recreated 1800s Cajun village with an art gallery and yearly holiday celebrations. Similarly, Vermilionville Historic Village is a Cajun and Creole living history museum. Popular outdoor attractions include Lake Martin and Cypress Island Preserve.
Besides Lafayette, nearby Opelousas also scored high, with good marks in income-to-home ratio and tax friendliness.
Methodology
Starting with a list of 29,000 cities pulled from the Census, we narrowed the list down by focusing on places that have a high population of people 50 and older and high annual average temperatures. Then, with a list of over 1,000 cities, we applied several data points to score cities and determine their affordability. Here are some of the main metrics we analyzed:
Income-to-Home Cost: Using the most recent census data, we scored each city on if it had an affordable income-to-home cost ratio.
Cost of Living: Collected from Sperling's Best Places, we looked at the cost of groceries, health care, utilities, entertainment, and much more.
Average Temperature and Snowfall: Each city scored high marks if they had a higher than average temperature and less snowfall annually.
Tax Rates: Collected From Tax Foundation, this includes income tax, property tax, and sales tax.