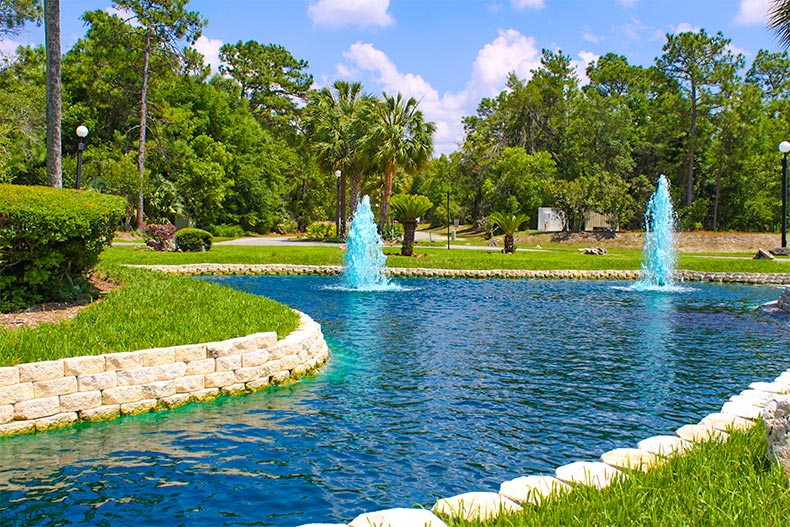 No state embraces its snowbirds like Florida. This population of northerners who spend their winter months in our warm-weather state has a meaningful impact on Florida's population and economy. Over 80 million people visit the state every year, and 1,000 people move here permanently every single day. Even as part-time residents, snowbirds need to nest, and some of these communities are the best places to live for travelers from the north.
Palm Cay – Ocala, FL
One of the most affordable places to spend part of your year, Palm Cay in Ocala offers a great location, low-maintenance living in single-family homes, and excellent opportunities for enjoying an active and relaxed season in an established 55+ community. Palm Cay has 795 resale homes available in more than a dozen floor plans. Plus, there is plenty of RV parking on site if you travel to Florida by motorhome. Properties have between one and three bedrooms, garages, and an open floor plan on a single floor.
Amenities include shuffleboard courts, tennis courts, walking and biking trails, and an outdoor pool and patio. There's a fitness center, a clubhouse, and a library, and residents can enjoy the horseshoe pits and the billiards room. Snowbirds can take water aerobics classes, join the golf club or the sunshine club. It's easy to get around the rest of Florida with Ocala being a central starting point and Interstate 75 being so close.
Kings Point – Sun City Center, FL
Sun City Center is a self-contained community right outside of Tampa where year-round residents and snowbirds mix and mingle seamlessly. Kings Point has everything you need as a part-time resident, including clubs for Canadians, New Yorkers, and residents from back home places including Michigan, Ohio, Minnesota, and Pennsylvania. It's easy to find your people.
Homeowners can choose from over 5,000 single-family and attached villas. At Kings Point, you can leave the car and take the golf cart when you need to get around. Golf carts have the right-of-way on all the roads within the community and the speed limit is a strictly-enforced 15 mph. There's also a tram service and shuttles that run to grocery stores, restaurants, and malls. Kings Point residents also enjoy pools, shuffleboard courts, tennis courts, and a long list of social activities and classes.
Majestic Isles – Boynton Beach, FL
For some snowbirds, Palm Beach County is the only place to be. In that case, consider Majestic Isles in Boynton Beach, which caters to part-time residents. Activities and social events flourish in the winter months when there are more residents than usual, and there's even a club specifically for snowbirds. Residents can also join the singles club, the social club, the travel club, or the cooking club. There are movie nights, lunches, aqua aerobics, and yoga, as well as current events discussions.
The homes at Majestic Isles are comfortable and spacious, without being too difficult to maintain from afar. Choose from 450 single-family homes and duplexes ranging from 1,448 square feet to 2,284 square feet. This gated, 55+ community has plenty of amenities, from the Olympic-sized swimming pool to the state-of-the-art fitness center with a clubhouse and grand ballroom. It's also close to West Palm Beach, Fort Lauderdale, and Miami.
Kings Gate – Port Charlotte, FL
This Gulf Coast community spares no expense for snowbirds, Kings Gate even has a Snowbird Welcome Back Committee. The community is right off Interstate 75, making arrival and departure easy if you're driving. Keep the car parked in the shade of the garage and take your golf cart to the pool, the tennis courts, and even the grocery store. Kings Gate is made up of 940 single-family and attached homes with two or three bedrooms, and some with dens. They range from 1,393 square feet to just over 2,000 square feet, making your living space manageable while you're in Florida.
Snowbirds are always made to feel welcome here, and it's the perfect place for active adults looking to spend the winter in a place that's just a few miles from the sunny coastline. Enjoy the golf course, the pools, the fitness center, and the myriad of activities and social events provided at this 55+ community. Be sure to stay for spring training and watch the Tampa Bay Rays take on their northern neighbors at the nearby Charlotte Sports Park.
Cascades at World Golf Village – St. Augustine, FL
Snowbirds who love to golf will do well at Cascades at World Golf Village in St. Augustine. Just outside of Jacksonville, St. Augustine is an excellent place to spend the winter whether you're driving in or flying down. It's right off Interstate 95, close to Jacksonville's airport. At Cascades, you're near the World Golf Hall of Fame, the PGA Academy, and right on some of the most beautiful golf courses in North Florida.
There are 450 single-family homes with two or three bedrooms. Part-time residents are made comfortable by the Welcome Wagon, and there are dozens of clubs and activities for residents to participate in, such as the book club, movie club, and bow-wow club. There are pools, tennis and shuffleboard courts, fitness classes, and so many other amenities that going home in the spring won't be easy.