With more than 50 active adult communities across the country, the Del Webb brand is one of the most prolific and trusted active adult community builders in the nation. As a division of Pulte Homes, Del Webb has set itself apart as a developer known for resort-style communities, active lifestyles, and luxury floor plans.
To help homebuyers find their ideal active adult community, we created a list of some of the best new Del Webb communities based on a variety of important criteria. Whether you're looking for a Del Webb community with the best resort-style amenities, the most convenient golf course access, or the warmest and sunniest weather, there are sure to be several communities that best suit your needs and preferences.
Start here to discover which new Del Webb 55+ community is right for you.
A Tax-Friendly Location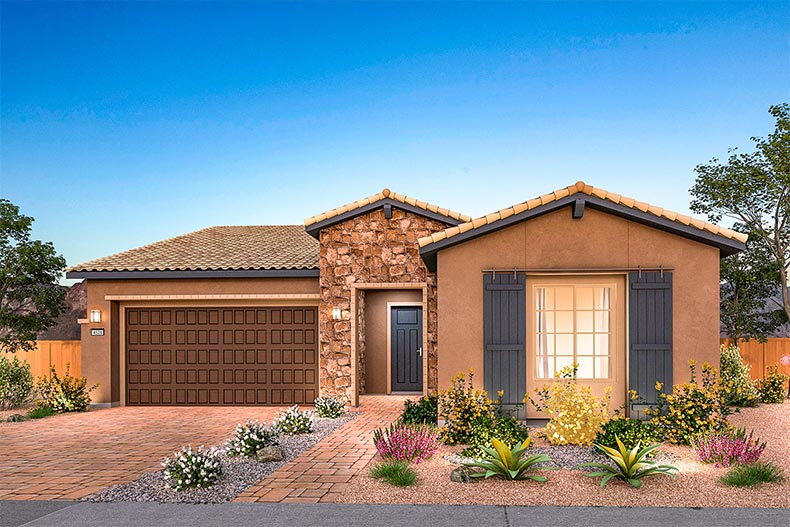 Low $400s
Many states in the American Southwest offer a tax-friendly retirement for active adults, but Nevada provides a particularly low tax burden. Nevada doesn't tax Social Security, pensions, or inheritances. As an added bonus, the state doesn't have a state income tax, and the state sales tax rate is just 4.6 percent. These lower taxes are especially appealing for active adults and retirees who live on a fixed budget.
While Del Webb has built several 55+ communities in Las Vegas, Henderson, and Mesquite, one of the newest developments is Del Webb at Lake Las Vegas in Henderson, Nevada. The gated 55+ community broke ground in 2019 with plans for 464 single-family homes and amenities such as a clubhouse, an on-site retail center, and a golf course. Located less than 20 miles from the world-class entertainment of Downtown Las Vegas, residents can enjoy the recreation opportunities of the city and the surrounding area.
Request more information about Del Webb at Lake Las Vegas here.
Resort-Style Amenities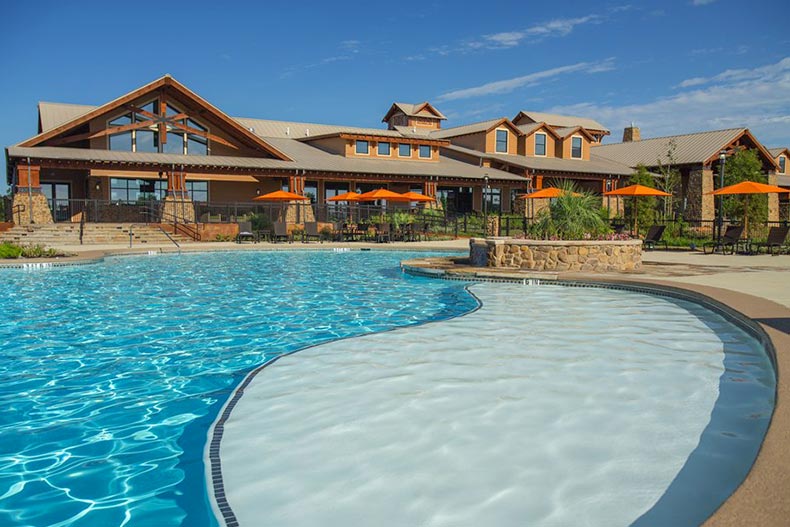 High $100s – Low $500s
One of the most well-known active adult communities in the Lone Star State is Sun City Texas, but builder Del Webb has also developed several newer resort-style communities throughout the state, including Del Webb Sweetgrass in Richmond.
While the community broke ground in 2011, the age-restricted neighborhood still offers both new and resale homes for sale with plans for 1,500 single-family homes total. Along with the draw of a Texas retirement, the resort-style amenities entice residents who are looking for world-class recreation close to home.
The amenities at Del Webb Sweetgrass feature a 27,000-square-foot Lodge with a fitness center, a wellness center, an indoor pool and spa, a ballroom, a coffee bar, a continuing education center, and several multipurpose gathering spaces for arts and crafts, cards, and club meetings. Outside, the amenities continue with a resort-style pool and spa, a 50-acre boating lake, an amphitheater, fire pits, and athletic courts.
Request more information about Del Webb Sweetgrass here.
Golf Course Access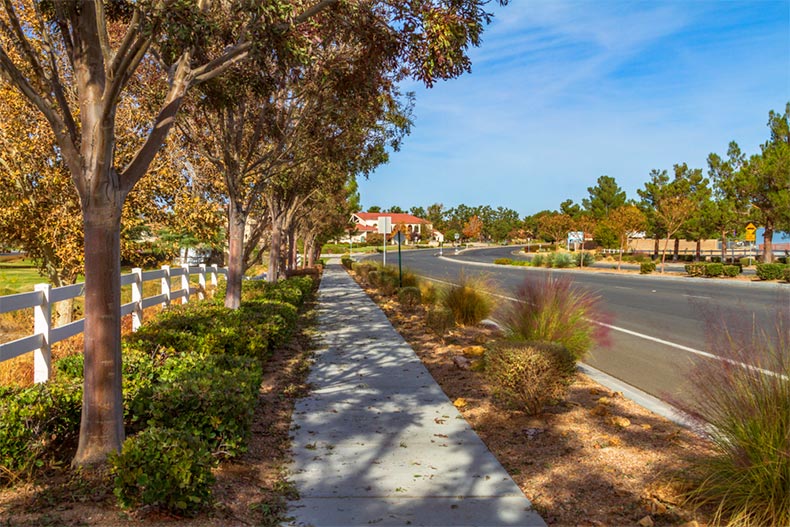 Low $200s – High $300s
Several Del Webb communities boast their own 18-hole golf courses, which helps make the communities feel like luxury country clubs. One of the best Del Webb communities for golf is Sun City Apple Valley in Apple Valley, California, located along the northern edge of the Inland Empire.
When it comes to the amenities at Sun City Apple Valley, golf reigns supreme. The gated 55+ community features the 27-hole Ashwood Golf Course, a par-65 course with lush scenery and mountain views. The course offers some of the most enjoyable golf in the area. Additionally, residents can enjoy practice facilities such as two large putting greens and a bunker/chipping area, and those looking for some friendly competition can join the community's golf groups.
After playing a round of golf, residents can visit the 22,000-square-foot Aspen Clubhouse and 8,000-square-foot Mariposa Lodge, which boast amenities such as indoor and outdoor pools and spas, state-of-the-art fitness centers, and a grand ballroom.
Request more information about Sun City Apple Valley here.
Outdoor Recreation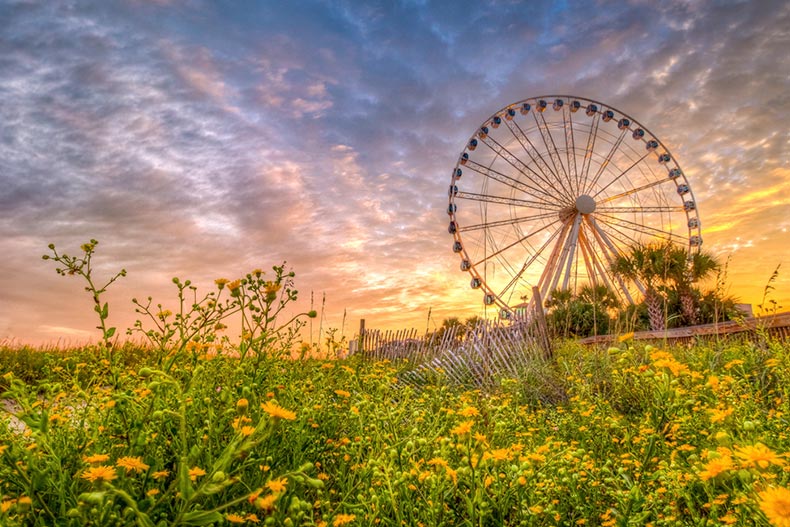 Low $300s – High $900s
Active adults who want to enjoy an abundance of outdoor recreation should consider all of the benefits of a South Carolina retirement. Along coastal South Carolina, Del Webb at Grande Dunes Myrtle Beach represents one of the newest and most luxurious Del Webb 55+ communities in the area.
Located within the master-planned Grande Dunes community, Del Webb at Grande Dunes Myrtle Beach plans to include 524 single-family and attached homes upon completion. Residents have access to private resort-style amenities, such as a 15,000-square-foot clubhouse with indoor and outdoor pools as well as the Grand Dunes Ocean Club, which features its own 25,000-square-foot clubhouse and two 18-hole golf courses.
In addition to these world-class amenities and lifestyle activities, residents can enjoy an abundance of outdoor recreation. Active adults are one mile away from the shores of the Atlantic Coast, five miles from downtown Myrtle Beach, and 20 miles from Waccamaw National Wildlife Refuge.
Request more information about Del Webb at Grande Dunes Myrtle Beach here.
A Small, Intimate Neighborhood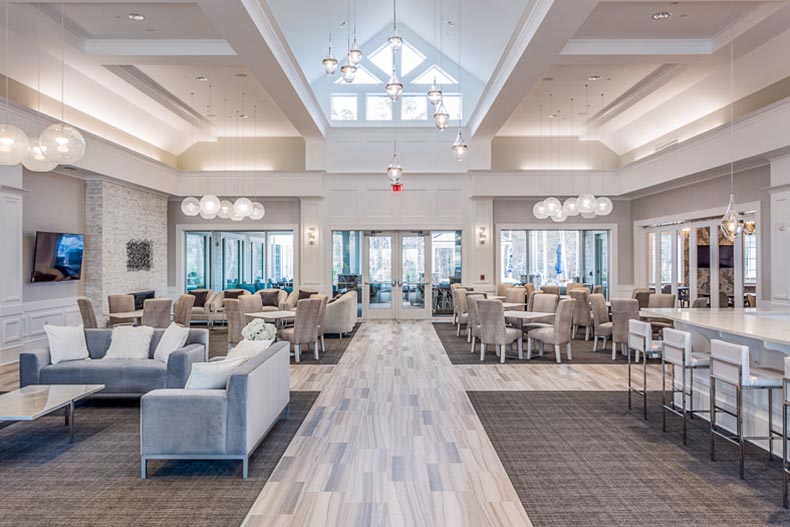 Mid $300s – High $500s
When many active adult homebuyers think of Del Webb 55+ communities, they think of some of the builder's largest developments, like the original Sun City community with more than 27,000 homes. However, Del Webb offers a range of communities to suit a variety of buyers' needs and preferences, and some active adults enjoy living in smaller and more intimate neighborhoods. Del Webb at Traditions in Wake Forest, North Carolina is a popular option with more of a neighborhood feel.
With plans for less than 500 single-family homes, residents of Del Webb at Traditions can enjoy the feel of a tight-knit community and have more opportunities to get to know their neighbors. The community will offer plenty of lifestyle activities, such as travel club, pickleball, gardening, singles club, and billiards. The social activities will take place at a new 18,000-square-foot clubhouse, which hosts amenities such as a state-of-the-art fitness center, a coffee bar, and an indoor pool and spa.
Request more information about Del Webb at Traditions here.
Affordable Home Prices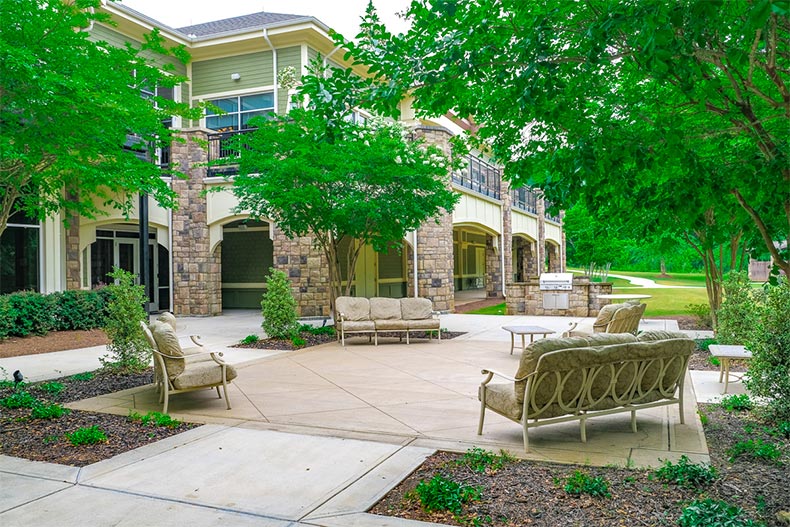 Low $200s – Mid $300s
The resort-style lifestyle provided by Del Webb communities may come at a price, but active adults can find Del Webb communities with affordable homes for sale across the country, including Sun City Peachtree in Griffin, Georgia. Located just 30 miles south of Atlanta, Sun City Peachtree offers a low cost of living with reasonably priced homes, sought-after amenities, and a full social calendar of lifestyle activities.
At Sun City Peachtree, a gated 55+ community with plans for 3,387 single-family homes, active adults can find new, spacious homes with quality construction and desirable, modern features for an affordable price. The homes range from 1,103 to 2,597 square feet with one to three bedrooms with dens, one to three bathrooms, and attached two- to three-car garages.
Request more information about Sun City Peachtree here.
Warm and Sunny Weather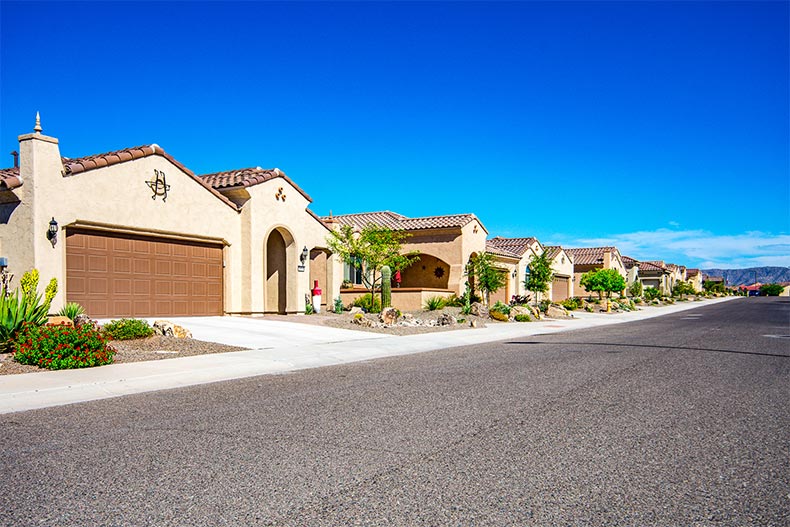 Low $200s – Mid $600s
Of all the benefits of an Arizona retirement, the warm and pleasant climate appeals to active adults who want to enjoy golfing, swimming, biking, or boating all year long. At Sun City Festival in Buckeye, residents can take advantage of a warm climate in a 45+ community surrounded by recreation opportunities and things to do.
As one of Del Webb's newest age-restricted communities northwest of Phoenix, Sun City Festival plans to consist of 7,200 single-family homes total. With new and resale homes for sale, the residences range from 1,099 to 3,343 square feet, and many include private patios and decks to enjoy the weather throughout the year.
Many of the abundant outdoor amenities at Sun City Festival have been designed to experience the Arizona weather and wilderness. The amenities feature an 18-hole golf course, a resort-style pool and spa, a lap pool, walking and biking trails, athletic courts, and a softball stadium. Residents can also participate in clubs, activities, and classes that take place in the great outdoors, such as hiking club, lady putters, citizens on patrol, mystery riders, golf chartered club, and gardening group.
Request more information about Sun City Festival here.
Community Activities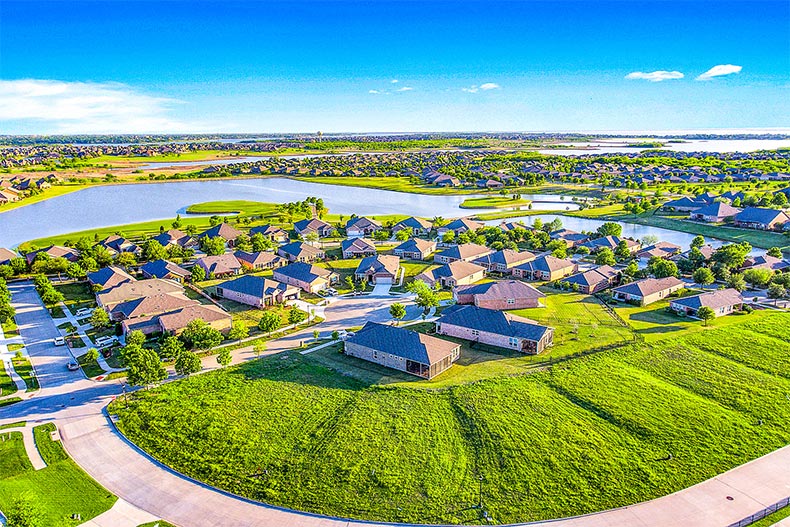 Mid $200s – High $700s
At Frisco Lakes, a 55+ community located 30 miles north of Dallas, active adults can find a variety of amenities and community activities that offer a well-rounded physical and social lifestyle. With plans for 3,000 single-family homes, Frisco Lakes may not seem as large as some other Del Webb developments, but the community offers an extensive range of activities.
The amenities at Frisco Lakes feature a 28,000-square-foot Village Center, a 10,000-square-foot golf center with an 18-hole championship golf course, an additional amenity center, and a waterfront location along Lewisville Lake. With a lakefront location, residents can easily enjoy boating, fishing, swimming, kayaking, canoeing, and watersports as often as they like.
The full social calendar of activities, clubs, and classes means there's always something happening at both amenity centers, creating ample opportunities for residents to enjoy their pastimes, try new activities, and meet neighbors. Some of the popular activities include fitness classes, RV club, line dancing, cards and games, arts and crafts, and golf associations. Regular events include game nights, holiday parties, trivia events, supper groups, and planned outings.
Request more information about Frisco Lakes here.
Nearby Attractions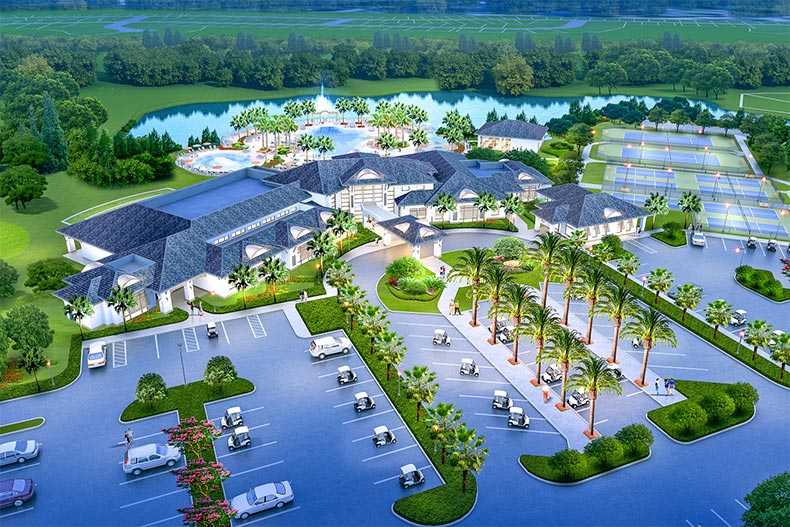 Mid $200s
Those looking to take advantage of the world-class entertainment options and attractions throughout Central Florida can find many 55+ communities in the area. Del Webb Sunbridge in St. Cloud, a gated 55+ community with plans for 1,300 single-family and attached homes, is one of the best options to enjoy everything the surrounding area of Central Florida has to offer.
While Del Webb Sunbridge features plenty of amenities and lifestyle activities, residents can easily take advantage of all the nearby attractions. Within 35 minutes, active adults can reach Universal Studios, Downtown Orlando, Disney World, and SeaWorld Orlando—some of the most recognizable vacation destinations in the world.
Some other popular places to visit in the area include the U.S. Tennis Association National Campus, Wild Florida Airboats & Gator Park, Reptile World Serpentarium, and Royal St. Cloud Golf Links. Plus, a day at the beach along the Atlantic Coast is just one hour away.
Request more information about Del Webb Sunbridge here.
A Variety of Floor Plans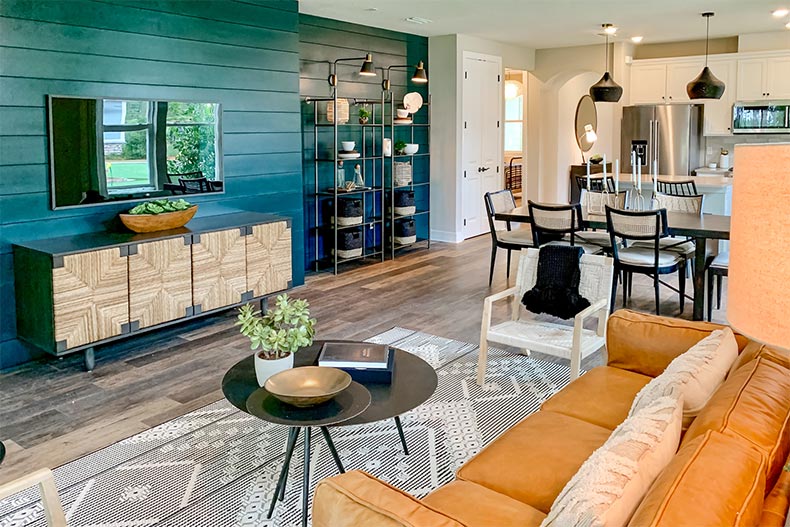 Mid $200s – Low $300s
In addition to resort-style amenities and luxury clubhouses, Del Webb has built its reputation on its thoughtfully designed floor plans that support a comfortable and convenient lifestyle at any age. At Del Webb Nocatee in Ponte Vedra, active adult homebuyers can enjoy all that Del Webb floor plans have to offer.
Del Webb Nocatee hosted a grand opening in Summer 2019 to officially open the gated 55+ community, which plans to include 845 single-family and attached homes upon completion. Across three home model collections, the homes range from 1,488 to 3,700 square feet with two to five bedrooms, two to four bathrooms, and attached two- to three-car garages.
With new homes for sale, there are many opportunities for interested homebuyers to customize their homes according to traditional, coastal, and Craftsman styles, including whether active adults would prefer a one- or two-story home. Additional personalization options include optional lofts, flex spaces, covered lanais, and extended patios.