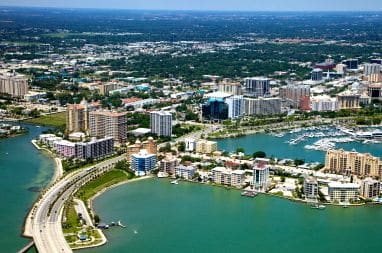 Set in Southwest Florida, on the coast of the Gulf of Mexico, the Sarasota-Bradenton area is a popular retirement destination for active adult retirees. Beautiful beaches, diverse shopping centers, cultural attractions, active adult populations, social opportunities and gatherings: When it comes to everything that you expect of Florida retirement communities, there's a lot to consider.
You can rest assured that in the Sarasota-Bradenton area, Florida retirement communities offer an elaborate list of first-class amenities, social opportunities, and beautiful scenery. Those who relocate to the area will also be happy with Florida's retirement-friendly tax laws.
Just south of Tampa Bay, the cities of Bradenton and Sarasota are separated from the Gulf of Mexico by waterways and a thin line of barrier islands. Bradenton is bordered on the north by the Manatee River, while Sarasota sits at the edge of the Sarasota Bay.
This prime location lets residents enjoy miles of beautiful beaches, as well as many water sports such as boating, fishing, and swimming. The Sarasota-Bradenton area has a humid, subtropical climate with mild winters and hot summers.
Climate
Daytime temperatures can reach 100 degrees in the summer and only drop to the mid-70s in the middle of winter. While the area sees plenty of sun there is generally a rainy period from June to September. There are many attractions in the area to keep active adults busy, and the nearby Sarasota-Bradenton International Airport makes it easy for retirement community residents to travel or welcome visitors.
Culture
When it comes to culture, residents and visitors alike will love the John and Mable Ringling Museum of Art and the Florida West Coast Symphony. There are also several popular annual events in the area, such as the Sarasota Music Festival, the Sarasota French Film Festival, and the Ringling International Arts Festival.
Shopping & Dining
Sarasota and Bradenton also offer a wide variety of shopping centers and restaurants. Florida retirement communities in Sarasota and Bradenton are within close proximity to charming boutiques and eateries in areas like St. Armand's Circle, as well as familiar businesses in malls like Westfield Sarasota Square. Active adults who are savvy shoppers will also have no trouble finding great deals at Ellenton Premium Outlets.
Financial Considerations
Retirees will be glad to learn that the cost of living in this area is about three percent lower than the national average, particularly when choosing a home in Bradenton. The area is also appealing because Florida is one of the country's more tax-friendly states for retirees. There is no state income tax and there are no taxes on retirement income. While there are many different types of communities, it's not hard for retirees to find affordable single-family homes in this area.
Active Adult Communities
Active adult communities tend to be comfortably sized with around 500 homes, spacious clubhouses, and resort-style amenities. There are age-restricted communities such as Cascades at Sarasota and all-age communities like The Isles on Palmer Ranch.
Whether retiring to an age-restricted community or one that is open to all ages, active adults will be pleased when relocating to the Sarasota-Bradenton area. The beautiful beaches, warm weather and numerous recreational attractions all come together to make this region a retirement hot spot.