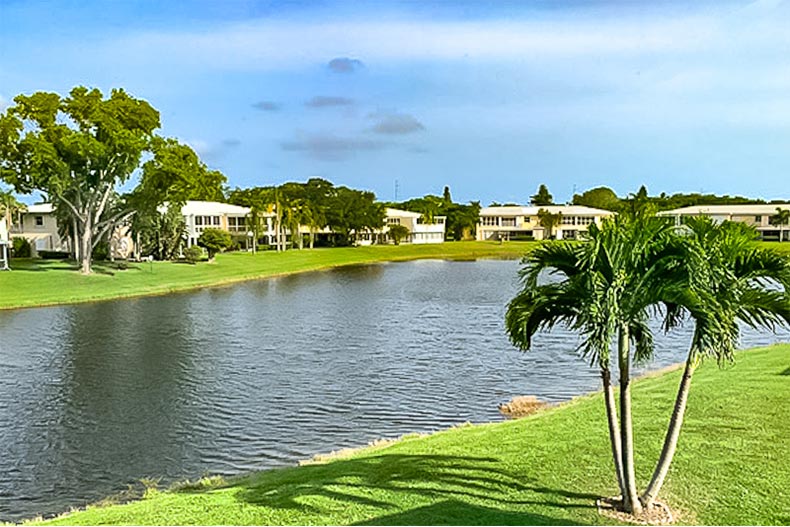 Delray Beach is found on the Atlantic Coast of Florida, right between the more populated cities of Boca Raton and Boynton Beach. While it's not as well-known as some of its neighbors in Palm Beach County, it's an ideal place to plan a Florida retirement.
A great community for art, this beach town offers ample boating, fishing, and other beach activities. Delray Beach real estate is also affordable, especially when you consider its close proximity to Interstate 95 as well as airports and cruise terminals.
We took a look at some of the most reasonably priced Delray Beach homes for sale. It shouldn't surprise you that all of these properties are in amenity-rich 55+ communities.
The Pines of Delray
Active adults looking for a comfortable and low-maintenance home within a reasonable price range will find something to love at The Pines of Delray, a 55+ community that's close to everything, including grocery stores, shopping, dining, and medical centers. There's a social committee as well as an active HOA that handles lawn care and exterior maintenance.
These affordable properties are available as single-story attached villas or condominiums in one of eight two-story buildings. Condos are between 812 and 1,600 square feet while the villas range from 982 to 1,167 square feet.
There are two clubhouses at either end of the community, both with pools and patios. In the South Clubhouse, residents can enjoy a fitness room, game room, and shuffleboard. The North Clubhouse has a multi-purpose room and a bocce ball court. There's a baking club, a poker club, and an exercise club as well as activities like community lunches and art workshops.
Also, the community isn't far from some of the best local beaches, including Anchor Park and the Delray Beach Pavilion, which often hosts free shows and concerts.
Lakes of Delray
Affordable condos with spacious floor plans, plenty of amenities to keep residents active, and low-cost community transit are available on the well-landscaped Lakes of Delray property, a 55+ community located between Interstate 95 and the Florida Turnpike.
This community features a clubhouse with exercise rooms and a sauna, and residents also have access to a dedicated car wash area, a golf driving net, and racquetball, basketball, and tennis courts. You'll also find horseshoe pits as well as shuffleboard and bocce ball courts. There are frequent movie nights as well as a fishing club, a bird watching club, and an art club. It would be hard to get bored at Lakes of Delray.
Condo homes offer between 800 and 1,500 square feet with one or two bedrooms and one or two bathrooms. There's assigned parking and plenty of visitor parking. The units are in two or three-story buildings, and they have elevators. The resale properties offer desirable upgrades such as granite counters and hardwood floors. Shopping is close by as well as some great golf courses, including Delray Beach Golf Club and Lakeview Golf Club.
Las Verdes
With 1,235 attached villas and condominiums on-site, Las Verdes has become one of the most desirable places to live in Delray Beach. Not only does the 55+ community have a lot of fitness-minded amenities, there's also a big focus on fun. An exercise room and three outdoor pools as well as tennis, shuffleboard, and handball courts are all well-used by members of the community.
There are also several pleasant trails which are excellent for walking and biking. Residents do chair yoga and host book discussions. There are always holiday parties, wine and cheese tastings, and events to welcome snowbirds in the winter.
Condos and villas are affordable, and most of them have been upgraded since they were built in the 1980s. Buyers will find 10 condo buildings on the property, with units offering one to three bedrooms and 676 to 1,200 square feet.
If a villa is more suited to your tastes and lifestyle, they also have one to three bedrooms with two bathrooms and 680 to 1,696 square feet. Las Verdes is close to some of the best restaurants and golf courses in Delray Beach, and it's also near the Polo Club of Boca Raton.
Palm Greens
Palm Greens has been around since 1974, and homes in this 55+ community have been upgraded for modern living. They are some of the most reasonably priced homes for sale in Delray Beach, and an excellent opportunity for active adults who want low-maintenance living, scenic views, and easy trips to grocery stores, shopping, and restaurants.
The condos are available in four spacious models, with floor plans that range from 944 to 1,500 square feet. They have two or three bedrooms and two bathrooms. The villas are in quad units and have two bedrooms and two bathrooms. Their square footage is between 1,100 and 1,353.
Amenities are similar to those you'd find at more expensive, resort-like communities. The clubhouse has an exercise room, a ballroom with a stage, a library, an arts and crafts studio, a card room, and a snack bar. There are two pools, 10 shuffleboard courts, horseshoe pits, tennis courts, and a bocce ball court. Residents can also enjoy parks, trails, and relaxing at the outdoor pool.
The Pineapple Grove Arts District isn't too far from Palm Greens and provides visitors with murals, sculptures, art galleries, and boutique shopping.
Coco Wood Lakes
Buyers looking for single-family Delray Beach homes for sale should consider Coco Wood Lakes, a 55+ community with affordable houses and a neighborly spirit. There's a reading club, a tennis club, and regular bingo nights. Residents get together at the clubhouse, in the fitness center, or the rec room. There's an auditorium as well as an outdoor pool and patio, where it's easy to beat the Florida heat.
Homes in Coco Wood Lakes are between 1,300 and 3,000 square feet. They have two or three bedrooms and most of them have an attached one-car garage.
The HOA fee is reasonable, and it's a pet-friendly community. Coco Wood Lakes is an excellent option for buyers who like to travel; not only are the homes low-maintenance, the community is close to Interstate 95 and less than half an hour from Palm Beach International Airport, where it's easy to find affordable flights to cities all over the country.