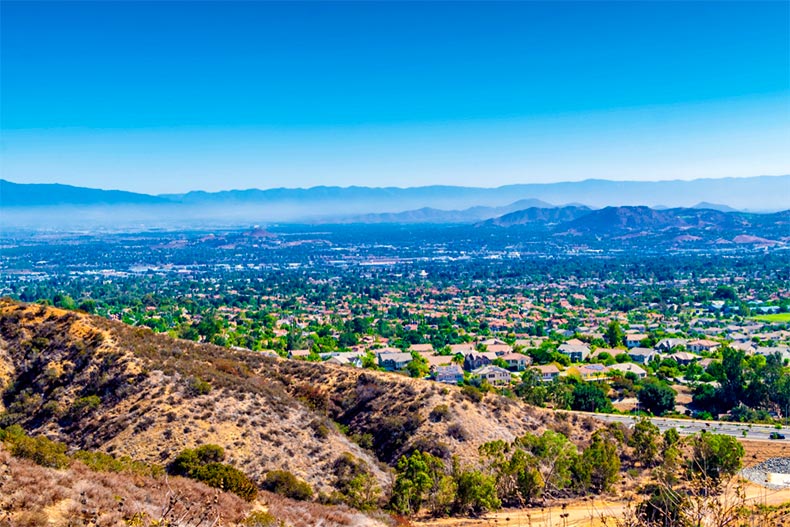 The Inland Empire area of Southern California includes more than 27,000 square miles of Riverside and San Bernardino Counties just east of Los Angeles. The expansive region features landscapes such as sunny valleys, lush forests, and scenic deserts, with orange groves and vineyards poised alongside rolling mountain ranges. With the beaches and culture of Los Angeles just two hours away, the Inland Empire can feel like a quiet escape from the city still within reach of everything it has to offer.
While the Inland Empire used to be an insider's secret in Southern California, more and more active adult homebuyers and retirees are deciding to settle in the area. The Inland Empire now includes 26 active adult communities, making it a top SoCal retirement destination.
With desirable weather, a reasonable cost of living for the state, and the availability of competitively priced homes, there are plenty of reasons why active adults move here. Let's take a deeper look as to why active adults choose to spend their retirement in the Inland Empire.
A Mediterranean Climate
The climate of the Inland Empire can vary greatly throughout the region, but it generally follows a Mediterranean climate. This comfortable climate is characterized by rainier winters and drier summers. But even with winter rain, the area only tends to get about 15 inches of rain each year, compared to the U.S. average of 39 inches each year. The weather from summer to early fall tends to feel warm and dry, while fall through spring brings the wet season with cooler temperatures and mild rain.
According to U.S. Climate data, the average temperature in the area reaches around 65 degrees, with the average low temperature near 51 degrees and the average high at 79 degrees. However, these averages vary greatly within the Inland Empire due to its diverse geography and elevations.
The Inland Empire includes areas with elevations that range from 11,499 feet at the top of the San Gorgonio Mountain to below 220 feet at the Salton Sea. The mountain regions tend to experience cooler temperatures, while the valleys tend to have warmer weather. Overall, active adults who live in the Inland Empire can enjoy pleasant, mild temperatures throughout the year.
Abundant Outdoor Recreation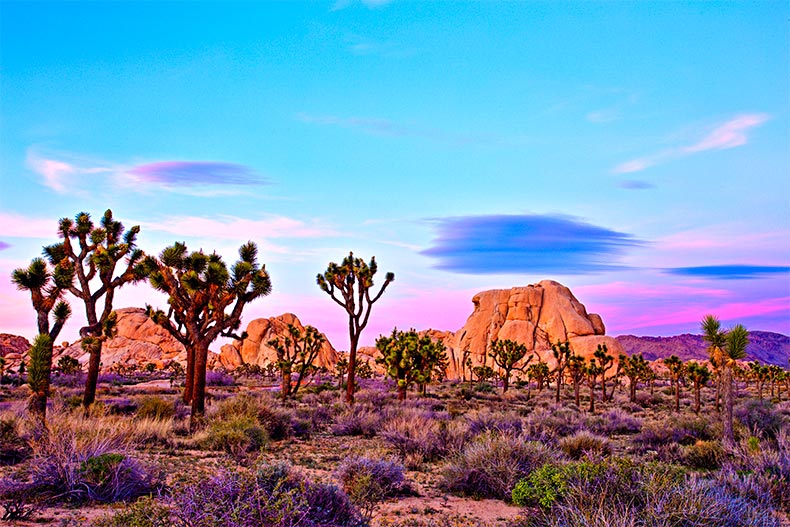 Joshua Tree National Park is just one of several places in the Inland Empire outdoor adventure.
No matter where active adults live in the Inland Empire, they are almost always surrounded by abundant outdoor recreation opportunities. With the area bordered by the San Jose Hills from west to east and by the Santa Ana Mountains from north to south, active adults are surrounded by opportunities to explore the diverse geography of the Inland Empire.
The San Bernardino National Forest, San Gorgonio Mountain, and Mount San Jacinto all offer adventurous trails and scenic drives through pine forests and awe-inspiring vistas atop mountains that overlook the valleys and surrounding area. At Joshua Tree National Park, active adults can hike around rugged rock formations, desert landscapes, and bristled Joshua trees.
At Lake Arrowhead and Big Bear Lake, visitors can fish and enjoy watersports that include fishing, boating, and kayaking, all within alpine scenery. Big Bear Lake features over 100 miles of pine-scented walking and biking trails ideal for summer recreation, plus winter sports when the snow flies. Big Bear Mountain Resort offers skiing, snowboarding, tubing, and special events.
Plenty of Things to Do
While outdoor enthusiasts can hike, swim, fish, boat, and ride horses to their heart's content, there are even more activities for almost every interest in the scenic Inland Empire.
Golfers can play on any of the renowned courses in the area. Two of the area's oldest and most exclusive golf clubs include Redlands Country Club and Arrowhead Golf Club. Additional popular courses include the Bear Mountain Golf Course, Fairmount Golf Course, and The Links at Summerly.
Active adults who want to explore the Inland Empire area also have access to plenty of cultural and entertainment attractions. Temecula Valley Wine Country and Cucamonga Valley boast several wineries and vineyards to explore. The Fox Performing Arts Center and the Glen Helen Amphitheater host concerts, plays, and productions. With plenty of charming downtowns, outdoor parks, and things to do, active adults in the Inland Empire can pursue nearly every passion and interest close to home.
A Reasonable Cost of Living
While California isn't known for being affordable, the Inland Empire area allows active adults to live in the state for a lower price tag. Active adults who live in 55+ communities in the Inland Empire experience a lower cost of living than those who live west or south of the area.
According to BestPlaces cost of living calculator, active adults can live in the Inland Empire for much less than the Los Angeles area. A comparison of Beaumont to Los Angeles reveals that Beaumont is 30.4 percent cheaper than Los Angeles, with the median home cost 51 percent cheaper. As another example, Menifee is 26.4 percent cheaper than Los Angeles, with the median home cost 47 percent cheaper.
Active adults can choose from any of the 55+ communities located in the Inland Empire to find housing options at a lower price point than some of the more expensive locations in California.
. . . But Taxes Are High
Taxes in California are relatively high, although homeowners can qualify for a property tax exemption if their primary residence is in the state. The state fully taxes all income from retirement accounts and pensions. There is also a 2.5 percent penalty on early distributions from retirement plans, annuities, and IRAs.
However, Social Security and Railroad retirement benefits are exempt. Also, 65+ active adults can claim an extra $118 exemption that reduces what taxes they owe directly, according to Kiplinger.
The state sales tax runs at a minimum of 7.25 percent, while local taxes can increase that rate to as high as 10.25 percent. However, food and prescription drugs are exempt from sales tax.
While the taxes in California seem to run high with few breaks for 55+ active adults, those who have their hearts set on California may find that the Inland Empire offers a more affordable cost of living.
55+ Communities in the Inland Empire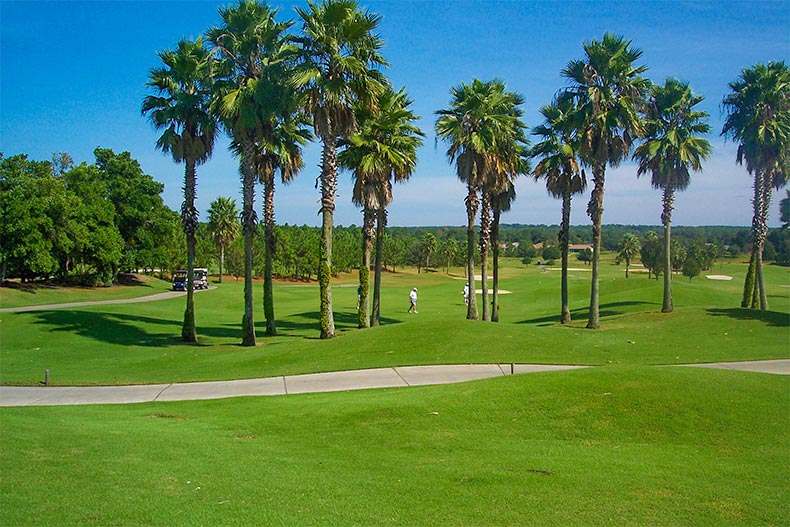 Active adults who want to golf in retirement will enjoy Sun Lakes County Club.
Many of the 26 active adult communities in the Inland Empire are located near Menifee, Hemet, Murrieta, Apple Valley, and Beaumont. Whether active adults are looking for affordable communities or communities without golf courses, the area includes something that appeals to nearly every homebuyer. Check out some of the 55+ communities with homes for sale in the Inland Empire to explore the amenities and lifestyles found here.
Sun City - Menifee
With 4,726 single-family and attached homes, Sun City is the largest active adult community in the Inland Empire, which makes it feel like a small town with world-class amenities. The three gathering spaces, Civic Hall, North Town Hall, and Webb Hall, host all of the activities in the community and include a woodworking shop, lapidary studio, ceramics studio, card room, billiards room, and a fitness center.
Residents of this 55+ community also enjoy outdoor amenities that include two swimming pools, an outdoor amphitheater, a patio with a barbecue, horseshoe pits, lawn bowling, bocce, and tennis courts.
Sun Lakes Country Club - Banning
Two private 18-hole golf courses and three large clubhouses make Sun Lakes Country Club feel like a resort for residents. This community of 3,300 homes features amenities like fitness centers, libraries, card rooms, and arts and crafts studio, as well as two on-site restaurants. The Sun Lakes Restaurant serves casual and fine dining next to a lounge with live music and entertainment. The Sandwedge Grill offers sandwiches and burgers on an outdoor patio.
In addition to the golf courses, residents can use miles of scenic walking and biking trails that wind through the community. Additional outdoor amenities include six tennis courts, bocce courts, pickleball courts, two swimming pools, and two patios.
The Colony - Murrieta
The 55+ golf community The Colony consists of 1,501 homes in the heart of the Inland Empire. The on-site Colony Country Club, also known as California Oaks Golf Course, gives the community a luxurious club feel, but even residents who don't play golf can enjoy the amenities here. The clubhouse boasts a fitness center, hobby and craft studios, grand ballroom, billiards room, theater, library, and even a beauty salon.
Outdoor amenities that make the most of the area's Mediterranean climate include a pool, several miles of walking and biking trails, and courts for tennis, bocce, and shuffleboard. As an added bonus, an on-site activities director and travel coordinator both schedule events and trips to explore the surrounding area.
Four Seasons at Hemet
Four Seasons at Hemet includes 1,106 single-family homes on the southern edge of the Inland Empire. This ideal location means that everything from mountains, lakes, deserts, and beaches are accessible within an hour. However, with a variety of world-class amenities, residents won't need to leave the community to have fun and socialize with friends.
The 14,859 square-foot clubhouse, The Lodge, includes a ballroom, billiards room, fitness center, movie theater, computer room, card room, library, arts and crafts room, barbecue area, salon, and a bistro. Outside, residents can find a resort-style pool and spa and courts for tennis, pickleball, and bocce. The Hemet Golf Club provides fairway views from many homes as well as a challenging game for beginners and weekend novices alike.