71 Communities in Coastal South Carolina
2 Rental Communities in Coastal South Carolina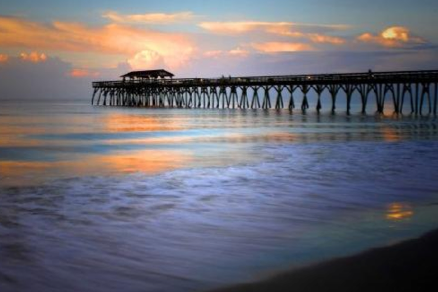 Overview
For many of South Carolina s active adults, the coastal cities of Charleston, Myrtle Beach, and Hilton Head offer the ultimate in retirement living. Each offer their own historical, cultural and beach attractions which will entice some retirees to move across the county to one of these great South Carolina beach towns. Some of the more popular communities in this area are Del Webb Charleston, Seasons at Prince Creek West, and Sun City Hilton Head.
Climate & Geography
Residents of Coastal South Carolina enjoy a humid subtropical climate. The summer season is hot and humid with average daytime temperatures in the low to high 80 s. During the winter months residents can expect short and mild winters with average daytime temperatures in the high 50 s to low 60 s. Snowfall is very rare in this area of the country and only averages 33 days with frost on the ground. With its close proximity to the ocean and humid temperatures thunderstorms are not uncommon.
South Carolina active adults often settle in the costal area because of its beach town charm. Along with numerous beach towns there are also a few inhabited islands up and down the coastline. White sand beaches and marshlands make up a solid majority of the area. Some of South Carolina s best active adult communities are located in and around this area.
Recreation, Culture & Entertainment
Active adults will find no shortage of entertainment and recreation in South Carolina s coastal region. Along with great culture and rich history there is a never-ending list of things to do in the area. Those who settle in the area have a myriad of opportunities to enjoy the arts. The Arts Center of Coastal Carolina, Carolina Opry, and the Charleston Museum are all popular attractions in the area.
Fishing, boating, hiking and camping are all popular among South Carolina active adults who enjoy the outdoors. There are many state and national parks offering endless outdoor recreation up and down the coastline. Maybe the most popular is the Francis Marion National Forest located just north of Charleston. Active adults looking to further their education can do so at one of the many colleges and universities such as the College of Charleston, Coastal Carolina University, and ITT Technical Institute. Golfers love the area for the many public and private courses offering play for all skill levels. The RBC Heritage is an annual PGA event which brings the best golfers in the world to Harbour Town Golf Links in Hilton Head.
Cost of Living & Taxes
The cost of living for active adults in South Carolina s Coastal region is on par with the national average. Goods are taxed at 6% and counties have the ability to impose an additional 1%. Residents who are 85 or older are exempt from the additional 1%. The personal income tax consists of five brackets with a top rate of 7%. Local governments assess property taxes and residents are taxed at 4% of the property value.
Healthcare
Some of the best opportunities for healthcare are located in the Coastal region of South Carolina. Coastal Carolina Hospital located just west of Hilton Head Island was ranked as a top performer on key quality measures in the practices of surgical care and pneumonia. Grand Strand Regional Medical Center in Myrtle Beach is another top hospital in the area specializing in cardiac care and senior health. Active adults who choose to live in the Coastal South Carolina region are surrounded by excellent healthcare and medical services.