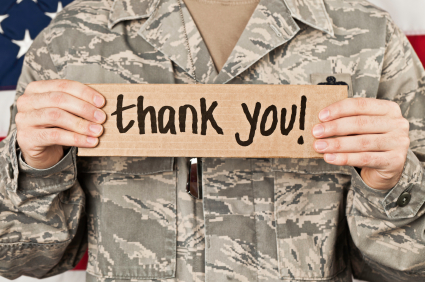 Many people celebrate Memorial Day with a backyard barbecue or a trip to the community pool. Yet, there is more to this Monday than the start of summer. Memorial Day honors the men and women who have died while in the military service. If you're looking for more meaningful ways to celebrate the holiday, these six tips will help you get started.
1. Observe the National Moment of Remembrance In 2000, the U.S. Congress passed The National Moment of Remembrance Act. This encourages citizens to honor fallen soldiers with a national moment of silence. At 3 p.m. local time, citizens are asked to stop what they are doing to spend one minute in silent remembrance.
2. Fly an American flag If you have a flag pole, flying an American flag is a great way to show your support for Memorial Day. The U.S. Department of Veterans Affairs (VA) has online Memorial Day resources which include guidelines for how to properly display the flag.
3. Donate your time (or money) to the VA The U.S. Department of Veterans Affairs (VA) features many volunteer programs for those who want to give their time. The VA Voluntary Service offers all the information you need to sign up as a volunteer or make a donation. Volunteering with a local group for Memorial Day may include placing flags at cemeteries or helping out at community events.
4. Visit a VA National Cemetery VA National Cemeteries, located in states throughout the country, often arrange their own Memorial Day ceremonies. These might include parades, speeches, rifle volleys, wreath layings and more. Taking part in these events is a great way to honor fallen soldiers and reflect on the service of all those in the military. You can find out if there is a national cemetery near you through the VA's National Cemetery Administration.
5. Watch a Memorial Day parade Memorial Day parades bring people together to celebrate veterans with festive floats and patriotic music. They are a fun way to get the whole family, especially young grandkids, involved in the holiday spirit. While at the parade, be sure to recognize any service men and women you may meet, and take some time to think about the reason for the holiday. Many active adult communities organize golf cart parades to celebrate the holiday.
6. Send a care package to a soldier You can make the holiday last even longer by sending a care package to an active soldier. Organizations like AnySoldier.com make it easy to send care packages, even if you don't personally know anyone serving overseas. Memorial Day happens once a year, but taking part in more meaningful celebrations may make it easier to appreciate the sacrifice of our military men and women all year long.