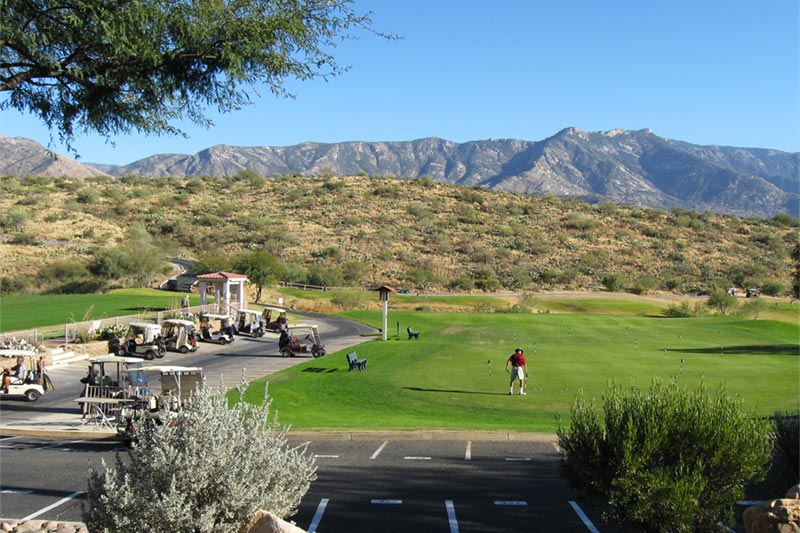 Today's retirees are embracing all kinds of new hobbies in their retirement years. When the concept of retirement communities started with Del Webb's Sun City back in the 1960's, golf seemed to dominate the desire for many retirees to pack up and move to Arizona, a gorgeous environment where golf was possible 12 months out of the year. Since then, things have changed. While golf may still be a popular activity among some retirees, a majority of residents living in retirement communities are non-golfers.
Instead, many of today's retirees are looking for new and interesting ways to stay physically and socially active. Even though golf may have lost some of its popularity among retirees in the last 50 years, it's still the paramount characteristic that many of the 55+ crowd considers when they are ready to move.
So, for you golf enthusiasts out there, we've compiled a list of 7 of our favorite golf course retirement communities in Arizona. While there are many more 55+ golf retirement communities in Arizona than what we showcase here, these are among the top communities searched on our website.
Nestled at the foot of the breathtaking Santa Catalina Mountains, Saddlebrooke is home to two championship 18 hole golf courses. The new Preserve Golf Club opened to rave reviews and the world-renowned Mountain View Golf Club has been a staple of the community. Plus, this 40+ age-restricted community offers over 4,000 homes in a variety of size and price ranges.
2. Sun City (Sun City, AZ)
The retirement community that started it all, Sun City, still reigns among the largest of all the golf course retirement communities in the world. Golfers can enjoy any of the eight 18 hole golf courses. But with 46,000 homes in the community, finding a tee time can sometimes be a challenge.
The challenging 18 hole championship Trilogy Golf Club has become a local favorite. This 6,700 yard par 71 course meanders through the Queen Creek wash offering great views of both the San Tan and Superstition Mountains. Trilogy sold out of new construction in 2008 but there are many resale homes available.
As part of Green Valley Recreation, Canoa Ranch residents enjoy access to as many as eight golf courses throughout the Green Valley area including a beautiful course that winds throughout the Canoa Ranch neighborhood.
The follow up community to the original Sun City is Sun City West. Learning from previous experience, Del Webb was quick to add more golf courses per household than were included in the original Sun City. In Sun City West, 16,900 homes have access to nine different 18 hole golf courses.
Mission Royale in Casa Grande has quickly gained notoriety for reasonable home prices and great amenities. Included in the community is the beautiful 18-hole Mission Royale Golf Club that offers a challenge for experts and novices alike.
Home to four 18-hole championship courses and newer homes than either Sun City or Sun City West, Sun City Grand is a favorite among golf enthusiasts who want to live in a newer home.
For a list of all of the 55+ golf retirement communities in Arizona go here.