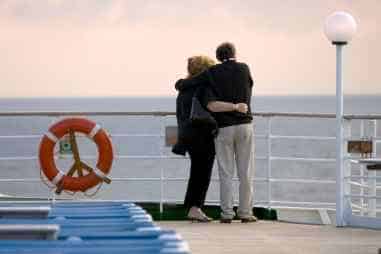 Active adults who love to travel can appreciate the benefits of vacationing in an adult-only environment. Exotic destinations around the world offer many luxurious adult-only or couples-only resorts. However, it can be more difficult to find an age-restricted cruise ship.
In the United States, there are currently no cruise lines that offer completely adult-only ships. Several cruise ships do offer adult-only areas, and most travelers find that it's not too difficult to segregate themselves from families with kids who are staying on the same ship.
Adult-Only British Cruise Lines
There are some adult-only ships available on British cruise lines. P&O Cruises has three luxurious adult-only ships. The Oriana will sail in the adult-only fleet until mid-2019. Taking its place, The Aurora will join the fleet in mid-2019 and provide luxury at sea with fine dining, a skydome with panoramic views, and over ten places to socialize and enjoy a drink.
P&O Cruises' other adult-only ship, The Arcadia, is a mid-sized ship that offers many exciting amenities. Passengers enjoy fine dining, recreational activities, a full-service spa, movie and performance theaters, and viewing the ship's extensive fine art collection.
U.S. Cruise Lines
For those who prefer to stick with an American cruise line, there are many ways to make an all-age cruise ship feel more like an adult-only cruise. Start by choosing a cruise ship that is geared more towards adults than families. This often means going with luxury lines which feature amenities like casinos, nightclubs, late-night comedy clubs, and full-service spas. It also helps to find a cruise ship that offers an adult-only area.
On Carnival cruises, the Serenity Adult-Only Retreat offers an area to lounge in the sun or shade, have a drink, or soak in one of the relaxing whirlpools. Many other cruise lines also offer adult-only pools or lounge areas. Even Disney Cruise Line's Disney Dream will offer the Quiet Cove, an adult-only lounge area which includes a pool, whirlpools, and a bar.
Active adults who have flexible schedules often prefer to avoid cruises in the summer or during extended school holidays, like spring or winter break. Longer cruises, lasting 14 or more days, are less likely to include children. Singles' cruises and seniors' cruises are, of course, designed with adults in mind. While the cruise ship will not be age-restricted and families may also be on the same trip, it is likely that a large portion of the ship will be singles or seniors. An added advantage is that cruises designed for seniors are often offered at a more affordable rate.
When looking for an adult-only cruise, active adults may not be able to find an American ship that is entirely age-restricted, but they can find one with plenty of activities geared toward adults. And that can make for a spectacular getaway.