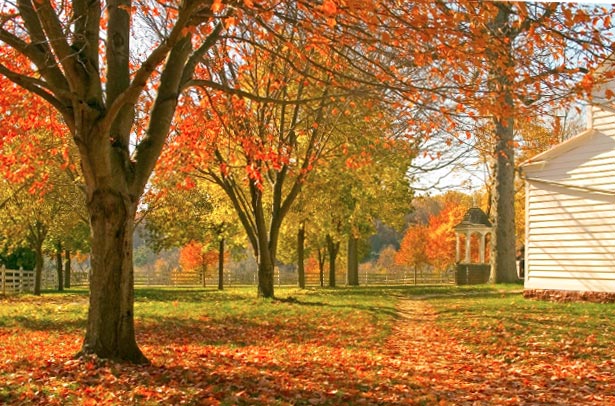 Leaf peeping has long been a popular seasonal activity for many Americans. The Midwest and Appalachia are popular destinations for viewing fall foliage, but New Jersey's reputation for autumn scenery is growing. Experts say mid-October is the best time to see peak fall colors in New Jersey. High elevations and wooded trails create the best leaf peeping experience, and New Jersey has plenty of both. Many residents don't even need to leave their homes to experience the season's change. Here are the best active lifestyle communities in New Jersey for people who love fall.
Located in Whiting, Cedar Glen Lakes is a tree-lined community located next to an expansive forest. Residents don't even have to step outside their front door to see the oranges and reds of autumn, though the community's gazebo is a great spot to enjoy the foliage Cedar Glen Lakes has to offer. Just a short walk from the community is the expansive Brendan T. Byrne State Forest, which features over 37,000 acres of trees, ponds, and cabins. During October, the forest turns into an autumnal dream, and residents at Cedar Glen Lakes are only steps away.
This community of single-family homes is not far from the beach or the woods. Within the neighborhood, a variety of outdoor amenities can be enjoyed as the leaves change. The tree-lined bocce ball courts and horseshoe pits create a great setting on a fall day. Just minutes from the community is Bass River State Park, which features over 23,000 acres of lakes and trails. Right next to Bass River is Wharton State Forest, the largest state forest in New Jersey, giving homeowners of Four Seasons at Harbor Bay ample opportunity for fall foliage viewing.
A gated community located in northern New Jersey, Bald Eagle Commons features 463 attached homes. Private amenities include walking trails, a gazebo, and various green spaces. The community also boasts tennis, bocce ball, and shuffleboard courts as well as a barbecue area surrounded by trees that really transform the neighborhood in the fall. Residents visit state parks and forests near the community to experience nature. Abram S. Hewitt State Forest, Wawayanda State Park, and Norvin Green State Forest are all nearby, offering trails and scenic views that are perfect for enjoying a fall day.
This active adult community includes 434 single-family homes and a 6,000 square-foot clubhouse. Outdoor amenities that are lined with trees and foliage include shuffleboard courts, a tennis court, and bocce ball courts. The community borders Forked River Mountain and its surrounding woodlands. During October, the view from the peak of this mountain is one of the best you can find in the state. Fall lovers can spend a day walking trails surrounded by brilliant autumnal colors before reaching the peak and seeing rolling hills of fall all around them.
This quaint community was completed in 2007 and features 117 single-family and attached homes. The community is surrounded entirely by trees and forest. In the summer months, lush, green environs are a peaceful backdrop for daily life, but the neighborhood really shines in the fall. Apart from its woodsy location, Clove Hill Manor also features its own green space where residents can relax and take in the views. The community is located near several expansive outdoor areas. Wallkill River National Wildlife Refuge is to the east while the popular High Point State Park is to the west. Located in far northwestern New Jersey, High Point State Park is arguably the best destination for leaf peeping in the state. The 15,000-acre park centers around a peak topped with the iconic High Point Monument. Visitors can enjoy the sprawling oranges and reds from benches below the summit.