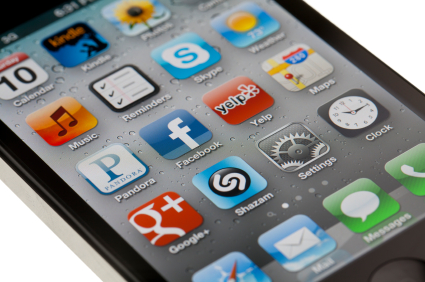 In a recent blog post, AARP recommended eight free apps which every Baby Boomer should download. These apps were chosen for functionality, entertainment or just for being cool. Because, as the AARP post points out: "Boomers are lovin their smartphones."
These days, it's not uncommon to see older adults texting, looking up directions or playing games on their smartphones. Baby Boomers who grew up experiencing new technology through TVs, handheld radios and early computers are particularly keen on experiencing the wonder of today's smartphone apps and sharing them with their friends.
The eight apps which made AARP's list include: Dropbox, Flixster, Words with Friends, Whitepages, Zite, The Weather Channel, WebMD and Flashlight.
Of these eight apps, most provide handy resources or other functionality. Dropbox lets you transfer files from your computer to your phone. WebMD offers medical information, The Weather Channel provides weather forecasts, Whitepages is a digital phone book, and Flashlight simply turns your phone into a usable flashlight. For entertainment, Words with Friends is a Scrabble-style word game, Flixster shows you movie reviews, and Zite lets you read a variety of magazine articles. Yet there are many other smartphone apps which are ideal for supporting an active adult lifestyle.
Health-conscious active adults can find a wide range of apps geared around fitness and nutrition. Apps like Lose It! and Calorific offer different ways of tracking your calorie intake. Healthy cooking can also get some help from apps like Jamie's Recipes (from Jamie Oliver) and Simply Organic Recipes. For Runners, iMapMyRun helps plan and track routes, while Get Running coaches you from the couch to running a 5k. There are also apps for yoga, Pilates, biking, weight lifting and more.
With the boom of the iPad, active adults with iPhones particularly enjoy apps which work on both devices and make good use of the iPad's extra real estate. Words with Friends is great on a smartphone, but even more fun with the iPad's larger screen and slightly different layout. The iPad is also an ideal platform for Draw Something, a fun game which lets you and your friends guess the words you are each drawing.
Of course, smartphones and iPads also help active adults stay in touch with their families and friends through mobile social apps like Facebook and Instagram. And staying in touch is especially important to active adults whose children are grown and may be raising their own families in another town.
Far from being afraid of technology, Baby Boomers are embracing their smartphones and iPads. Whether looking for entertainment, functionality, fitness support or socializing, active adults can find apps to support their lifestyle—or just stay up on the latest trends. What are your favorite apps?