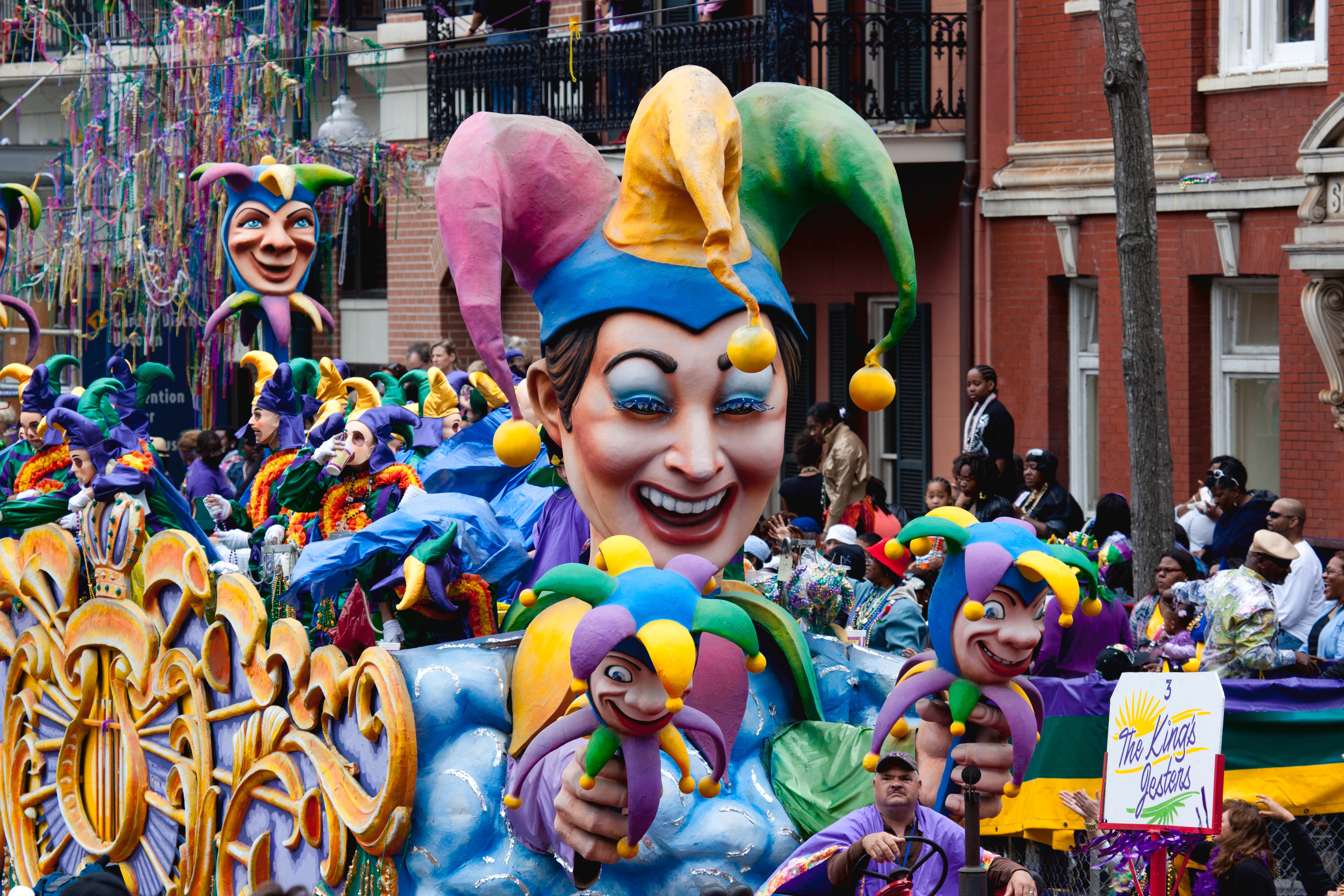 When it comes to Mardi Gras, the first place that comes to mind for many is New Orleans. With its extensive French history, Mardi Gras has been celebrated in Louisiana since the beginning of the 18th century and in New Orleans since the 1730s. Decades later, the famous parade began and Mardi Gras began to evolve into the vibrant celebration we know today. Fortunately, you don't have to be in New Orleans to celebrate this annual event in style. Here are some of the best locations across the country to visit for colorful beads and king cakes.
Residents of Del Webb Sweetgrass and Bonterra at Cross Creek Ranch are just a short drive away from the best Mardi Gras celebration in Texas. By far the biggest Mardi Gras celebration in Texas, over 200,000 visitors flock to the Gulf of Mexico island for the annual event. The first Mardi Gras celebrated in Galveston was over 150 years ago. Back then it featured one masked ball and a theater performance. Today it features five masked balls, twenty-four parades, and performances from national headlining artists.
The celebrations begin two weekends before Mardi Gras and continue throughout the week right until the day of the holiday, culminating in Fat Tuesday which features eight marching bands. With dozens of other parades, bands, and children's events, the Galveston Mardi Gras celebration has something for everyone and is a must for anyone looking to experience the holiday in a uniquely Texas way.
Unlike some of the other biggest Mardi Gras celebrations in the country, St. Louis' parade is relatively new. Despite being settled by the French, the city was not known to celebrate its Franco roots like New Orleans. What started in the 1980s as a small, private party has grown into a week of parades and alcohol tastings.
The buildup to Mardi Gras consists of many family-friendly events, including a pet parade two Saturdays before Mardi Gras, in which anyone with a pet can participate. Following that is the annual Weiner Dog Derby, a favorite event for many locals. The following weekend generally features more adult-oriented fun, including a party tent and whiskey tasting.
Of course, the celebration ends with a final parade on Fat Tuesday, which features the famous Anheuser Busch Clydesdales. The Mardi Gras celebrations in St. Louis are especially convenient for residents of the area's two active adult communities: Heritage of Hawk Ridge and Meadows of Wildwood.
Just across Mobile Bay, residents of LiveOak Village and Sea Pines at Bon Secour will find one of the region's best Mardi Gras celebrations. Not content with just ten days of celebration, Mobile stretches their festivities into a month, starting with the Senior Bowl parade, hosted on the day of the annual football game amongst some of college football's top seniors.
Mobile's Mardi Gras celebrations are so expansive they publish an annual magazine – the Mobile Mask - on all the events around town. Mobile is intertwined with Mardi Gras history and Louisiana - some even believe the holiday originated in Mobile.
Regardless of where it began, Mobile certainly has a rich Mardi Gras history that has formed into one of the best celebrations in the country. There are over fifty parades between downtown Mobile and its outer neighborhoods, giving any reveler incredible choices. Besides parades, there are upwards of 70 balls, a handful of which are held in January. You will be amazed by the choices you'll have while celebrating Mardi Gras in Mobile, so much so you'll probably have to come back next year.
Pensacola doesn't have the sheer number of parades some other cities do, but they focus that energy on their massive Fat Tuesday parade. Some events leading up to the parade include a ball, breast cancer awareness run, food drive, and a few smaller parades. The main event kicks off at 2:00 PM and lasts for around four hours.
Over 6,000 people participate in the parade and around 100,000 flock downtown to watch it. There's a specific viewing area for families and children, giving you and your grandkids a great view of the floats. Besides the family area, alcohol is welcome and sold around the route. The parade is the largest Mardi Gras celebration in Florida and another great representation of the Gulf cities Mardi Gras observances.
It wouldn't be Mardi Gras without mentioning New Orleans, the city that made the holiday famous always puts on a show you'll have to see to believe. Between over 70 parades, outdoor festivals, regular balls and masked balls, and king cakes, New Orleans does Mardi Gras like no one else. None of the parades require tickets, many days have multiple parades, and the final week of parades generally have the most ornate floats and costumes.
Whether you're watching the parade on the ground or the Bourbon Street balconies, you'll have an excellent view of the floats. While most of the parade routes should probably be restricted to adults only, there are many different events and parade spots for families. St. Charles Avenue is a great spot for kids as parade members will throw beads as well as toys and stuffed animals, sure to be a great time for families.
Whatever you choose to do in New Orleans during Mardi Gras, you can't go wrong and don't be surprised if you find yourself coming back year after year. Celebrating Mardi Gras in the city that made it famous is easy thanks to the two 55-plus communities in nearby Baton Rouge, including the desirable The Greens at Pelican Point.