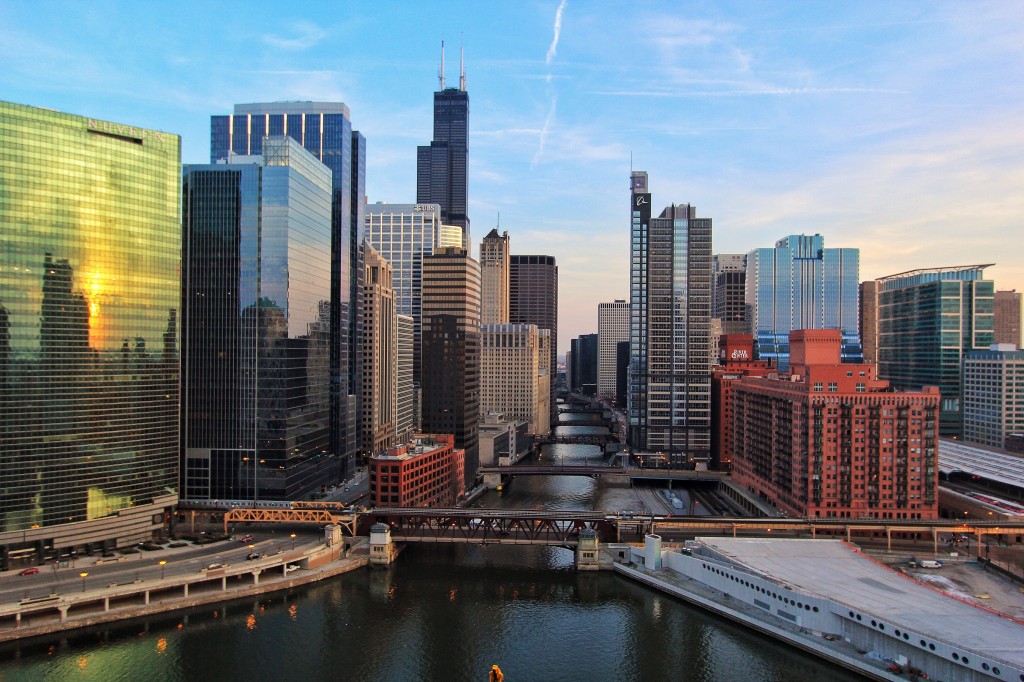 Dizzying skyscrapers or country serenity? Lower cost of living or favorable taxes? The collegiate Columbus or culinary craftsmanship of Chicago? Indiana isn't all that separates Ohio and Illinois.
Warmer climates might attract most retirees, but many are drawn to the Midwest for its cultural attractions, lifestyle, or to simply be closer to family. Here we compare these two popular retirement states in the Midwest and see how favorable they are for retirement living.
Tax Burden
In terms of tax friendliness, deciding between Ohio and Illinois is a simple question between wanting your income or your home being taxed more.
Illinois, as of 2014, had the second highest property tax rate in the country (New Jersey was first), with an average rate of 2.28%. The counties with the highest concentration of active adult communities (DuPage, Will, McHenry, Kane, Cook, and Lake) have property tax rates that range from Cook County's 2.01% to Lake County's 2.78%. The average homeowner in Illinois pays $3,887 per year in property taxes.
Ohio, on the other hand, has an average tax rate of just 1.52% of the home's assessed value. Although, this tax rate ranges widely between counties. In Cuyahoga County, where Cleveland is located, there is a hefty 2.23% tax. The average homeowner in Ohio pays $1,836 in property taxes, a paltry sum compared to Illinois.
Before you start packing your bags to Ohio, there's another major tax consideration that makes this more complicated: Illinois is one of the few states that does not tax pension, Social Security, IRA, or really any retirement income. The only taxable income is deferred compensation from unused sick time paid at the time of retirement or other deferred compensation if you were employed in the private sector. In other words, Illinois very rarely taxes any kind of retirement income.
Ohio, on the other hand, has a more common retirement taxation system. All retirement income, excluding Social Security, is taxed, although a tax credit of up to $200 is allowed for low-income retirees. In terms of taxation for retirees, it's a matter of what, exactly, you want taxed when deciding between Ohio and Illinois.
Culture & Lifestyle
If Ohio is more of a conglomeration of mid-sized cities, then Illinois is better known for hosting one the country's most illustrious destinations: Chicago.
Ohio currently has five cities with a population greater than 150,000 people: Akron, Toledo, Cincinnati, Cleveland, and Columbus. Illinois, on the other hand, has only two: Chicago and Aurora. While Ohio has several smaller urban centers, in Illinois the major attractions are typically centered around the sprawling Chicago Metropolitan Area.
Without a dominant cultural or population center, Ohio's attractions are spread throughout the state, giving residents here more options when it comes to retirement destinations. Historical Columbus, in the middle of the state, has a famously diversified economy and a strong university presence. Cleveland's rich musical heritage, industrial landscape, and Lake Erie beach access lends it a prestige unmatched by most Midwestern cities. Foodies, sports fanatics, and arts lovers alike will find Cincinnati, along the Kentucky border, irresistible.
Urban attractions in Illinois are concentrated in the state's far northeastern city of Chicago. Considered a cultural capital for the region, Chicago's reputation ranges from excellence in food, performing arts, business, sports fandom, museums, and festivals to vibrant, unique neighborhoods that attract people from all over the world. Illinois' next four largest cities are suburbs of Chicago. The largest city that is not a suburb is the state's capital of Springfield, which resides 200 miles from Chicago's city center.
Both states also offer plentiful outdoor recreation. With dozens of state parks between them, Ohio and Illinois boast opportunities for hiking, camping, boating, fishing, birding, hunting, or winter activities like cross country skiing or cabin rentals. Contrary to the Midwest's reputation for being mostly flat, both states also have terrific ski resorts. Famous state parks like Starved Rock in Illinois and The Hocking Hills near Columbus have been charming visitors and residents alike for decades.
Climate
To be honest, few people move to either state for the climate. Known for bone chilling winters and scorching summers, the Midwest's reputation when it comes to their climate does it few favors.
Illinois and Ohio are classified as having humid continental climates. However, both being large states in the middle of the country, their climates vary more than one might assume. The Chicago area, for instance, averages 48 inches of snow annually, while the southern portion of the state receives just 32 inches. Cairo, along the border with Missouri and Kentucky, is ten degrees warmer on average than its northern brethren.
The Buckeye State, which doesn't reach as far south as Illinois, experiences less dramatic temperature differences. Cleveland and Cincinnati, on opposite sides of the state, have a difference of just four to six degrees throughout the year. Although Cleveland, being along Lake Erie, does experience the dreaded lake effect snow throughout the winter and higher humidity in the summer.
In short, Illinois and Ohio are not ideal for retirees seeking warmer weather, yet both do offer financial and cultural incentives for active adults to consider.