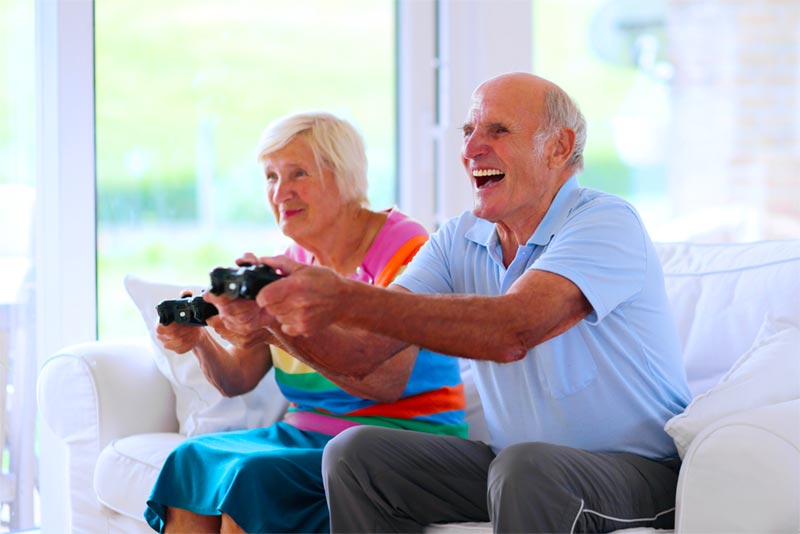 Though mainstream media may have us believe that MMORPGs (Massively Multiplayer Online Role Playing Games) are entirely populated by players under the age of 30, reality tells a different story. Instead of neatly fitting into a particular mold, gamers are a cross-section of society. Today's gamers come from all walks of life and play games across a range of platforms. They include teenagers, young adults, thirty-somethings, and even active adults. Also, check out our guide to the best video games for active adults.
Benefits of Gaming for Active Adults
According to the Entertainment Software Association (ESA), in 2009, 25 percent of adults over the age of 50 played video games. This is up from the reported 9 percent in 1999. Whether playing on smartphones, home computers, or consoles, many active adults have made video games a part of their daily lives.
A 2008 study by Celia Pearce at Georgia Institute of Technology, titled "The Truth About Baby Boomer Gamers," showed that active adults enjoy diverse aspects of gaming. According to this study, "most players cited exploring as a favorite activity (87%), followed by helping new players (78%), puzzle-solving (77%), questing (68%), and socializing (63%)." When it comes to combat, 56 percent of respondents said they enjoyed shooting while 36 percent said they did not.
Nintendo
Nintendo was the first console to capitalize on all ages of gamers when they released the Wii console. Its simple games appeal to new gamers and families as well as to seasoned players. Wii video games strive to make gaming a part of daily life by adding exercise to the gaming experience, but one of the Wii's biggest draws is its social aspect.
The Social Aspect of Video Games
Socializing is an important aspect of gaming for players across a variety of gaming platforms. MMORPGs such as World Of Warcraft or EverQuest let players enter a virtual world where they can meet new people or play with their current friends and family. In MMORPGs, it's common to find guilds and clans made up of teenagers, active adults, and every age in between.
Though many active adults do enjoy gaming online, they often prefer to game with players closer to their own age. Online communities geared toward older gamers offer active adults a place to meet and play together. One great site, 2 Old 2 Play, is a full-service online community that is geared exclusively toward older gamers. At this site, active adult gamers can meet in the forums, create their own blogs, find clans and tournaments, and much more.
Active Adult Communities With Video Game Clubs
Active adult communities are starting to get in on the gaming trend as well with social clubs dedicated to Wii gaming. Just a few communities with Wii clubs or Wii game rooms include:
Perhaps it won't be long before age-restricted communities also begin advertising their own local MMORPG guilds, Rock Band tournaments, or social clubs for cross-platform active adult gamers.