Active adults who love to golf will likely take the proximity to great courses into account when choosing their retirement destinations. Both California and Florida are known for having a spectacular selection of championship golf courses, but which state comes out on top in a side-by-side comparison?
According to the listings at Golf Link, Florida has 1,481 public and private golf courses, compared to the 1,140 courses in California. In Florida, the top golfing destinations include areas like Naples, Fort Myers and Orlando. California's destinations with the most golf courses feature top spots like Palm Desert, San Diego and La Quinta. It's clear that both states have an abundance of courses, but what makes one better than the other depends on many different factors.
Both states feature sunny, coastal areas with spectacular views and high-end resorts. As a peninsula, Florida has coasts on both the Atlantic Ocean and the Gulf of Mexico. Its central areas also feature an impressive number of lakes, rivers and wetlands. On the other side of the country, California adds mountain vistas, high deserts and rolling vineyards to its Pacific Coast location.
While the weather in both California and Florida is mainly hot and sunny, there are definite differences in their climates. California offers a dry heat, while Florida is known for its soaring levels of humidity. That makes a big difference in the way the day feels, regardless of the actual temperature. Teeing off on a 105-degree morning in Palm Desert may feel much more comfortable than hitting the links in Naples when the 95-degree temperature comes with 90 percent humidity.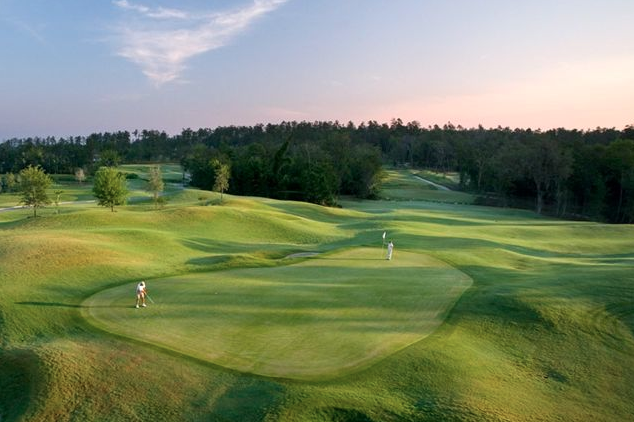 Whether you golf in Florida or California, each state has its own nuisances from the local wildlife. In Florida, that generally means mosquitoes and alligators. When you're in California, you're more likely to run into rattlesnakes and coyotes. Any of these tend to be unwanted guests on a golf course, particularly when Florida's mosquitoes appear in swarms that just won't be swatted away.
Climate is part of the regional picture, but weather is a big factor when you actually head out to the course. Though Florida is known as the Sunshine State, California is likely to have sunnier skies more days of the year. California is also spared the dangerous weather Florida can have with hurricanes and tropical storms. If you're looking for the top-rated courses in the country, California has a bit of an edge as well.
On Golf Digest's list of America's 100 Greatest Golf Courses, California courses appear twice in the top ten with Cypress Point Club (number 5) and Pebble Beach Golf Links (number 6). The top Florida course, Seminole Golf Club, makes the list at number 13. Golf Magazine's Top 100 Courses in the U.S. find similar results, yet it ranks Cypress Point Club at number 2, Pebble Beach Golf Links at number 5 and Seminole Golf Club at number 14.
Looking at these factors, it appears that California golf may take the lead over Florida courses. But choosing which is better will always come down to a matter of preference. Are you a fan of Florida golf or would you rather hit the links on California's West Coast? Let us know what you think in the comments below.