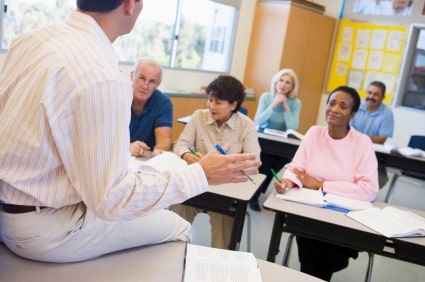 Set in Ocala, Florida, On Top of the World is a fabulous active adult community which features 10,000 homes, resort-style amenities, and three 18-hole golf courses. On Top of the World also supports lifelong learning opportunities with its impressive Master the Possibilities Education Center.
The Master the Possibilities Education Center is designed to help residents who want to continue their education or explore a new interest. This may help active adults start a second career, pursue a lifelong dream or simply challenge themselves to learn something new. Taking part in the curriculum can also be a great way to socialize or make new friends.
Although this facility is located within On Top of the World's Circle Square Commons, the program is open to the general public for a fee. Most of the classes and activities in the Master the Possibilities program are free to On Top of the World residents. Those that do have fees will be discounted with proof of residency.
Active adults who are interested in the program will have no trouble finding appealing activities, as the facility offers over 1,000 classes, lectures, and demonstrations each year. There are academic presentations covering subjects such as history, philosophy, current events, and literature, as well as health and wellness seminars discussing medical trends and treatments.
The center's fastest-growing classes encompass computer training and fine arts. Most of these programs are designed with small classes of about 10 people. This lets students get the most out of the classes with personalized instruction. Annual enrollment exceeds 18,000 students, but the Master the Possibilities Education Center is well equipped to support them. The state-of-the-art facility features lecture halls, classrooms, a computer lab, and art studios.
Online registration makes it easy for students to arrange for their classes or lectures, and there are even some computer classes which can be completed online. The center's expert faculty includes over 100 college professors and instructors from throughout the country. The Visiting Scholars program brings in a variety of subject experts, educators, and speakers from many prestigious institutions.
Active adults who have expertise in a particular area may even become teachers themselves by contacting the center with their class or lecture ideas. On Top of the World residents now have the ability to charter a class as well. If a community organization or social club is interested in a particular class, they can arrange to take it as a group at a convenient time or even customize a class to meet their needs. Best of all, groups can charter a class with as few as five participants.
With a diverse curriculum and well-respected instructors, the Master the Possibilities Education Center helps active adults expand their horizons while pursuing new interests or rekindling a forgotten passion.