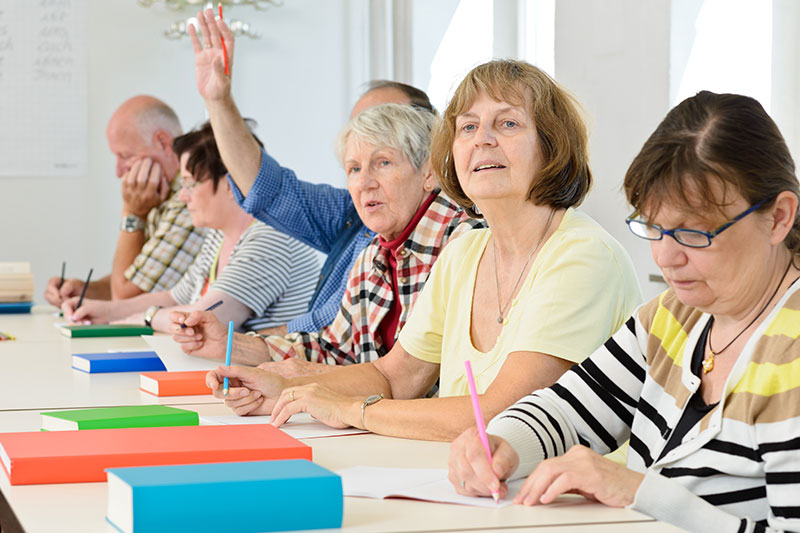 Active adults know that learning does not end after high school or college graduation. Learning is a lifelong process that brings texture and color to an otherwise beige existence. Adults often have interests they would like to explore, but the responsibilities of career and raising families keep them from having the time or ability to follow these pursuits.
Many active adult communities understand their residents' desire to learn, and partner with local colleges to provide easily accessible educational opportunities. Several colleges across the country have lifelong learning programs that offer continuing education for those not seeking a college degree. Lifelong learning programs are based on the personal pursuit of knowledge. As such, courses teach the subject matter without requiring tests or term papers. These courses do not give college credit.
On Campus
The Bernard Osher Foundation is a key supporter of lifelong learning and currently supports 120 lifelong learning programs at colleges across the United States. Osher Lifelong Learning Institutes only admit students aged 50+. Many other colleges also offer similar lifelong learning programs. The classes taught through lifelong learning programs span a wide variety of interests. Courses may be taught on computer skills, arts, and crafts, music, cooking, foreign language, sciences, or many other topics.
In addition to structured classes, many lifelong learning programs offer lecture series. For example, the Osher Lifelong Learning Institute at the University of South Florida offers a Friday Lecture Series with a variety of guest speakers. Lifelong learning classes and lectures are generally held both on and off campus.
Off-Campus
Off-campus classes may be held at hospitals, libraries or even at active adult community clubhouses. The Arizona State University Lifelong Learning Academy holds classes in the Sage Center at Sun City Festival, an active adult community in Buckeye, Arizona. Similarly, Lone Star College in The Woodlands, Texas, offers Academy of Lifelong Learning classes at both its nearby Windsor Hills and Windsor Lakes active adult community clubhouses.
Affordable Classes
The fees for lifelong learning classes and lecture series are generally low. A small annual registration fee (often $35 to $50) may be required. Classes may then be free or come with their own small fees. The cost of lifelong learning classes varies from one college to the next.
For-Credit Learning
For those who do want to earn college credit to complete a degree, many colleges offer flexible course schedules designed with active adults in mind. Unlike lifelong learning programs, classes for college credit are held at the university at the standard cost of tuition. However, colleges that promote continuing education will often work with prospective students to transfer in as many previous credits as can be accepted and help students plan a flexible schedule for their classes.
Today's active adult communities understand the importance of an active mind. By partnering with lifelong learning programs offered at local colleges, many of these communities are making it even easier for their residents to get the most out of their retirement years.