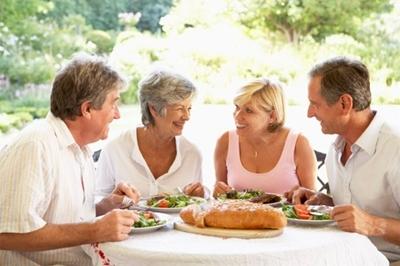 Active adults know that a healthy diet fuels an active lifestyle. Cooking clubs at active adult communities give members a place to exchange recipes and learn about healthy cooking techniques together. Many active adult communities also offer cooking classes and demonstration kitchens as well.
Healthy Living
Though many prepared meals are marketed as healthy options, they are often high in sodium or contain additives that may not be as healthy as home cooking. Soups, even the low-sodium variety, are a prime example of a healthy packaged food that will quickly push the limits of a low-sodium diet. Likewise, restaurant meals tend to be high in calories, fat, and sodium. They also come in large portions that make it easy to overeat. While reading labels and learning to make better choices at restaurants can help, at-home cooking is the best plan to promote healthy eating habits.
Cooking Clubs
Cooking clubs are a great way for both gourmets and novices to share their interest in home cooking. Members can learn from each other, attend classes together, or bring in nutritionists and healthy cooking experts to offer advice. Active adult communities with their own demonstration kitchens make it even easier for cooking clubs to get the most out of their meetings. Cooking clubs and classes are available at many active adult communities around the country. A few of the active adult communities with cooking clubs include Stonecrest in Florida, Lake Providence in Tennessee, Sun City Mesquite in Nevada, Edgewater by Del Webb in Illinois.
Trilogy at Power Ranch in Arizona is just one of the active adult communities that take its cooking clubs and classes one step further. This Shea Homes community includes a state-of-the-art culinary training kitchen and a range of classes designed for every skill level. Here, residents can learn everything from kitchen basics to gourmet techniques.
Cooking at Home
Though cooking clubs focus on home cooking by design, not all home cooking is healthy cooking. There are many ways cooking clubs can help active adults learn to incorporate healthy cooking techniques into their own cooking styles. Some clubs have friendly contests that challenge members to come up with their own healthy recipes or modify a favorite classic recipe to reflect healthy eating guidelines. Research continues to show the vast benefits of healthy eating, especially for older adults. Low-sodium, low-fat, heart-healthy diets do not have to be devoid of flavor. The cooking clubs at active adult communities are an ideal setting for members who want to learn healthy cooking techniques. As with any lifestyle change, healthy eating is easier to achieve with the support of others.