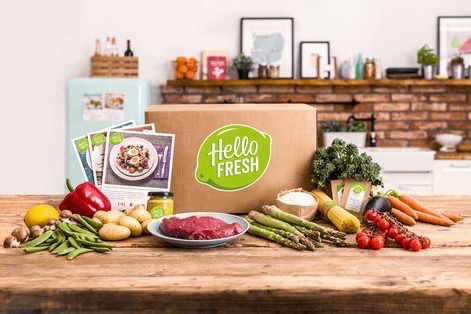 Ordering food – or anything – from your smartphone has never been easier and there have never been more options. Whether you want a quick meal from a local restaurant or fresh ingredients for a week of meals, there's an app or website for you. Because of the wealth of options, choosing a service might be overwhelming and it's usually difficult to tell the advantages of one over another. If you're looking for the app that caters to your tastes or preferences, here are a few delivery services that deliver fresh food to the comfort of your own home.
One of the many meal kit delivery services to pop up within the last few years. What makes it different from the more recognizable Blue Apron is its minimal prep time. While part of the fun of these services is making a new dish, some services require an hour or more of prep time. HelloFresh consolidates those steps, meaning you're not spending your afternoon prepping a meal. HelloFresh has also partnered with celebrity chef Jamie Oliver. His meals are generally more intricate in terms of preparation, but if you have the time it's worth it to try a truly world-class meal you can make yourself.
Another meal kit delivery service, just without the cooking. Freshly prides itself on offering healthy food with sustainable packaging. All meals are low in carbs, don't have processed sugars, and are chemical free. The box and everything in it – except for the food – is recycled or recyclable. On top of that, there is virtually no meal prep. All it takes to have a Freshly meal is a microwave. The food is also never frozen, so there's no defrosting in the process.
Moving into to-go delivery, this is probably the most recognizable name on the list. GrubHub has become the dominant to-go delivery service. You no longer have to go out to get your favorite meal from a restaurant near your home. Simply download the app, search for a restaurant and order whatever is on the menu. In 30 minutes to an hour, it'll arrive at your door. GrubHub works with independent restaurants across the country so even the smallest place can have a delivery option through GrubHub. There are even some chain restaurants who have gotten in on GrubHub recently, so your options are almost limitless.
An up-and-comer in the online delivery game, Postmates offers a unique blend of upscale restaurants and national fast food chains. Very few delivery apps will offer you sushi right next to Taco Bell or Chipotle. What GrubHub lacks in selection, Postmates makes up for. They might not have the smaller, corner restaurants, but they do have the most sought-after restaurants in metropolitan areas. Another unique feature of Postmates is Postmates Plus, which offers a flat $2.99 delivery fee for select merchants.
At a certain point, many delivery services start to blend together. It comes down to personal preference when deciding which one you use more often. What DoorDash does differently than those mentioned above is the option to do group orders. If you're having a party or just a few friends over for drinks, DoorDash is a great option. Instead of spending all day preparing food or dealing with cash to pay for a pizza, just use the group order option on DoorDash. Each person can select the amount of food they want so there's no waste or leftovers, and the exact amount for everyone to pay is right there to see. DoorDash fills in some restaurant gaps left behind by GrubHub and Postmates.