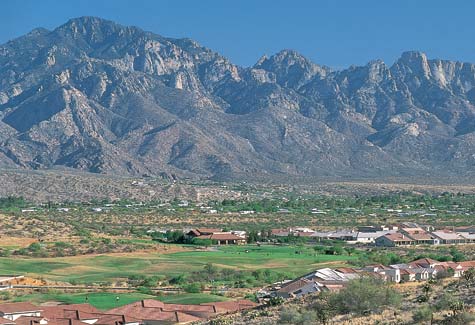 It's easy to dream about your ideal retirement location, but how do you know that the city you choose will match up to your fantasy? Travel brochures, movies and destination TV shows can make many locations look like paradise. Whether your dream is of sunny beaches, high desert, or majestic mountains, it's important to take the time to research and visit an area before making it your new home.
For retirees who dream of living in the arid or semi-arid climate of a desert, a dream destination is likely to be found in the American Southwest. The more southern Mojave, Sonoran and Chihuahuan Deserts have long summers with high temperatures and semi-tropical plant life, while the Grand Basin Desert has somewhat cooler temperatures.
Many people move to the desert in the hopes that the dry climate will help with asthma or allergies. Depending on the severity of the asthma and the type of allergies, the climate change may or may not bring an improvement. Sun exposure and heat-related illnesses are also a concern when living in a desert environment, so care should be taken to stay hydrated and use sun block as needed.
A Desert Retirement
There are many spectacular age-restricted active adult communities set in desert climates. Both Phoenix and Tucson, Arizona are popular retirement locations and include impressive communities such as the original Sun City by Del Webb, and SaddleBrooke by Robson.
Retirees also enjoy high desert living in the communities near Las Vegas, Nevada, such as Siena by Sunrise Colony Company, or Sun City Anthem in Henderson. When mountain views are an important feature in a retirement destination, retirees can choose from communities on either side of the country.
Retire in the Mountains
The Rocky Mountains stretch over 3,000 miles along America's westernmost states and include over 100 separate mountain chains. On the east coast, the Appalachian Mountains extend from central Alabama up through the New England area.
Living at a higher altitude can be an adjustment. Though the effects are generally felt at around 4,000 feet above sea level, some people may be affected at much lower altitudes. The effects may be felt more while visiting as it takes a few weeks for the body to acclimate. Even those living in the foothills of the mountains may feel the affect of a higher altitude when they travel up the mountain for hiking or other recreations.
With elevations between 5,000 and 6,000 feet, mountain lovers may feel at home in communities near Denver, Colorado, such as Heritage Eagle Bend Golf Club in Aurora. At a similar elevation, retirees may prefer the heights of Prescott, Arizona, including the age-targeted community of Prescott Lakes. At an elevation of 4,400 feet, Sierra Canyon in Reno, Nevada is another impressive mountain community.
Coastal Retirements
Waterfront living can mean many things. Some retirees envision oceanside living near a sunny semi-tropical beach, while others picture a home beside a lush lake. Oceanside living is limited to coastal states, while lakeside homes can be found throughout the country. Retirement communities in coastal cities tend to have a higher average cost of living than lakeside communities. They are also more prone to being tourist towns, whereas lakeside living may be more secluded. Yet the choice between coastal or lakefront living is largely a matter of personal preference.
For spectacular coastal living, retirees may opt to live in Southern California communities such as Ocean Hills Country Club in Oceanside. Florida is a well known coastal retirement state, yet Central Florida boasts many lakeside communities as well. Retirees can explore waterfront living throughout the country, including impressive communities such as Del Webb Frisco Lakes in Texas and Sun City Hilton Head in South Carolina.
Whether your dream retirement location includes a sandy beach, rural lake, mountain vistas, or an arid desert, it is important to learn as much as possible about the area before making the move. Plan visits at different times of the year, particularly during the area's off-season.
While the tourist attractions are a big draw during a vacation, planning a visit to the area's active adult communities may give you an opportunity to talk to some actual residents and learn more about living in the area year round. Where you live is an important decision and a bit of research will help merge your dream retirement with the reality of the destination.