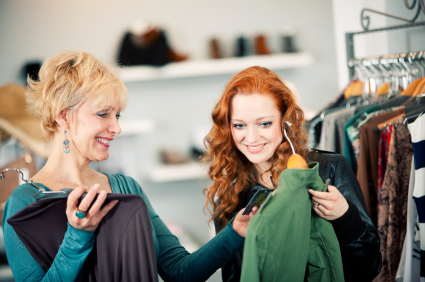 Fashion doesn't stop in your fifties, or in the years beyond. You don't have to change your look to match anyone's idea of how an older person should dress. However, it's generally a good idea to evolve your style with the passing years. You probably dressed differently in your thirties than you did in your teens, and you will probably dress differently in your seventies than you did in your forties.
For both men and women, fit is a key component of looking stylish at any age. Some stores even offer basic alterations free of charge, or off-the-rack items can be professionally tailored to better fit your body. Look for clothes that flatter your figure, without being too tight or showing too much skin. And for women, that also means choosing a supportive bra, preferably one that has been chosen with a professional fitting.
Jeans are a staple for most people and they can be worn well at any age. For best results, skip the skinny jeans and opt for straight-leg or boot-cut styles. Avoid boxy, light blue jeans that are typically dubbed "mom jeans" or "dad jeans." Dark denim generally looks better, and women can also choose white denim for the summer months.
Some stylists will tell you that older people should shy away from graphic tees or logo tees, but that's more of a personal preference. T-shirts are fun and can boast some of your favorite interests. Instead of banning them from your wardrobe, try modifying the way you wear them. Choose t-shirts that fit, but are not form-fitting, and dress them up with a casual blazer, cardigan or jacket.
When you want to be less casual, be prepared with a pair of great-fitting black pants. Take them to the tailor to get the length and fit just right (and bring the shoes you will usually wear with them). Black pants go with everything and they can be dressed up or dressed down for any occasion.
There are a few other must-have pieces for any woman's wardrobe. Tank tops, in a variety of colors and styles, are perfect for layering under blouses, cardigans, jackets and sweaters. A black pencil skirt, to the knee or slightly longer, is a great alternative to black pants, and every woman should have at least one versatile little black dress. Go for a simple sheath style, a wrap dress or one with an A-line skirt.
For men, timeless classics like polo shirts, sports coats and solid sweaters can be worn to most occasions. Pair them with dark denim jeans for more casual events or with slacks when the setting is more dressed-up. For formal occasions, you can't go wrong with a properly fitted suit.
However you choose to dress, don't forget to top off your look with a stylish haircut and good grooming. Treat yourself to the occasional manicure, pedicure or facial to keep yourself looking fresh and relaxed. Love what you wear and you will have the confidence to create your own personal style.