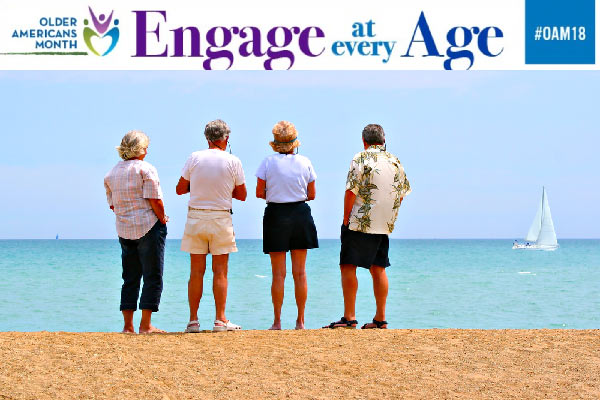 May is National Older Americans Month, and this year the theme is "Engage at Every Age".
Each May, the Administration on Aging (a part of the Administration for Community Living), observes Older Americans Month (OAM) as a way to recognize the contributions of older Americans as well as providing them with the support they need to live independently.
Each year, the Administration provides a theme for OAM. In years past they've included "Never Too Old to Play", "Making Choices for a Healthier Future", and "Age Out Loud". The 2018 theme, "Engage at Every Age", is meant to "emphasize that you are never too old (or young) to take part in activities that can enrich your physical, mental, and emotional well-being."
Research suggests that seniors who are socially engaged also are healthier, mentally and physically," said Lance Robertson, ACL Administrator and Assistant Secretary for Aging. That's why ACL is committed to supporting older adults with the tools and services they need to continue to engage in their communities throughout their lives."
On a more practical level, Engage at Every Age is about getting involved in activities and exercises that promote mental wellness as well as physical wellness. Staying engaged by joining a pickleball league or tennis club is great for your health. However, there are also ways to engage such as offering your wisdom to younger generations through mentorship or volunteering at a local charity or religious center.
If you're looking for ideas as to how to Engage at Every Age for yourself, 55places.com offers up some ways to get started in various activities below.
Check With Your Clubhouse
If you're not sure where to start, the community clubhouse is always the best place to look for answers. Oftentimes, there will be someone available to help point you in the right direction for the activity you're interested in. The clubhouse is also often the home base for many clubs, leagues, and get-togethers as the game rooms and meeting rooms are located here. You'll probably find the sports courts and golf courses located nearby as well.
Pick Up a Sport
Put the active in active adult by getting involved in a new sport or recommitting yourself to the one you used to play. It's never too late to learn how to play golf, try out a new exercise or stretching routine, or even find some new friends to go walking with.
Get Involved in Activities
If breaking a sweat isn't your idea of a good time, you can certainly get engaged by joining an activity club. There are tons of groups and clubs you can choose from, be they dedicated to arts & crafts, travel, theater, or games. There are also singles clubs, groups that go out for meals together, and people who gather for intellectual discussions. If your community doesn't have a club for something you're passionate about, why not start one?
Volunteer Your Time & Experience
Volunteering during retirement can be an extremely enriching reward. You can give your time and energy but you can also give the value of your wisdom and expertise in specific areas. You can join Habitat for Humanity and help build a new home for a family in need, join the Senior Corps to help nonprofits and charities, or help raise money for the Rotary Club's many endeavors. Check to see if your community already has volunteer programs in place, too.
Go Back to School
They say you never stop learning, so maybe you should take them up on that. There are so many continuing education programs available today, either nearby or online. Many active adults pursue these kinds of programs in order to earn a new degree or just stay mentally fit. Maybe you've always wanted to learn more about computers or just enrich your knowledge of the arts. Whatever interests you, there's a class out there ready to help you understand and appreciate it even more.