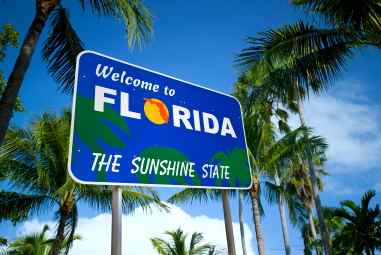 Florida beaches have long been among the top choices for retirement destinations. South Florida in particular draws many active adult retirees year after year. But even for those who have long dreamed of living in South Florida, one difficult decision remains: Gulf Coast or Atlantic Coast?
The choice between the Gulf Coast or Atlantic Coast is largely a matter of personal preference. Each coast has a long list of positive qualities to recommend it. In many ways, the eastern and western coasts of South Florida are similar. But there are also important differences that may lead to your choosing one area over the other.
South Florida's Gulf Coast
The sandy beaches of Southwest Florida's Gulf Coast include long, thin barrier islands and flat coastline. The Gulf waters tend to be calm and the area is generally less congested than the southeast coast. Southwest Florida is a regular destination for many snowbirds, but it is also a permanent home to a large percentage of active adult retirees.
Retirees with various budgets can easily retire to South Florida's Gulf Coast. Charlotte County and Lee County offer affordable housing, with real estate prices 5 to 10 percent lower than the state average. Collier County, on the other hand, is more expensive and homebuyers can expect to find prices up to 10 percent higher than the state average.
When it comes to recreation, Southwest Florida is often known as the "Golf Capital of the World," because there are more golf holes per capita than anywhere else in the world. Many of the popular Southwest Florida active adult communities can be found found in Naples, Fort Myers and Bonita Springs.
South Florida's Atlantic Coast
Just north of the Florida Keys, the Atlantic Coast offers sunny beaches and urban areas like Miami and Fort Lauderdale. Southwest Florida beaches are partially sheltered by the islands of the Bahamas, which leads to having calmer waters than more northern Atlantic Coast beaches. The warm waters of the Gulf Stream also help make the Atlantic coast a bit warmer in the winter than Gulf Coast beaches, and a bit cooler in the summertime.
Nearly six million people call South Florida's Atlantic Coast home, and a large portion of these residents are 55+ active adults. The majority of residents live in the area stretching from Miami to Palm Beach, making this a more congested area than the Southwest Coast. The area is expensive, but the many recreational and cultural attractions make it a popular area for retirees. With its urban centers and patchwork of diverse communities, South Florida's Atlantic Coast offers a wide variety of living options. There are high-rise condominiums, single-family homes, mobile home parks, and a wide range of golf course communities. Highly sought-after Southeast Florida active adult communities include those in Boynton Beach, Port St. Lucie, Lake Worth, and Delray Beach.
Which Is Better? You Decide!
Whether settling along South Florida's Gulf Coast or Atlantic Coast, retirees will find many active adult residents. The semi-tropical climate of either area means saying goodbye to long, cold winters, and hello to sunny beaches. Which area is better? The answer is up to you.