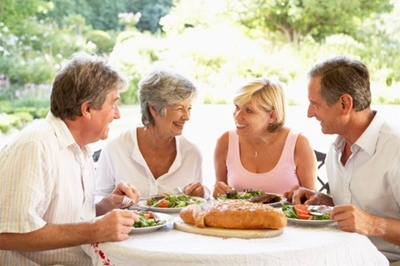 Outdoor living space expands your home and makes it easy to enjoy a beautiful day. When you live in a mild climate with sunny days year-round, ample outdoor space becomes even more desirable. But if you have a choice between a front porch or a back patio, which is more appealing?
Front porches and back patios each bring their own charm to a home. Inviting front porches add curb appeal and provide a cozy spot to people-watch or chat with neighbors passing by. Back patios may offer tranquil space for outdoor dining, barbecues and family gatherings. Yet the benefits of porches and patios largely depend on their specific design and location. Back patios are often designed to be shielded from view.
They may be partially tucked between portions of your home, screened by landscaping or set at an angle that is hard to see from neighboring lots. But don't assume that a back patio will offer privacy. In a new construction home, be sure to ask about the plans for adjacent lots and new development. There are many variations on back patios and many ways that they can be customized to meet your needs.
Patios might be enclosed by a fence or low wall, covered by a roof or open to the sky. Screened patios provide a protected place to enjoy the outdoors without the bother of bugs, and open patios can be a great place to soak up the sun or dine under a shade umbrella. Many additional design elements can transform a back patio into an ideal space for entertaining. A few popular options include fireplaces or fire pits, built-in barbecues, outdoor kitchens, trellises and arbors. Patios can be a great place for water elements as well, such as fountains, decorative ponds or even hot tubs.
Front porches may seem less varied than back patios, but that isn't necessarily the case. The traditional covered front porch can range from a small perch for side-by-side rockers to an impressive expanse stretching along the width of the house. Some front porches may even open into a curved or square area large enough for outdoor dining. While front porches are generally more exposed than back patios, they can also be shielded for privacy.
Porches might be enclosed by thick railings and hanging plants, screens or even glass windows. Seating areas can also be fully or partially screened by landscaping in the front yard. Whether you choose a front porch or back patio, outdoor living spaces should complement your home and be designed with adjacent lots in mind. Consider the style of your home and its position on your homesite during your planning and you are sure to love your outdoor living area.