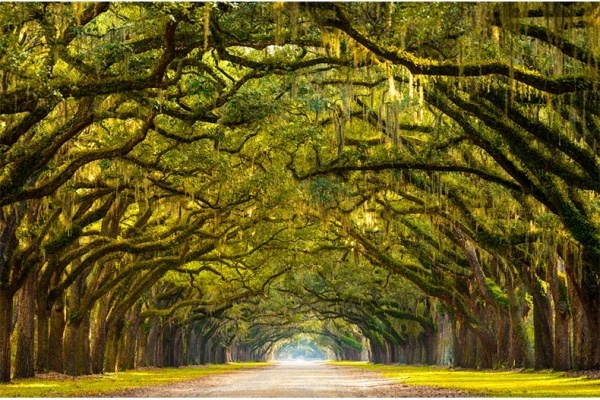 Both Virginia and Georgia are known for their diverse geography providing many outdoor recreation options.
When it comes to active adult communities, Virginia and Georgia tend to get overshadowed by the states between them (North Carolina, South Carolina) as well as the state below (Florida). However, both offer over 70 active adult lifestyle communities, many of which are age-restricted and offer all of the amenities and benefits of the communities you'll find in neighboring states. Plus, 55+ living in Georgia and Virginia come with their own sets of unique features, locations, and options based on how much both states have to offer.
But if we put them head-to-head, which state comes out on top when it comes to retirement?
Climate
Some people would tell you that Virginia's climate is best described as "The Goldilocks Zone." It's not too hot and not too cold. That's because most of the state east of the Blue Ridge Mountains has a humid subtropical climate. In the summer, it tends to be slightly humid along the ocean, but the air remains cooler and less humid the closer you get to the mountains. In all, Virginia has five distinct climate regions: the Tidewater, Piedmont, Northern Virginia, Western Mountain and Southwestern Mountain, all of which see varied temperatures and seasonal changes based on geography.
Georgia, meanwhile, also offers a mostly a humid subtropical climate that ends up giving it short, mild winters and long, hot summers. The dividing line in the state is the Chattahoochee River, with the northwest mountain region being a bit cooler than the rest of the state. Winters are often marked by mild temperatures and only a smattering of snow, though that increases in the northern part of the state. Summer temperatures are known to get into the high 90s and you can also expect plenty of precipitation.
Taxes
In Virginia, individual income tax collections per capita come out to $1,420, the ninth-highest amount in the country. However, the state and local tax burden is 9.3 percent, which puts it at 27 overall of all the states, almost exactly in the middle. Per capita, you can expect to pay $1,520 in state and local property taxes, the 18-highest of all the states. Sales tax is on the lower side, with a combined 5.63 percent sales tax rate (41-highest nationally) and 22.4-cent gas tax (38 nationally).
Georgia offers a state and local tax burden of around 9.1 percent (32nd overall). Per capita, you can expect to pay $1,125 in state and local property taxes, which is the 32nd-highest of all the states. With a state sales tax of four percent, Georgia is on the lower side (40th), though the combined state and local sales tax rate jumps to 7.15 percent (20th overall). You'll pay 31.59 in taxes on gas, the 21st-highest amount, though you'll only pay 37 cents on cigarette taxes if that's your thing, among the lowest in the nation.
Cost of Living
Virginia certainly isn't on the cheaper side when it comes to the overall cost of living. It's slightly higher than the national average, thanks in large part to housing prices as the median cost of a home is much higher than elsewhere. However, that is offset by many costs that come in lower than the national average, such as health, utilities, transportation, and groceries.
Georgia, meanwhile, comes in with a much better overall cost of living compared to the national average. Housing costs are well below the national numbers with median home prices almost $40K less than what a median home costs elsewhere. Health and utility costs are also lower than national averages. However, transportation and grocery costs come in slightly above the national average, so that's something to consider.
Recreation
As you may have heard, Virginia is for lovers. But it's also for just about everyone looking for something to do. History buffs will have a field day perusing the Civil War battlefields, historic homes, museums, and historic shopping districts throughout the state. And for a walk back in time, residents and visitors can also spend a day at the world-famous Colonial Williamsburg. Out west, Virginia offers a variety of local vineyards. Many of these wineries offer tours and tastings, as well as seasonal festivals. In Virginia's Blue Ridge Mountains, residents can enjoy natural wonders throughout the Shenandoah National Park, including the beauty found along Skyline Drive, and even explore the spectacular underground caves at Luray Caverns.
Georgia is pretty rich with history, too. It's home to major fine art museums including the High Museum of Art in Atlanta, the Telfair Museum of Art in Savannah, and the Morris Museum of Art in Augusta. Atlanta is also home to many great performing theaters such as the Fox Theatre and the Woodruff Arts Center. For those who want to get outside, there are 48 state parks. Some of the most notable of these include Appalachian National Scenic Trail and the Chattahoochee River National Recreation Area. Both offer great hiking, camping, and fishing. Don't forget about the Georgia Aquarium, the largest in the world with over 100,000 animal, 500 species, and 10 million gallons of both fresh- and saltwater exhibits.
Make sure you're getting more content like this by following 55places on Facebook, Twitter, and Instagram.