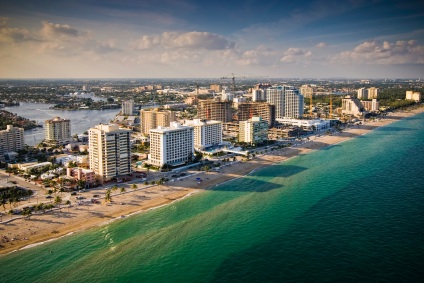 California and Florida are two of America's most popular retirement locations. Both the Golden State and the Sunshine State are known for their sunny beaches, beautiful climates, and active lifestyles. Though they are located on opposite coasts, each state draws retirees for some very similar reasons. Climate is clearly one of the main draws for both of these locations. California provides many retirement settings including mountain, desert, beach, and vineyard locations. As a peninsula, Florida offers sunny beaches along both its ocean and gulf coasts, as well as lakeside living throughout the state.
California Climate
Much of California enjoys a Mediterranean climate with rainy winters and hot, dry summers. Winters tend to be mild with snow regularly occurring only in the northern mountain regions. Parts of Northern California, particularly those near the ocean, have little variance from weather in the 70s throughout the year, yet daytime temperatures in Southern California's Mojave Desert and San Joaquin Valley often exceed 100 degrees.
Florida Climate
Florida contains three climatic zones. The northern two-thirds of the state are sub-tropical, with the upper experiencing four seasons and winter temperatures that drop below freezing on occasion, and the middle third having warmer daytime averages and winter temperatures that rarely drop below 60. The southernmost third of Florida is a tropical region and has the warmest climate. Despite Florida's reputation for being hot and humid, temperatures rarely reach over 100 degrees in any part of the state.
Things to Do in California
Both California and Florida offer plenty of recreational pursuits for active adults. California's mountains, lush wineries, and sunny beaches provide a wide variety of outdoor activities. Residents can enjoy the features of both small, tucked-away towns and large urban centers like San Francisco, Los Angeles, and San Diego. Whether it's golf, fishing, or simply relaxing on a beach, Florida residents enjoy their favorite outdoor activities year round.
Things to Do in Florida
Florida cities, particularly Orlando and Miami, offer a wide range of shopping, dining, and cultural attractions. When grandkids come to visit it helps that both states supply world famous theme parks, including the original Disneyland in Anaheim, California and the sprawling Disney World in Orlando, Florida. Universal Studios also has a presence in Orlando as well as its well-known attraction in Hollywood, California. Sea World, Legoland, and many other theme parks also take advantage of the fine weather and high tourist draw of both states.
Florida 55+ Communities
Active adult communities are abundant in both the Golden and Sunshine States. Florida attracts more retirees per year than any other state. Seventeen of the top 25 counties for retirement in the United States are located in Florida and over 17 percent of the state's population is over the age of 65. A few of Florida's successful active adult communities include The Villages, Sun City Center, Del Webb Ponte Vedra, Venetian Isles, and Lely Resort.
California 55+ Communities
In California, age restricted communities and those that cater to active adults are also prevalent. There is a greater concentration of active adult communities in the warmer regions of Southern California. These popular active adult communities include Four Seasons at Palm Springs, Ocean Hills Country Club and Sun City Palm Desert, Sun Lakes Country Club, and Trilogy at Glen Ivy. Those more interested in Northern California, should consider the beautiful communities of Sun City Lincoln Hills, Heritage Park, and Springfield at Whitney Oaks.
Weigh the Pros and Cons
No retirement location is a perfect Eden. Both states have their own risks for natural disasters. Hurricanes and tropical storms are a concern for those considering retiring to sunny Florida.
Yet California residents face the risks of earthquakes, forest fires, and mudslides. Clearly these concerns are not enough to keep retirees from relocating to either area, but potential residents should keep them in mind.
Though it varies by city, the cost of living is generally higher in California. Florida's low property taxes and no income tax are a big attraction for many retirees. However, property taxes in California are calculated based on the home's fair market value at the time of purchase and are not affected by any rise in real property values, which makes this a great time to consider California real estate.
Whether choosing sunny Florida or the diversity of California, either state can provide retirees with beautiful weather, many recreational attractions, and an active lifestyle. Which state is better is largely a matter of preference, yet each year, retirees make their personal dreams come true by choosing an active adult community in either the Golden State or the Sunshine State.