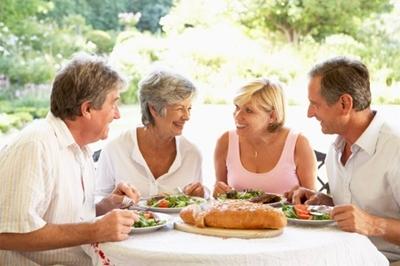 While relocating to a favorite retirement destination may be a dream come true, it still comes with some challenges. Starting over in a new place means finding new doctors, new places to shop and new ways to get around town. It also means building new friendships, which may be easier said than done.
If you are retired and have an empty nest, you no longer have the option of meeting people through work or through your children's activities. Moving to an active adult community, or a neighborhood with a large number of retirees, may make the transition a little easier. Yet, regardless of where you live, there are several things you can try to meet new people.
It takes time to form new friendships, but getting out and meeting people is the first step. One of the best ways to meet others with similar interests is to join a social club. Look for community groups which center around your favorite pastimes. Many communities offer local clubs for hobbies such as book discussion, astronomy, wine tasting, art appreciation and Bible study. Taking part in a volunteer organization also lets you meet people while pursuing a shared interest.
Seeking out local classes will help you meet others as well. Try to find classes which are interactive, such as cooking classes or art classes. Plan to arrive early so you will have time to chat with other students before class, and don't be afraid to introduce yourself, even if the other students are in pairs or groups. Most people feel awkward when striking up a conversation with a stranger, but it is worth the risk if it leads to making a new friend.
Relocating retirees often make friends through their pets. Take your dog on frequent walks and to visit a local dog park. Having a dog can be a good ice breaker when meeting new people, as it instantly gives you some common ground. If you don't have a dog, frequent walks can still help you meet the neighbors more quickly than if you stay indoors.
Once you get out of the house and are taking part in a group activity, there are many ways to invite conversations. You can introduce yourself, ask a question or offer a friendly observation. Since you're new in the area, asking for local recommendations is often a great way to strike up a conversation.
Remember that friendships build slowly and don't be discouraged if it takes awhile to find others who share your interests. Keep making an effort and you will soon build a new group of close friends.