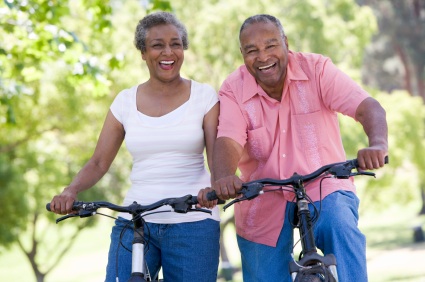 These days, adults are living longer than ever before. While partially a result of advances in healthcare, this is also due to a better understanding of how active adult living affects the body. When it comes to a person's health, genetics play an important role. However, those who are predisposed to a certain condition (or already diagnosed with a disease) can reduce their risks and better manage their condition with simple lifestyle changes.
Research continues to show us that activity is at the heart of a healthy lifestyle. Regular exercise leads to more energy, greater strength, and increased flexibility. It can help manage or reduce the risks for serious health problems such as diabetes, high blood pressure, and elevated cholesterol. Inactivity is detrimental to anyone's health, but for older adults it can lead to premature frailty that increases the risks of injury from falls.
Staying Active Doesn't Mean Working Out
But focusing more on active adult living doesn't have to mean working out in the gym or running a marathon. Adults can reap significant health benefits by participating in moderate activity for as little as 30 minutes every day. Best of all, virtually any activity contributes to these health benefits, from taking a brisk walk to swimming laps to playing a round of Wii Sports with your grandchildren.
Dancing
Dancing is another way active adults can have fun while staying in shape. Many active adult communities have dance studios and offer classes in ballroom or other styles of dance. Line dancing is a popular activity at communities such as, Sun City Apple Valley in California, Heritage Todd Creek in Colorado, and Lake Ashton in Florida.
Being Social
Active adult living involves well-rounded living which hinges on both physical and social activity. Socializing and sharing interests with friends can be invigorating. It often reduces stress, which can in turn lead to better health. Too often, active adults feel isolated when their children move out of the house or they retire from their careers. Taking on a new hobby and joining a local social group can do wonders to improve mental outlook.
Active adult communities are a great place for adults to make friends with others who in the same stage of life. Many communities offer a wide variety of social clubs that incorporate many interests, such as crafts, photography, yoga, travel, and gardening. Book discussion groups, luncheon clubs, and local chapters of the Red Hat Society are additional ways adults can stay active, meet new people, and exercise their minds as well as their bodies.
Eating Right
In addition to regular exercise and an active social life, a healthy diet has a large impact on a person's overall health. Processed, pre-packaged foods can be high in salt, trans-fat, or other questionable ingredients. Many nutritionists recommend cooking fresh foods as a healthier alternative. Cooking classes promote both social activity and a healthy diet. They are offered at several active adult communities, including The Club at WestPark in Roseville, California and Villaggio in Lake Worth, Florida.
Each year, several active adults discover the joys of living in an age-restricted community. State-of-the-art fitness centers, tennis courts, walking and biking trails, dance studios, a variety of social clubs, and many other amenities promote the kind of active adult living that brings about dozens of health benefits. Participating in these, and in other, group diversions can help active adults stay healthy for years to come.