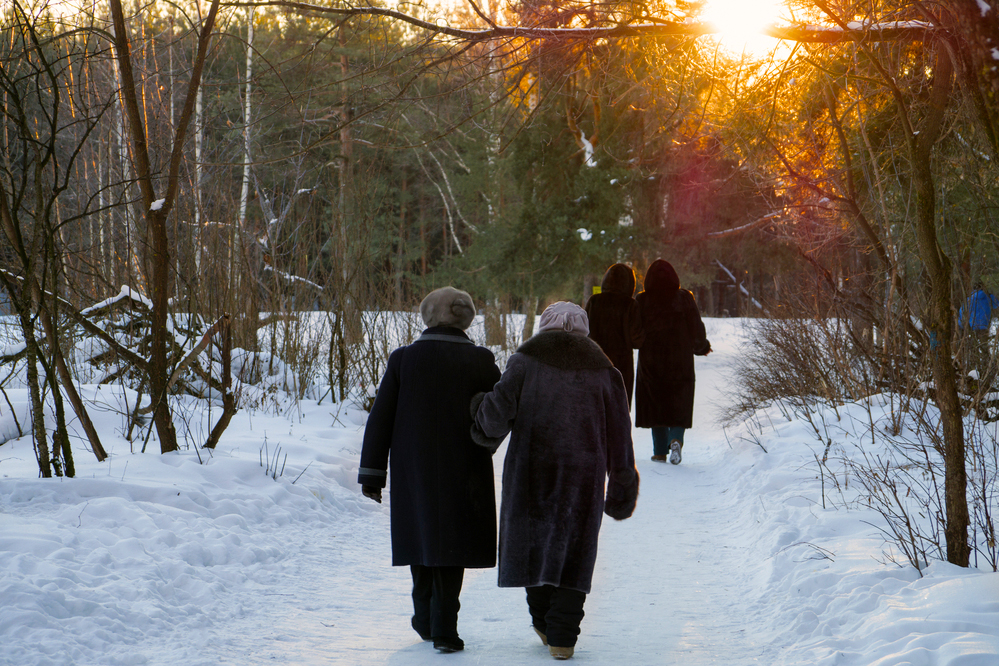 As we move into January, long after the popping of champagne bottles and as holiday decorations return to their boxes, it can be difficult to stay active during the short days and long nights of winter. This is doubly so in the northern parts of the country, where heavy snows and bone-chilling temperatures can require a true act of bravery to get out of the house, whether for pleasure or simply shopping for groceries.
Residents of 55+ communities, however, have a few things going for them that make it easier and much more fun to make the most of the winter months. Amenity centers and clubhouses not only house many of the attractive amenities that active adult communities are famous for, but they also provide ample space for group meetings and events - from social and service groups to community-wide get-togethers that encourage residents to get out and meet their neighbors.
Clubhouse
From the modest and cozy to the sprawling, resort-like amenity centers, clubhouses are the centerpiece of just about every active adult community. If you haven't explored all that your community's clubhouse has to offer, the colder winter months provide an excellent opportunity to fight off cabin fever while still staying close to home during times where the weather is unstable and makes long-distance driving difficult.
The new year often brings resolutions to get into shape, especially after a holiday season filled with treats and sweets. You'd be hard-pressed to find a clubhouse without basic exercise amenities, while many larger communities have facilities that resemble those of a modern health club, just without the expensive membership fees.
In addition to cardio machines, weight rooms, and even indoor pools, many communities offer fitness classes and group workout sessions which can make the process of starting an exercise routine a fun and social activity. Although exercise equipment is standard in most 55+ communities, some go above and beyond, providing fitness centers that rival the most luxurious gyms. Here is a list of some of our favorite fitness centers found in 55+ communities around the country.
You don't have to break a sweat to staying warm and cozy during the cold winter months though. Clubhouses in active adult communities very often feature a variety of hobby rooms, workshops, and game rooms. With woodworking shops, pottery studios, craft rooms, card rooms, bingo nights, and billiards rooms, there is no shortage of ways to beat the winter blues in many 55+ communities.
Groups and Activities
Beyond just amenities, clubhouses and community centers in active adult communities serve as hubs for social life. One way many homeowners chose to contribute to their community is by joining one of the many social and hobby groups offered at most active adult communities. Groups are always seeking new members and are a great way to maintain an active social calendar during the cold and dark months of the year.
Just about every community, large and small, will have various card and game clubs that meet throughout the week. This can be a great, low-commitment way to get out and enjoy time with friends and neighbors over a game of bridge or Mah Jongg, while bingo and casino nights appeal to all kinds of residents.
Outside of game nights, there are usually plenty of other interest groups, ranging from Bible studies to dance troupes and singing choirs. Larger communities will often have groups specifically for residents from larger regions or cities like New York or Chicago, where they can keep up with the local news or catch a game from their hometown team.
Also, if you can't find a community or interest group that appeals to you, winter is the perfect time to start one of your own by inviting friends and neighbors with similar interests or a desire to try new things.
Naturally, the community's clubhouse provides an ideal venue for meetings and get-togethers. If you're looking for a community that places a premium on activities, events, and clubs, then check out our list of 2017's most active communities.
Lock & Leave
Even the most seasoned, winter-loving northerner eventually enjoys a respite from the icy winds and snow of January and February. Winter, with its short days and gray skies, is the most popular time of year to take vacations to warm, sunny destinations. Luckily, most active adult communities offer some kind of maintenance, ensuring you can leave your home for a weekend getaway or a month-long trip without worrying about the condition of your home and property.
Residents of communities where snow is common can expect prompt snow removal, while those in warmer climates can kick back and relax since their lawns will be maintained while they are away. Additionally, many communities have gates and security services, giving residents additional peace of mind during their winter vacations.