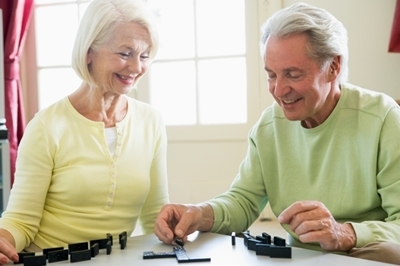 Mexican train is a game played with dominoes that has become popular with many age groups, including the residents of active adult communities. There are several variations on Mexican train, but the basis of the game is relatively simple. Mexican train is quick to learn, however strategic skill develops with continued play. This makes it an ideal social game for a group at an active adult community.
Game Objective
As in many domino games, the object of Mexican train is to be the first to play all dominoes held. The game is easily adaptable for small or large groups by simply using different sets of dominoes. A classic double-six set of dominoes (where the largest domino has two sixes) will work for up to four players, however extended domino sets provide better play.
Rules
A general rule of thumb recommends that a double-nine set of dominoes is fine for two or three players. A double-twelve set works for a group of four to eight, a set of double-fifteen is best for nine to 12 players, and 13 or more players should use a set of double-eighteen dominoes. In addition to the dominoes themselves, the game requires each player to have a marker (such as a penny) and one additional marker (such as a nickel) for the Mexican train. Any small object, such as coins or buttons, can be used. Some Mexican Train domino sets come with small train shaped markers in different colors.
Players will also need pencil and paper to keep score. A special spacer to set up the train hub helps to organize the game, but the spacer is optional. At the beginning of the game, one domino is placed in the center of the table to start the train hub. There are variations on how the domino is placed and which domino is used, however the domino is always a double. Most often the first round begins with the highest double in the set and subsequent rounds step down through each of the doubles.
Following the rules of play, each person will set up their own train (row of connecting dominoes) off of the central hub. One additional train, the Mexican train, is also played off the main hub. In Mexican train, each player's individual train is private, meaning that only they can play on it.
The Mexican train is always open to public play. However, this can change. When a player is unable to play a domino on his turn, he must place his marker on his train, marking it as open for public play. To resume private status, he must be able to play a domino on his own train during a subsequent turn.
Ideally, players want to keep their trains private to give other players fewer opportunities for play. The specific rules of Mexican train can vary widely from one group to another. In addition to the basics of how to draw and play dominoes, there are special rules for how to play doubles. Before starting a game with new players, everyone should review the house rules to avoid conflicts during play.
Mexican Train in 55+ Communities
Many active adult communities across the country have social groups which regularly meet to play Mexican train. Just a few of these communities include, Carillon Club in Illinois, Solera at Johnson Ranch in Arizona, Springfield at Whitney Oaks in California, Del Webb Charleston in South Carolina, and Valencia Lakes in Florida. Mexican train is a fun and challenging game that is perfectly suited to an active adult community. It is quick to learn, making it easy for new players to join in on the fun. It is also a great game to introduce to children and grandchildren when visiting with family. For a new twist on an old classic, Mexican train is a game that delivers.