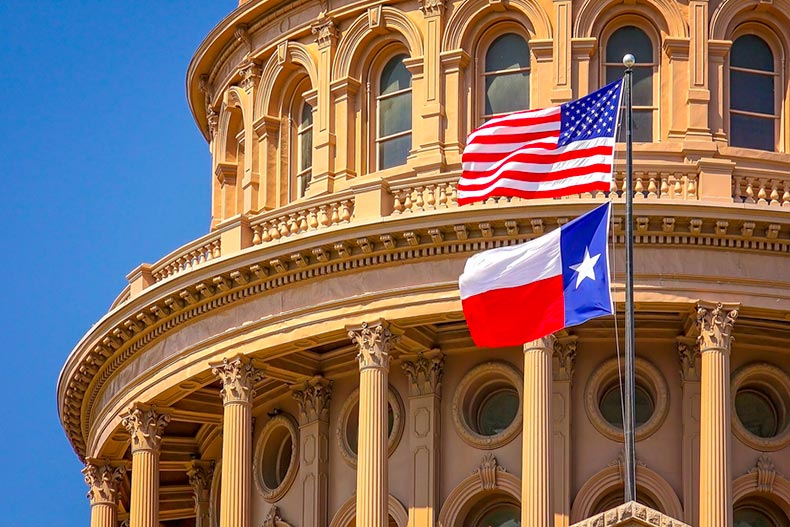 Active adults increasingly want to hang their hat in Texas. The Lone Star State attracts more retirees than any other state, according to WalletHub's report on Top Cities to Retire nationwide. Several major Texas cities, including Austin, Dallas, Houston, El Paso, and San Antonio made the list, along with many smaller sought-after areas such as Plano, Grand Prairie, Laredo, and Amarillo. Why does Texas rise to the top among retirees? Quite simply because the state excels in providing what matters most to active adults.
A Low Cost of Living
Retirees can live well on a modest income when they reside in Texas. The state is home to many of the country's least-expensive cities to live, including San Antonio, San Marcos, and McAllen. Texas also has no state income tax, allowing retirees to stretch their dollars further. The state is just one of seven states that don't tax personal income, interest income, and dividend income. Sales tax in the state ranges from 6.25 percent to 8.25 percent. Texans also don't have to pay an inheritance or estate tax.
A Climate That's Pleasing to All
Texas sometimes gets a bad rap of being just plain hot, but the nation's second-largest state offers vastly different climates depending on where active adults choose to settle. The state spans more than 800 miles both east to west and north to south, so it's easy for residents to choose a climate that suits them best. For example, retirees who prefer a tropical lifestyle are happiest along the beaches of the Gulf Coast.
Those who enjoy cooler mountain climates can seek an active adult community at a higher elevation in Texas. Active adults who embrace sunshine and warmth will feel right at home in the Texas Panhandle. No matter where retirees choose to reside in the state, sunny days are sure to follow. Texas remains sunny an average of 60 percent of the year.
A Vibrant Culture
Texas boasts a culture that is unlike anywhere else in the United States. Texans are proud to be Texans, and they embrace all things that make their state unique, from the barbecue and Tex-Mex to the live music and cowboy boots. Whether retirees have lived in Texas for many years or they have recently moved to the state, they know they can enjoy a rich culture of history, art, sports, and music. Texas boasts two NFL teams, two MLB teams, three NBA franchises, two MLS clubs, and the NHL's Dallas Stars. Plus, Texas is home to many colleges and universities with major sports programs.
The state is home to 13 national parks, 93 state parks and natural areas, and dozens of museums and historical landmarks such as the Alamo and the USS Lexington. Texas also boasts the country's largest state fair. The State Fair of Texas, which runs for 24 fried-food-packed days every fall, draws more than two million visitors annually.
Easy Access to Healthcare
Active adults want to know they have easy access to hospitals and medical facilities where they can receive world-class care. Texas offers more than 600 hospitals with several nationally ranked in multiple specialties, according to U.S. News & World Report.