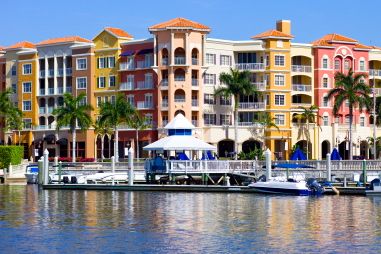 Located along the southwest coast, the Naples and Bonita Springs area is a well-known hot spot for Florida retirement communities and active adults alike. Sunny beaches, a tropical climate, exciting recreational attractions, and diverse active adults are some of the more sought after qualities you'll find at Florida retirement communities in this area.
The area also offers plenty of important services such as excellent health care facilities and convenient access to the Southwest Florida International Airport. Plus, since real estate prices have dropped dramatically in recent years, retirement communities in the area are more affordable than you might think.
Prime Location
Naples and Bonita Springs are two popular cities that are settled along the coast of the Gulf of Mexico. The city of Bonita Springs lies just 30 minutes south of Fort Myers, beside Estero Bay. Naples is just 15 miles further south, enjoying a prime location adjacent to Florida's Everglades and several nature preserves. Between these two cities, a lovely stretch of shore offers many attractions and beautiful Florida retirement communities.
Climate
The weather in the Naples and Bonita Springs area includes hot, tropical summers and temperate winters. The region gets plenty of sunny days, and summer temperatures can rise to the mid-to-high 90s. While winter weather is cooler, the temperatures are often in the mid-70s or even climb to the mid-80s. Hurricanes and tropical storms are a risk in the area, and hurricanes did make landfall in the area in 2004 and 2005.
Recreation
There are many recreational attractions in Southwest Florida. Some of the most popular are sandy beaches, lush nature preserves and challenging golf courses. There are also charming open-air shopping centers like Naples' Village on Venetian Bay or the antique markets in Tin City. Cultural attractions include art galleries and performing art centers, such as the Philharmonic Center for the Arts and Theatre Zone Equity Theatre Company.
Health Care
In addition to recreations, active adults will enjoy the area's more practical services. The local NCH Healthcare System is a not-for-profit organization of hospitals, physician's offices, and other healthcare facilities. Naples is also home to Collier Health Services (CHS) which provides additional medical centers, including a wide variety of health care providers.
Communities in the Area
Active adult communities in the Naples and Bonita Springs area feature both age-restricted and age-targeted developments. Those who want to buy a home in a 55+ community can find both single-family and attached homes in developments like Del Webb Naples and Cascades at Estero.
Many of the area's active adult communities are open to all ages but are designed to offer amenities that support a healthy, active adult lifestyle. Just a few of the popular age-targeted communities include Lely Resort, Vineyards and VeronaWalk.
When looking for a home on Florida's Southwest coast, active adults are likely to find their ideal choice in the Naples and Bonita Springs area. Diverse home prices, styles, and sizes let relocating retirees choose just the right home to meet their personal needs.