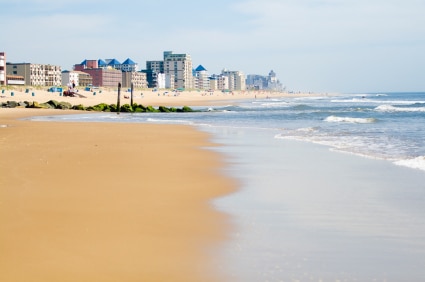 Located between the Chesapeake Bay and the Atlantic Ocean, Maryland's Eastern Shore is a beautiful peninsula which offers miles of beaches, fabulous resorts and historic towns. It is an ideal location for a picturesque vacation or a tranquil retirement, especially for those who enjoy experiencing four distinct seasons.
Active adults on the East Coast often fall in love with the charm of Maryland's Eastern Shore. The area has many inviting small towns which offer a laid-back lifestyle. The largest city in the region, Salisbury, has just 24,000 residents. Resort areas like Ocean City bring in many tourists during the summer months, but have only a small number of year-round residents.
Climate
The Eastern Shore's climate is relatively mild, yet it does experience all four seasons. Summers tend to be hot and humid with average daytime temperatures in the high 80s. Winter months are cold and rainy with days in the mid- to high 40s and nights dropping to the high 20s or low 30s. There can be some occasional snowfall as well.
Attractions
Like much of the East Coast, the Maryland Eastern Shore region is rich in local history. However, visitors and locals today are often more interested in the area's resorts, retail centers, and tourist attractions. This includes popular destinations along the Atlantic Coast, as well as historic towns bordering the Chesapeake Bay.
Ocean City is the region's most well known summer destination, drawing hundreds of thousands of visitors every year. Visitors can soak up some sun on the sandy beach or enjoy water-based activities like swimming, boating, and fishing. Golf courses are a popular form of entertainment as well, and charter boats provide memorable deep sea fishing excursions. Although Eastern Maryland is popular with tourists, the area is also a prime retirement destination for active adults who prefer small town charm. Retirees often relocate from nearby East Coast cities, such as New York, Jersey, Baltimore, and Washington D.C.
Active Adult Communities
This retirement boom has led to a number of newer communities, as well as more Eastern Shore golf courses, restaurants, and retail centers. Active adults looking for age-restricted living in the Eastern Shore area will find picturesque communities which are typically sized to contain about 500 homes or less. These charming developments often have inviting clubhouses with amenities including swimming pools, fitness centers, hobby and game rooms, golf courses, and sports courts.
A few to consider include: The Parke at Ocean Pines, Chesapeake in Easton, and Symphony Village in Centreville. While Maryland's Eastern Shore may not have the hustle and bustle of large cities, its small town charm and picturesque beauty make it an ideal retreat for many active adults.