Across the United States, there are thousands of age-restricted and active lifestyle communities designed specifically with retirees in mind. Some of the states with the most active adult communities include Florida, Arizona, Texas, New Jersey, and California. Whether you want to retire in a warmer climate or stay closer to home, there are plenty of options to consider for your budget and needs.
When it comes to planning for retirement, you can find your forever home in an age-restricted, active lifestyle, or retirement home community. However, these types of communities have key differences that homebuyers need to know.
Age-restricted communities refer to neighborhoods with age limits for residents. The most common age restriction is 55+, but these age restrictions can also begin at 45+ or 50+. Different communities have unique requirements about whether one or both homebuyers need to meet the age requirements. Active lifestyle communities don't have age restrictions but still cater to active adults with their floor plans and amenities. 
On the other hand, retirement homes are designated for people who need a higher level of care. 55+ and active lifestyle communities differ greatly from retirement homes because they provide residences for people who want to live an active physical and social lifestyle.
But what are the benefits of living in a 55+ community? Whether you're just starting your search or already have retirement plans, you'll want to learn about the biggest reasons for living in an age-restricted community. Keep reading to consider the top ten benefits of living in a 55+ community.
1. Low-Maintenance Living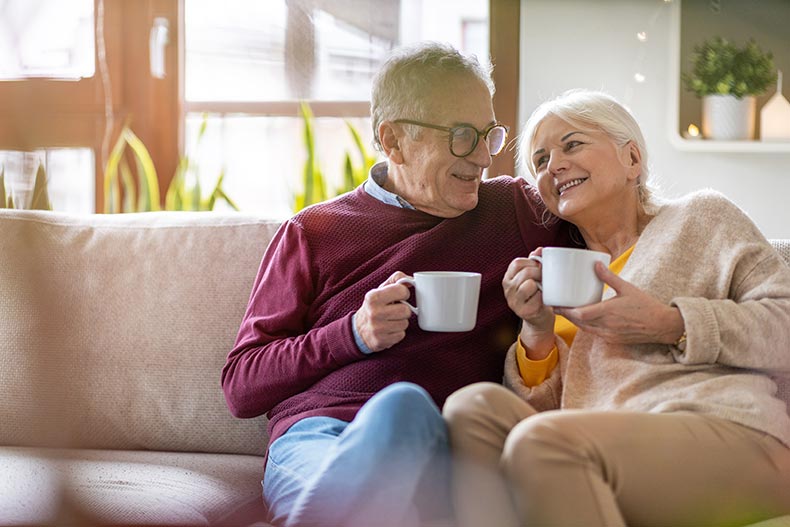 For many active adults, chores like mowing the lawn, cleaning gutters, and pulling weeds can become arduous and time-consuming. Luckily, many 55+ communities offer low-maintenance or maintenance-free lifestyles.
Many residents of 55+ communities benefit from a homeowners' association (HOA) that takes care of a number of tasks to keep the community and its homes beautiful. For an annual fee, the HOA often maintains the community, giving homeowners more time to enjoy their hobbies.
An HOA commonly covers all common area maintenance, community landscaping, and amenity maintenance. Many also take care of seasonal chores such as snow plowing. However, many 55+ communities go above and beyond to include additional benefits for homeowners.
In active adult communities, HOAs commonly cover all yard maintenance, which can include lawn cutting, fertilization, landscaping, leaf blowing, and snow removal. Many communities even take care of annual gutter cleanings. Additional exterior home maintenance tasks include roof repairs, exterior painting, and even changing light bulbs.
The benefits of low-maintenance communities don't always stop at the front door. Many communities offer personalized in-home amenities too. Some attached home communities and condo communities for active adults offer valet and concierge services, housekeeping, meal preparation, pet care, and other services that make life a breeze.
A low-maintenance lifestyle for active adults means having more time to spend time with family and friends or pursuing new hobbies and opportunities. At low-maintenance communities, residents no longer have to take the time out of their schedule to worry about mowing the lawn. Instead, they can use that time to join a new club or go out and explore the surrounding area. 
Another benefit of a low-maintenance lifestyle is that it comes with a lock-and-leave lifestyle that offers a new-found freedom to many active adults. Homeowners can come and go as they please because the community will still take care of many tasks while they are gone. Then, when active adults return home, they will find the only thing they will have to take care of is unpacking their suitcases.
The lifestyle offered at many 55+ communities puts the "active" in active adults. Before moving to a 55+ community, homeowners have to travel to and from places like fitness centers, tennis and golf clubs, and other locations for club and group meet-ups. In a 55+ community,  everything needed to live an active and enriching lifestyle is conveniently located right at home.
Active adults who want to stay fit and play sports find that 55+ communities cater to an active physical lifestyle. Many active adult communities with amenities offer fitness centers with exercise equipment, outdoor pools, and sports courts. Common activities at many 55+ communities include pickleball, tennis, bocce ball, shuffleboard, and golf. Residents also gather for fitness classes such as yoga, Tai Chi, and Zumba.
At large 55+ communities, active adults can find expansive fitness campuses complete with state-of-the-art fitness centers, indoor and outdoor pools, exercise studios, saunas, and locker rooms. Some even have indoor walking tracks so active adults can stay fit throughout all four seasons. When searching for a 55+ community, homebuyers can find a community that offers the fitness amenities and classes that align with their interests.
The grounds of 55+ communities also tend to promote an active lifestyle. Many include walking and biking paths, nature trails, greenspaces, lakes and ponds, and gardens that prompt homeowners to get outside and enjoy the outdoors.
Classes, Activities, and Meet-Ups
Perhaps the best part of leading an active lifestyle at a 55+ community is that homeowners need not go at it alone. Most communities will have classes, activities, and meet-ups that prompt neighbors to get together and stay active together. Living in a community surrounded by like-minded neighbors and friends encourages everyone to live an active lifestyle.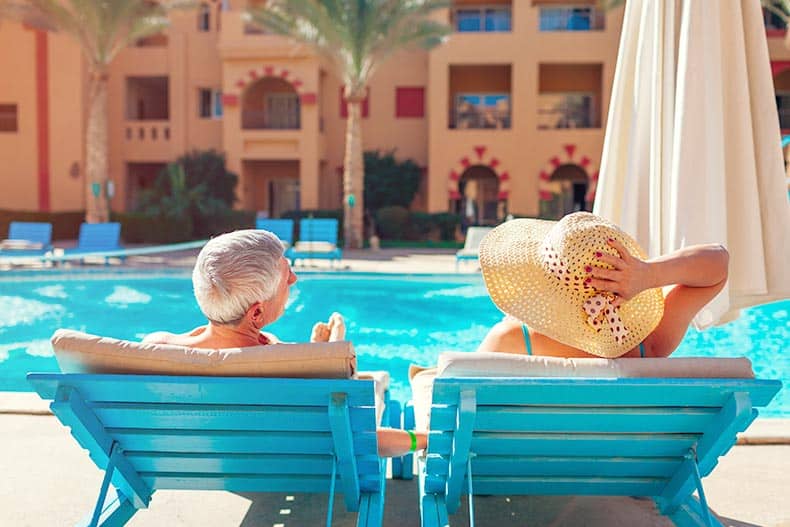 Amenities offer an enticing selling point for many homebuyers. Onsite amenities provide entertainment, fun, and social activity close to home. Active adults searching for a community have to take a close look at the amenities to ensure the services and facilities offered cater to their lifestyles and preferences.
The central hub for all events and social activities in many 55+ communities is the clubhouse. These community clubhouses can range from modest buildings with multipurpose gathering spaces to massive amenity complexes filled with unique spaces. Many clubhouses include spaces such as game rooms, arts and crafts studios, spas, community kitchens, classrooms, libraries, media rooms, fitness studios, restaurants, and lounges. Some clubhouses also have theaters and ballrooms that regularly host performances and shows that residents are welcome to attend at their leisure.
Outside, residents of 55+ communities can often enjoy swimming pools, athletic courts, parks and greenspaces, walking trails, and picnic areas. Avid golfers can find communities with 18-hole championship golf courses, putting greens, and driving ranges.

The largest 55+ communities, such as The Villages in Central Florida, have their own town squares and shopping centers that residents can use without ever leaving the community. These areas provide everyday conveniences such as grocery stores, restaurants and bistros, retail shops, and medical centers, all within a short distance from homeowners' doorsteps.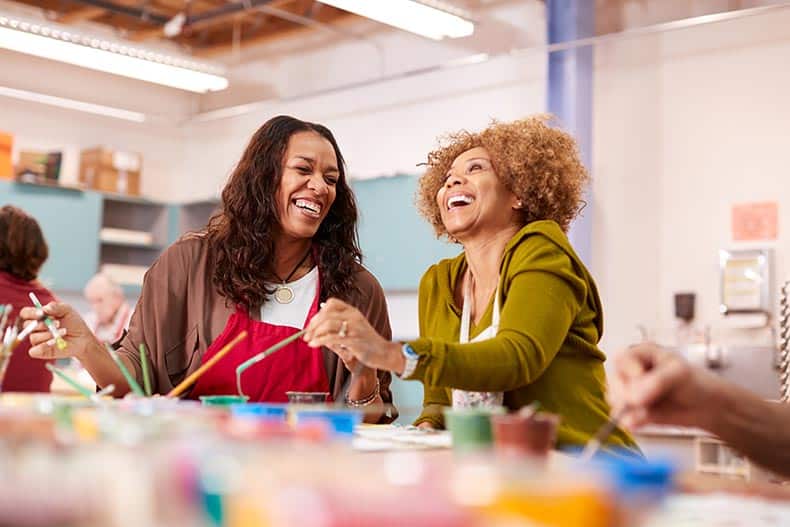 Making the move to a 55+ community comes with a new home and new amenities as well as new neighbors. Because active adult communities range in size, homeowners can have hundreds, thousands, or even tens of thousands of neighbors, which may seem overwhelming. However, one of the benefits of living in a 55+ community is that the active lifestyle and amenities make it easy to find like-minded neighbors.
Activities, Clubs, and Classes
Along with resort-style amenities, 55+ communities often host a full social calendar with activities, clubs, and classes for residents to enjoy. A full-time lifestyle director often schedules these events, advertises them to community members, and helps people start new clubs. These organized clubs and groups allow new residents to find neighbors with similar interests and pursue new hobbies. Many large 55+ communities even have welcome committees and new neighbor socials to help residents feel right at home.
Many 55+ communities have dozens of clubs and interest groups to check out with neighbors. From woodworking to knitting, book club to ballroom dancing, photography to politics to pottery, many communities host a wide range of opportunities for like-minded individuals to meet and explore their interests. Fitness classes and sports clubs are another popular place to meet neighbors, including get-togethers for yoga, pilates, Tai Chi, tennis club, cycling club, or fishing clubs.
Events, Classes, and Performances
Many 55+ communities also host numerous events, classes, and performances where active adults can mingle with their friends. These include events like holiday parties, potlucks, dances, band performances, plays, movie nights, or community outings to local attractions such as museums, movie theaters, restaurants, vineyards, and casinos.
A busy social agenda allows active adults to find like-minded neighbors that share interests, hobbies, and experiences. Active adults within 55+ communities can socialize as much or as little as they like, but choosing a community that hosts clubs that align with their interests will lead to a more enriching lifestyle.
5. Homes Designed for 55+ Homeowners
The single-family, attached, or condo homes found within 55+ communities aren't just the average residences you can find anywhere. The developers of age-restricted communities have expertise in designing and building homes specific to the needs and preferences of active adults, ensuring that your next home can be your forever home.
One of the main features of homes designed for 55+ homeowners is first-floor living. Active adult community developers purposely design homes with everything homeowners need on the first floor. Even two-story homes include features such as first-floor master suites and downstairs laundry rooms to minimize the number of times residents need to go up and down the stairs. Townhomes and condos also tend to provide elevators to get homeowners to their front doors.
Accessible Storage Spaces
Homes in 55+ communities also include easily accessible storage spaces that don't require crawling up and down an attic ladder or braving the basement stairs. Spacious walk-in closets and accessible storage solutions allow for ease when it comes to stowing away things not needed on a regular basis. 
These homes also provide tasteful, modern floor plans and features designed for entertaining. Homeowners can enjoy features such as open-concept floor plans, gourmet kitchens with central islands, and expansive outdoor spaces perfect for barbecues with neighbors. The homes are often on the cutting edge of technology as well, with many builders including smart-home features as well as implementing materials and windows that are extremely energy efficient to keep bills low. 
Additionally, homes designed with active adults in mind also support a low-maintenance lifestyle. Many builders use materials like quartz countertops that are both sturdy and stain resistant to reduce the amount they need to be cleaned. Homes for active adults combine form and function to support an active social and physical lifestyle.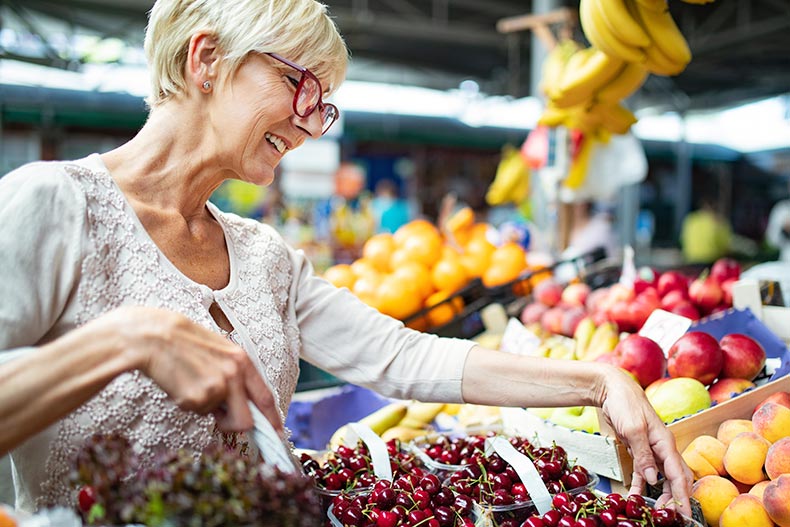 It's common among homebuyers to hear that "location, location, location" should be the top priority when choosing a new home. Another positive reason to choose a 55+ community is that developers often build these neighborhoods in appealing locations that put active adults close to everyday conveniences, attractions, and entertainment. Although active adult communities provide plenty of amenities and activities for residents to enjoy without leaving the comfort of their neighborhoods, their convenient locations also make it possible to get out and explore the surrounding areas.
Nearby Metropolitan Areas
Many 55+ communities surround big cities, which gives residents plenty of options for visiting nearby metropolitan areas. In these suburbs, active adults can find a plethora of options for grocery stores, pharmacies, coffee shops, and restaurants. Active adults can also find things to do any day of the week, whether they want to go shopping in nearby shopping centers, see performances in local theaters, or eat at the best local restaurants. Some communities will also offer tours, group outings, and shuttles to popular destinations so active adults don't even have to worry about parking. 
Parks, Greenspaces, and Natural Areas
Residents of 55+ communities often want to spend time exploring the surrounding parks, greenspaces, and natural areas. Most communities are within easy reach of local parks or reservoirs that offer fun days in the outdoors. Popular activities include hiking, birdwatching, fishing, and canoeing. Many of the coastal communities in North Carolina, South Carolina, and Florida make it possible to spend any sunny day at the beach.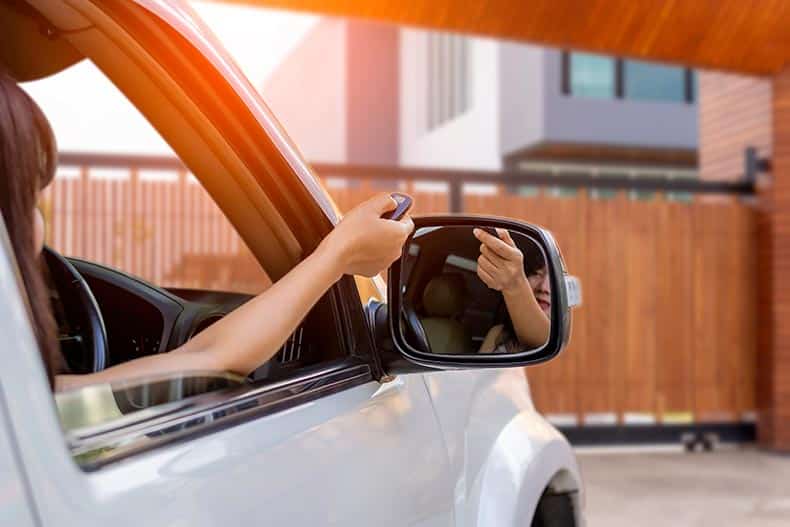 Smart homeowners always think about the safety and security of their homes, but living in a low-maintenance 55+ community eases much of that burden. Many age-restricted communities have HOAs that make the security of the community a priority by putting several measures in place to ensure active adults feel safe in their homes.
Many 55+ communities are also gated communities, which means that developers enhanced the safety of the neighborhood by building secure gates at the entrances. These gates discourage anyone from entering the community while closely monitoring all vehicle entrances. Some communities also have gatehouses and security guards to ensure that nobody comes into the neighborhood that has no business being there. 
The same idea is in place for communities located within apartment or condominium buildings. They will often have a concierge with security that will check visitors in and out in order to have solid control of the security of the buildings.
55+ communities are also safe due to the close-knit community atmosphere where neighbors watch out for one another. Knowing who lives next door and vice versa allows homeowners to feel more secure. Residents of active adult communities also recognize the people living around them and would be able to spot any suspicious persons or behavior.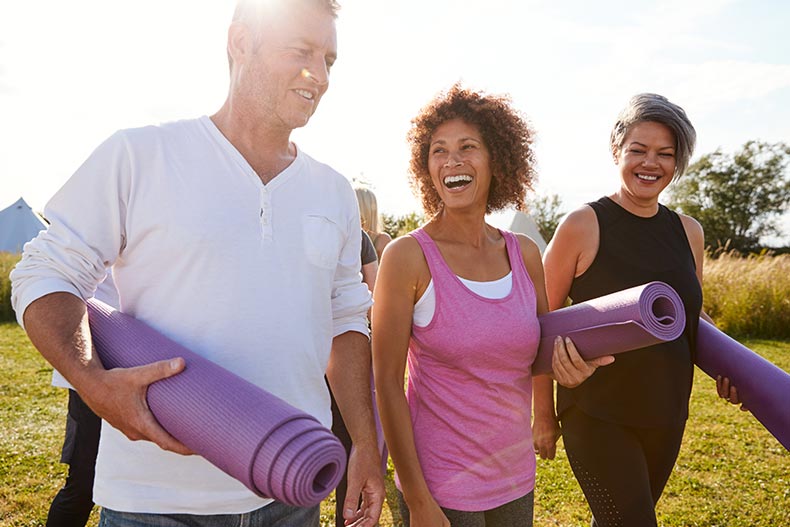 In addition to supporting an active physical and social lifestyle, 55+ communities enable residents to live their healthiest lifestyle. Health is incredibly important for active adults and homebuyers should consider how a particular home, community, and lifestyle might positively impact their well-being.
Many 55+ communities have a holistic view of health that includes physical, mental, social, emotional, and spiritual health, and these communities work to support residents as they grow in each of these dimensions. Many active adults enjoy playing sports, attending fitness classes like yoga or Zumba, or simply walking around the natural areas within their communities. Staying physically active has been proven to help joint and muscular pain as well as stay mobile overall. 
Staying social and avoiding isolation is also extremely important to an active adult's health given that social environment impacts healthy aging. Leading a healthy social life filled with people you enjoy spending time with can have noticeable effects on one's physical self, can lead to a longer life, and also lower your risk of dementia. 
Many 55+ communities also have some limited health care infrastructure in place to assist residents. Some communities have dedicated hospitals, medical centers, and health care providers right down the street. There are also services available to encourage a healthy lifestyle, such as nutrition assistance, medication management services, and home health care.
9. Downsizing Opportunity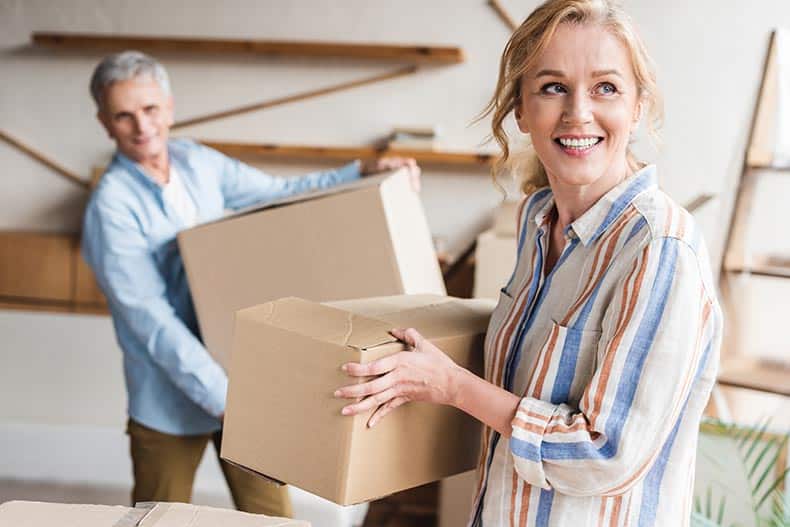 Many active adults, especially empty-nesters, find that they have more space in their home than they actually need. Moving to a 55+ community offers homebuyers an opportunity to downsize their home and possessions to live a more active life. 
Downsizing refers to moving from a large home into a smaller and more efficient home. It also refers to thoughtfully reducing the possessions and things within a home to create more space and lift the burden of clutter. This can be more difficult than it sounds, especially for things that hold sentimental value. However, downsizing by selling or donating things can be a compromise that eases the difficulty while also benefiting everyone involved. 
Weight Off Your Shoulders
Downsizing before a move can also reduce the number of things that need to be packed up, moved, then unpacked again in the new house, making for a less stressful transition. A smaller home is more fitting for the active adult lifestyle because it deemphasizes possessions and unnecessary things and instead prioritizes new experiences and people. For many, downsizing can be like lifting a weight off your shoulders.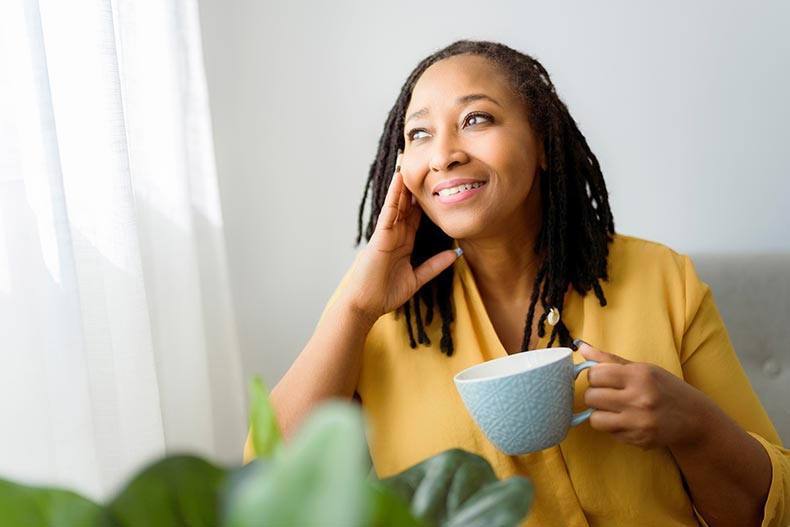 When it comes to searching for the perfect 55+ community, homebuyers can narrow their search by location, size, and amenities. Another one of the biggest factors that impacts where active adults can retire is budget. That's why there are age-restricted communities to meet any budget while still providing homeowners with the great benefits of living in a 55+ community.
Most 55+ communities provide a range of price options within a neighborhood. Homeowners on a budget should consider the different home types available in age-restricted communities. Maintenance-free condominium homes, due to their smaller size, tend to be more affordable than single-family homes. Attached homes such as duplexes also provide more affordable housing options. As an added bonus, these home styles are also most likely to support a maintenance-free lifestyle.
Due to the popularity of downsizing, however, there are also many 55+ communities that offer smaller single-family homes for affordable prices. However, those who still want a spacious residence that can house visiting friends and family can also find homes to meet their needs.
55places Can Find the Right 55+ Community for You
Since the 1950s, active adults have moved to 55+ communities to give themselves the best opportunities for a long, happy, and healthy retirement. The striking benefits of a 55+ community include access to resort-style amenities, engaging social events, and a buzzing atmosphere of social activity. Now, with modern floor plans and state-of-the-art amenities, age-restricted communities have become more popular and better than ever.
Do you think a 55+ community might be right for you? Learn more about 55+ communities in your area today.