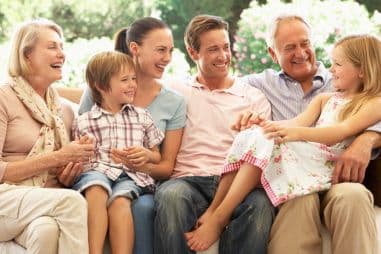 Near the holidays, many families who live far apart make plans to visit and celebrate together. For some retirees, the holidays make them long for more frequent visits and perhaps a closer relationship. For others, these seasonal visits are enough to last them another year. To be content with your decision year-round, it's important to consider the pros and cons of retiring near family before choosing your retirement location.
The Benefits of Retiring Near Family
The pros of living near family may seem fairly obvious. Having your adult children living nearby will make it easier for you to see them more often. You can be more involved with your grandchildren's lives. You can be there for birthday parties, school plays, and other important childhood moments. You may also be able to occasionally babysit or even provide regular daycare. When it comes to practical matters, nearby family can help you drop your car at the mechanic or give you a ride to the doctor. They can move furniture, plant in the garden, or help out in many other ways. Having your adult children nearby can also be very helpful when either of you need physical or emotional support, especially during illnesses, injuries, or other hard times.
The Negatives of Retiring Near Family
However, living near family is not always ideal. Some families find that they get along better when there is a little geographical space to keep them from meddling in each other's daily lives. But that doesn't mean they can't still be close. With so many social networking options available, it is possible to have healthy, meaningful relationships without living in the same town. Email, video chat, text messaging and phone calls are all viable ways to stay in touch between visits.
For some retirees, living near family would mean choosing to live closer to one adult child instead of another. If you are facing a similar situation, you may decide that it's better to choose a retirement destination that is centered between your children's current locations. By living in a home that is relatively equidistant, you may be able to enjoy more frequent visits with all of your family, while still enjoying life in a hometown with friends of your own.
One of the common drawbacks of retiring near family often comes down to geography. If you've always dreamed of living in a warm southern climate, you may come to resent retiring near your family in snowy upstate New York. Or perhaps your children live in Florida and you can't stand the heat and humidity. While you may like the idea of living near family, you have earned the right to enjoy the retirement of your dreams.
What's Right for You?
The pros and cons of retiring near family will be different from one retiree to the next. To make the best decision, try to consider what life would actually be like in either situation. Then, talk to your family to see how they feel about the matter. Whether you choose to live in the same town as your adult children or stay in touch through the Internet and occasional visits, it's important that you make the decision that is best for you and your family.