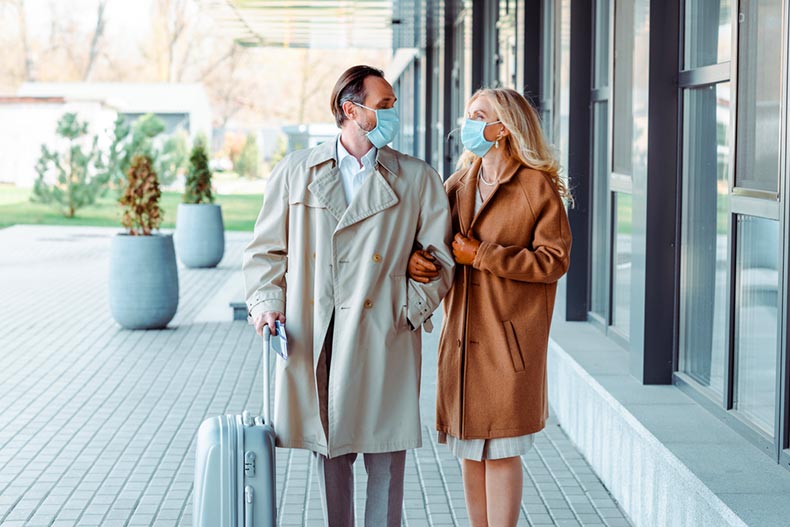 Snowbirds are seasonal travelers who migrate south to warmer climates for the winter in order to take advantage of warm weather and live an active lifestyle all year long. The snowbirding trend has become so popular among retirees that most people either consider themselves snowbirds or have friends who do. But we wanted to learn more about how the coronavirus pandemic has affected snowbirds' plans to make the move this year.
We surveyed 1,099 people across the country to see how many people frequently snowbird south, and for those who do, whether the coronavirus pandemic has impacted their plans for snowbirding this winter. Although more respondents indicated that they plan to snowbird this year compared to last year, plenty of respondents said they won't be snowbirding because of the COVID-19 pandemic, or they're taking extra precautions as a result.
Here's what the survey reveals.
Snowbirding Trends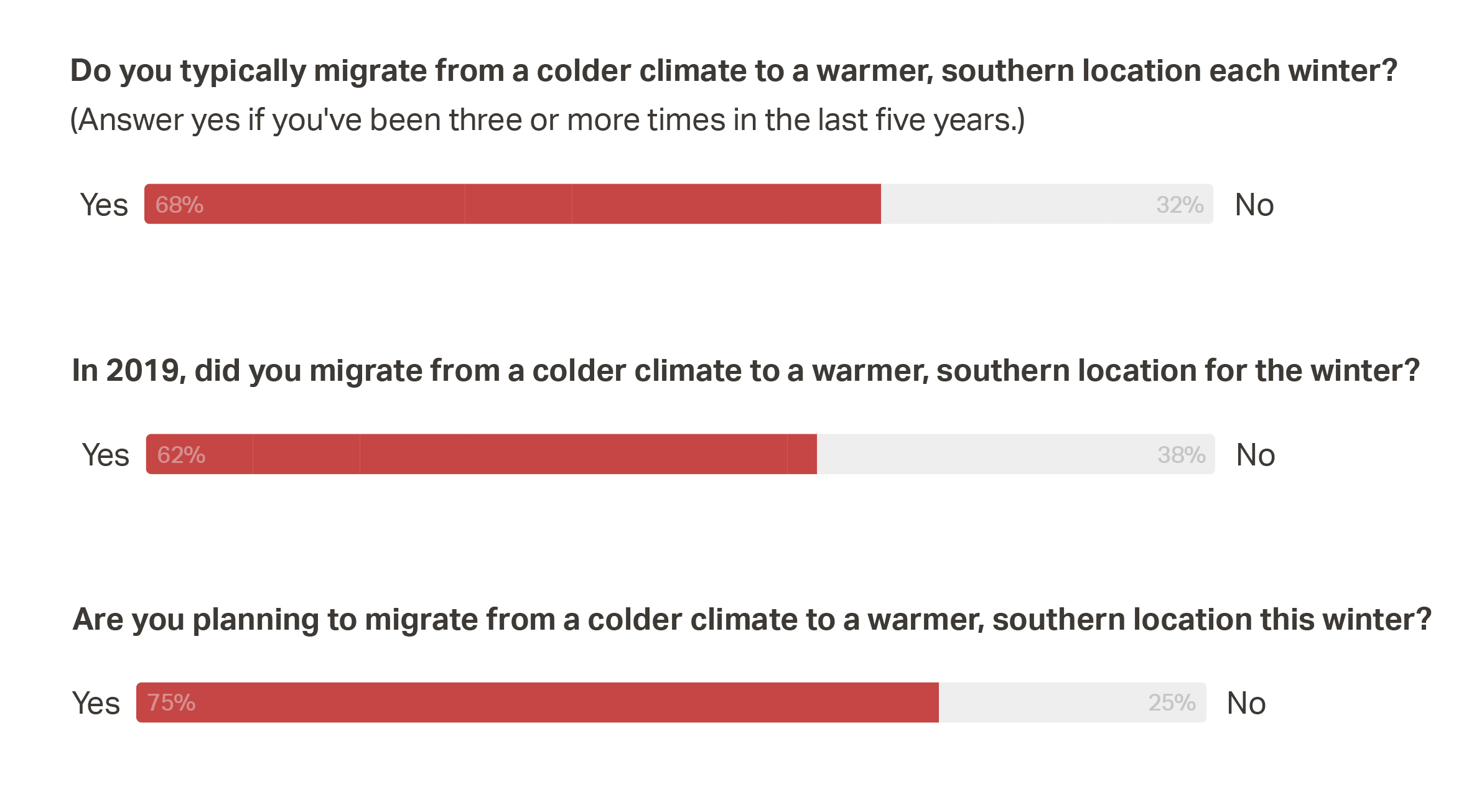 Most of the respondents who participated in the survey (68 percent) consider themselves snowbirds who migrate from a colder climate to a warmer climate each winter. These respondents have traveled south at least three times in the last five years.
Based on their responses, more people plan to snowbird this year compared to last year. While 62 percent of respondents reported snowbirding last year, 75 percent of respondents plan to migrate south this winter, despite the added challenges put in place by the COVID-19 pandemic. At the same time, one-quarter (25 percent) of participants indicated that they don't plan to snowbird this season.
The Impact of Coronavirus

The survey asked respondents who don't plan to snowbird this season to indicate what factors have influenced their decision. According to participants, the majority of respondents (51 percent) say that the coronavirus pandemic changed their plans for the winter. The added challenges created by COVID-19 have led many snowbirds to reconsider their plans to travel south for the winter.
Survey respondents cited several other factors that affected their decision to snowbird this winter. Some participants (8 percent) find themselves facing financial restrictions this year. An equal number of participants (8 percent) hope to stay closer to family and friends through the winter season.
On the other hand, a few snowbirds (1 percent) have decided to plan alternative trips instead of the extended seasonal migration typically associated with the snowbird lifestyle. These snowbirds reported that they plan to take different trips instead, such as an RV stay or a campground vacation.
Taking Extra Precautions

Because of COVID-19, the majority of surveyed snowbirds (70 percent) plan to take extra precautions this year compared to previous years. These respondents indicated that they continue to adjust their travel plans according to state and city guidelines in the seasonal location. Although some snowbirds (26 percent) have continued to plan their trips as usual, for many people, these unprecedented times call for additional planning and preparation.
Making New Decisions

More than half of those surveyed (58 percent) indicated that COVID-19 impacted their decision to snowbird this year. The pandemic, as well as the associated limitations and risks, led some snowbirds to reconsider their seasonal travels this winter.
Methodology
This survey was conducted through SurveyMonkey between Friday, September 11 and Tuesday, October 6 among 1,099 recipients over the age of 45 who were sourced via Facebook promotion and 55places.com newsletter subscribers. For complete survey methodology, please contact 55places.com.