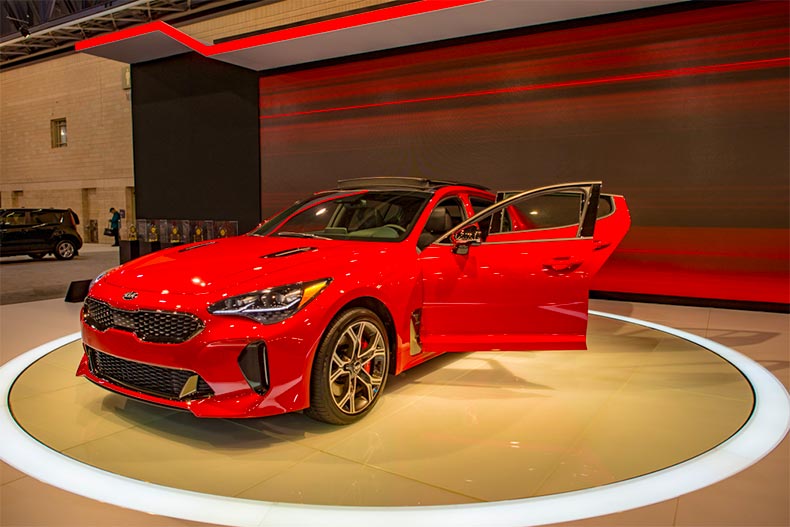 Every winter, hundreds of thousands of automobile enthusiasts head to the Philadelphia Convention Center to check out the Philadelphia International Auto Show. Now in its 117th year, this annual event features over 700 motor vehicles, food, and activities for active adults and their families. The show will be held February 2nd through 10th.
Even if you're not shopping for a new car or truck, this show is not to be missed. The Center will be filled with the latest new vehicles, awesome concept cars, unbelievable luxury cars, and antique roadsters dating back to the early days of automobile production. The show is operated by the Automobile Dealers Association of Greater Philadelphia, and every year it gets bigger and better. In fact, last year's opening weekend attendance set a new record, with almost 86,000 guests in attendance.
Getting to the Show, Parking, and Accommodations
If you're planning on driving in, the two main highways that get you into the city are Interstate 76 and Interstate 95. Either of these can be accessed by the Philadelphia Turnpike or NJ Turnpike. There are parking garages and street parking near the Convention Center, and pricing varies. The Spot Hero app is useful for comparing rates and reserving parking spots. Using public transportation can make things easier if you don't want to concern yourself with parking.
Amtrak stops at 30th Street Station, and you can then walk half a block to a SEPTA bus station. From here, get off at 11th Street and walk one block. Additional locally based options include PATCO trains, regional rail lines, and Pennsylvania bus lines. The closest airport is Philadelphia International, which is only about a 20 minute drive from the Center.
If you want to spend a few days, consider the Visit Philly Overnight Hotel Package. Certain hotels offer packages that include hotel parking, show tickets, and other perks. Some University City area hotels include The Inn at Penn, Sheraton University City, and the upscale AKA University City.
More About Those Cars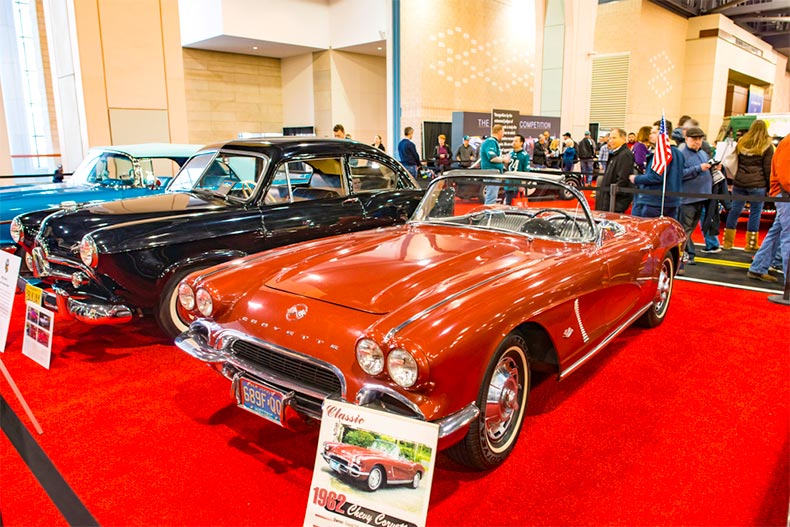 All of the major auto manufacturers have a presence here, from Hyundai to Jeep to Rolls Royce. If you're into exotics, you can look at sleek Ferraris, Bentleys, Porsches, and more. There is also a Hollywood section, which showcases cool autos used in TV and movies, like the DeLorean from the movie "Back to the Future." Be sure not to miss the Simeone Foundation Automotive Museum and Antique Automobile Club of America's classics auto display, where you can gaze at lovingly restored beauties dating back to a 1908 Model S Ford and a 1910 Packard.
In case you were wondering, this is a non-selling auto show. What does this mean? Less pressure, for one thing. The manufacturers and their representatives are not permitted to make sales at the Convention Center. That is why it is a great opportunity to gather reconnaissance if you are looking to buy; there are practically unlimited choices, endless information, and no salespeople breathing down your back!
Show Extras
The auto show also has different vendors that display their wares, like aftermarket auto items, and retail services. There is long list of daily special events, like a Black Tie Tailgate preview on February 1, live broadcasts, guest celebrities, and hands-on, virtual driving experiences.
Guests are not allowed to bring in their own food and drink, but there are food stands and a food court. The latter is located behind the Overlook Filling Stations and Car Clubs displays, on the third floor. Another option is to get a hand stamp and walk outside and visit one of the many area eateries, like the Reading Terminal Market. Alcoholic beverages are available for purchase in the Convention Center.
Auto Show Basics
Dates and Hours
This year's show takes place from February 2nd through 10th, and is open daily. The hours are:
Saturday 2/2: 9 a.m. to 10 p.m.
Sunday 2/3: 9 a.m. to 6 p.m.
Monday, 2/4 through Friday, 2/8: Noon to 10 p.m.
Saturday 2/9: 9 a.m. to 10 p.m.
Sunday 2/10: 9 a.m. to 8 p.m.
Location and Contact Information
The Pennsylvania Convention Center is at 1101 Arch Street, Philadelphia. This is in University City, which is part of West Philadelphia. Visitors can call 610-279-5229, or email: info@phillyautoshow.com for information.
Tickets
Discounted tickets are sometimes offered. Check the auto show website and other outlets such as area car dealers and Groupon for special pricing.
General Admission (age 13+): $14.00
Children (age 7-12): $7.00, ages 6 & under are free with ticketed adult
Ages 62 and up: $7.00 on weekdays at the convention center's box office
Special Needs
Manual wheelchair rentals are offered at all entrances, based on availability. These require a $20, refundable deposit. Motorized scooters are also available; call Scootaround in advance to reserve one. Those who prefer to bring their own wheelchairs or strollers should use the North Broad Street entrance, where there is elevator access. For handicapped parking information, contact the individual parking area you wish to use.
Two more things: Bring cash, since some vendors cannot accept credit cards, and buy your tickets in advance. That way, you can avoid the long ticket lines when you enter.