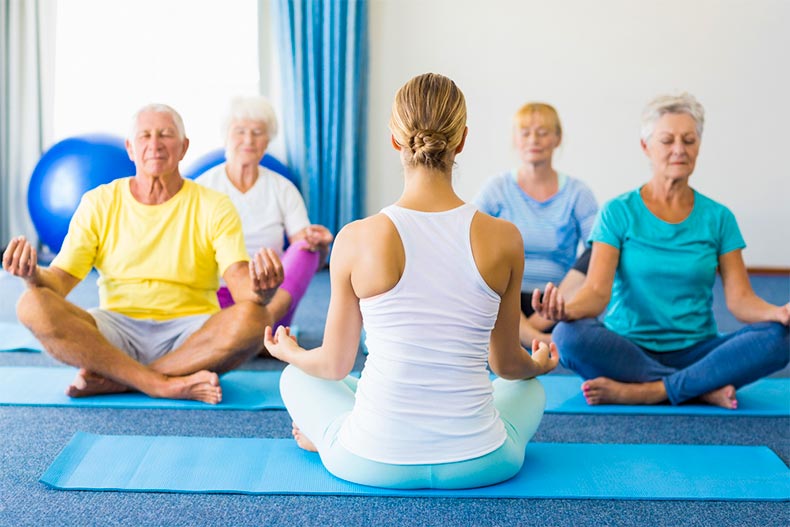 There are many benefits to practicing yoga, especially for active adults. Yoga can help improve heart health, digestion, or even rheumatoid arthritis. Active adults who want to take advantage of the benefits of yoga, but have never done it before may find it easier than they might think.
Before you begin practicing, it is important to consider why you want to do yoga. Are you looking to stay fit? Are you hoping to find a new routine for relaxation? Although there is no wrong answer, yoga is both a physical and mental exercise. Before you begin, consider the ways this form of exercise might challenge your body as well as your mind.
What Are the Benefits of Yoga?
Medical Benefits
There are many ways that active adults can benefit from yoga. Conditions such as arthritis, spinal stenosis, and osteoporosis can all be helped with the practice of yoga. If you are wondering how this is possible, yoga improves flexibility and balance which help with arthritis and osteoporosis, while yoga's gentle approach to bending can greatly reduce pain in the spinal cord caused by spinal stenosis.
Sleep Benefits
Active adults who suffer from insomnia or other sleep-related issues will be happy to know that yoga can also help you sleep. One of the major aspects of yoga is focusing on your breathing. The benefit to this is intentional, slow breathing can bring a sense of relaxation and calmness, while a slow stretching routine before bed can help encourage drowsiness and tranquility.
Forms of Yoga for Active Adults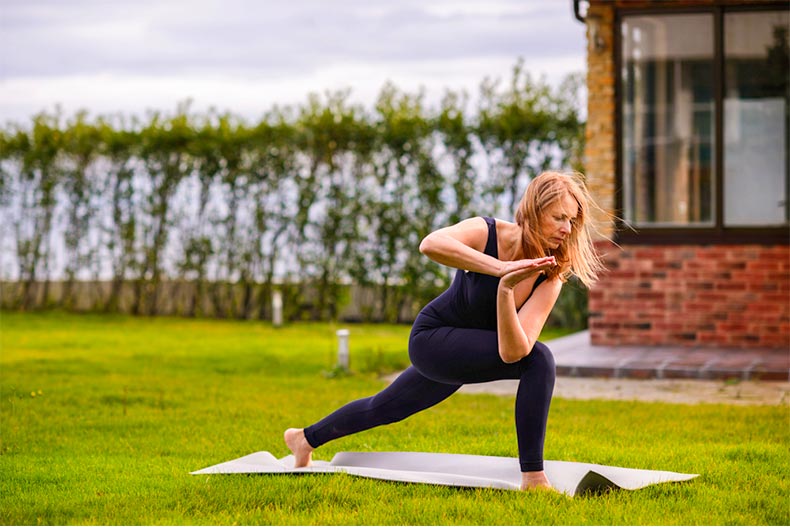 There are several different types of yoga, each with their own benefits. Make sure the style you begin with aligns with your desires.
Outsiders might not know that there are actually several different types of yoga. To pick what type you'd like to try, consider the form that might be best suited to what you are looking to gain out of your exercise routine. There are many forms of yoga that can help you achieve a wide variety of goals, but there are a few that are especially well suited for beginning active adults. Consider trying these forms either at home or with your yoga instructor.
Restorative: This is a slower practice, focusing on deep relaxation. It uses props like blankets and blocks to help with the movements. This form is good for beginners.

Hatha: Hatha yoga is also on the slower side. In this form, you will move through certain poses, holding each one for several seconds. Hatha is also known as a good option for beginners.

Iyengar: This approach is helpful for those that have pain and medical issues; it has been shown to be quite helpful for back pain. Poses are held longer, and props are also used in this form.

Ashtanga: This form of yoga is more athletic, as it often repeats some poses and aligns them with breathing.

Vinyasa: A step above Ashtanga, Vinyasa yoga flows more quickly and elevates the heart rate. This form will be something to try out once you feel confident in your practice and know your way around the basics.
Whether you hope to use yoga for relaxation, chronic pain, or even restlessness, this form of exercise can help you in many aspects of mental and physical health. Yoga is not just for those more experienced in the practice, it can be helpful for anyone willing to practice.
What Do You Need to Start?
The materials needed to begin practicing yoga are simple and easily accessible. If you are serious about yoga, consider buying a non-slip yoga mat. Basic mats generally start around $20, but the price of some mats goes over $100. If you are not so sure about commitment early on, many studios let you rent a mat.
Be sure to wear comfortable clothing that allows you to flex and move freely. Water is probably the most essential thing to have during any exercise routine, it might also be helpful to have a dry towel nearby if you are prone to sweating.
Where Do You Go?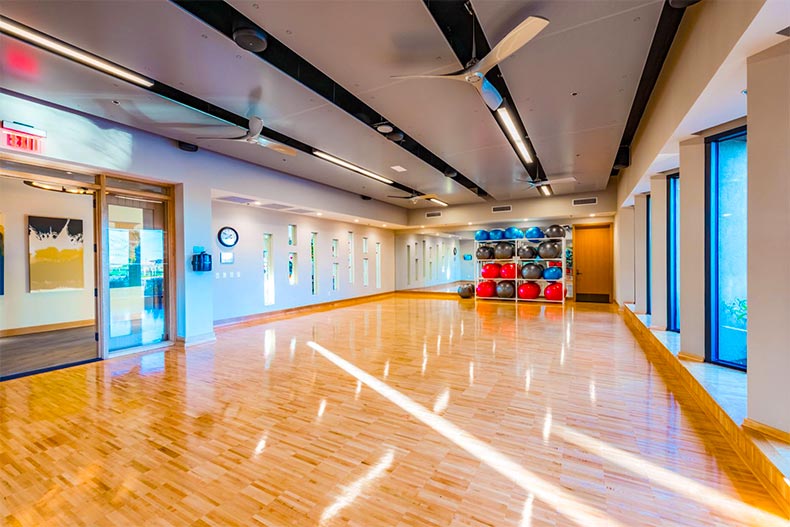 Several 55+ communities, like Encore at Eastmark, host yoga studios and classes.
Choosing a studio close to home will allow you the freedom to go to class at your convenience, but yoga is not limited to just a studio.
Even beginners can do yoga at home. Although it's recommended to try out a face-to-face class when you first begin, there are plenty of top-quality beginners yoga DVDs or Youtube channels that can be very useful. Programs such as Smart Start Yoga teach you a range of seated and standing poses that can be practiced anywhere.
AM/PM Yoga for Beginners is great for active adults with a busy schedule and offers a sequence of gentle workouts designed to fit into a hectic schedule the rhythms of your busy day.
There are many active adult communities that also have yoga studio space as well as offer classes for residents. Communities such as Laguna Woods Village in Laguna Woods, California, The Walk at East Village in Clayton, North Carolina, Concordia in Monroe, New Jersey, and Encore at Eastmark in Mesa, Arizona are just some of the 55+ communities across the country offering private studios and classes.