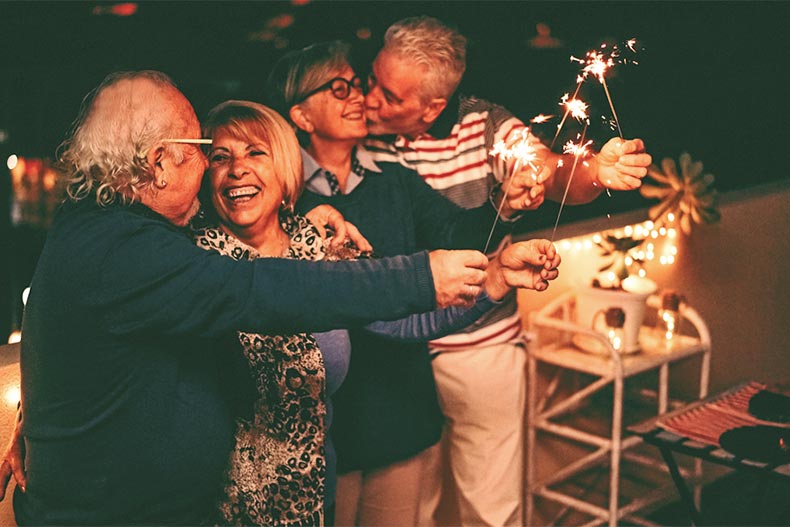 As hard as it may be to believe, the end of the year is nearly upon us. As such, people all over the globe are beginning to plan for how they'll celebrate the coming of the new year. If you're really looking to end the year on a high note, well why not host a party? What better way is there to end the year than by hosting a party while being surrounded by your closest family and friends?
For those living in active adult communities, there are a number of things to consider while planning out your party. Active adult communities provide a bunch of amenities that can prove advantageous when throwing a party so it's important to plan ahead of time in order to take full advantage. Read on below to learn more about throwing a party within your active adult community.
Step 1: Choose the Type of Party
The first thing to establish is what kind of party you want to host. If you're looking to have a large scale celebration in the community, it might be a good idea to see if you can rent out your community's common area spaces. Most likely, your community has some sort of common space, whether it is a multi-purpose room, a lounge area, or a large ballroom.
Whatever type of room it may be, check with your community to see if you can host a party in the space ahead of time. If you're looking to have a larger party, these spaces will be great for hosting dozens of people. Plus, if your party is open to the community, hosting it in a common space makes it easy for everyone to swing by and enjoy themselves.
On the other hand, if you do decide to host a party at your home, it might be a good idea to check with your community to see if you must adhere to any guidelines when throwing a party. This might include the level of noise, amount of people allowed in a single home, and so forth. But seeing as it is a New Year's party, your community won't likely enforce any strict rules.
Step 2: Choose a Time
Let's be honest. Staying up all the way until midnight can be easier said than done. But that doesn't mean a New Year's Eve party has to be at night. If you and your guests are the types to fall asleep early, then plan your party for earlier in the day.
Whether this means a party in the early afternoon or an early evening get-together, there's a lot of routes you can take with your party. But if you do decide to host a late night celebration, keep in mind that some others in the community might not be as excited to be up as late as you are. So be sure to keep the noise level at a respectable volume.
Step 3: How and What to Celebrate
Probably the most important thing to decide is how you want to celebrate. Want your party to be all about food? Then host a potluck where everyone is invited to bring their own special dish. This way, there'll be no shortage of delicious foods to try and everyone will be able to find something to enjoy. Another key thing to keep in mind is what kind of entertainment do you want. Whether it's board games, raffles, or other forms of group activities, make sure your guests have all the essentials they would need to have fun and stay engaged.
Finally, if your party is going until midnight, plan out how you want to do the countdown. Maybe you'll really embrace the spirit of the new year and have everyone decked out in 2019 themed hats and glasses, all while sharing a toast of champagne to celebrate the coming year. Or, if you want to keep things simple, you can sit everyone down to watch the New Years celebration on TV. However, you choose to end the year, make it a day to remember. So long as you get to celebrate with the people closest to you, it'll be a successful New Year's Eve party regardless of when and where it may be.