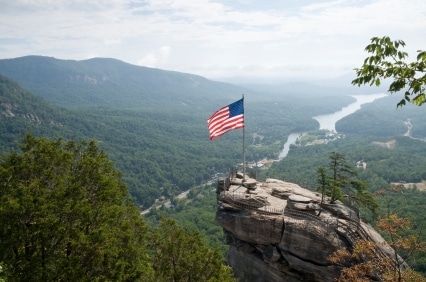 Retirees who prefer rural mountain vistas over sunny beaches may fall in love with Western North Carolina. The rustic environment is great for nature lovers or for those who want to spend their retirement in a more secluded, tranquil setting.
Yet, the region is also home to Asheville, a small city which has been gaining popularity as a retirement hot spot. Find out what makes active adults retire in Western North Carolina, and you might just want to move there yourself.
Western North Carolina Climate
Western North Carolina generally includes the westernmost portion of the state, and it is sometimes further broken down into three smaller regions: the High Country, Tennessee Valley, and the Foothills. It is quite rural, with Asheville being its largest urban center. Because the area includes the Appalachian Mountains, it is sometimes simply called North Carolina's Mountain Region or, more colorfully, Land of the Sky.
The climate and weather in Western North Carolina depends largely on a town's elevation. Asheville sits at around 2,000 feet above sea level and has a relatively mild climate year-round. However, towns that are higher or lower in the mountains (and more north or south) than Asheville will typically have temperatures that are either cooler or warmer.
Summers in North Carolina's mountains are generally comfortable with daytime temperatures in the 80s or low 90s, though the region can be rather rainy throughout the year. However, Asheville sits in a spot that is drier than most of the surrounding area. The winter months are mostly mild, with temperatures in the 50s or 60s, but they do occasionally bring some snow.
Abundant Outdoor Recreation
Outdoor recreation opportunities are plentiful in Western North Carolina. Visitors often come to the area for camping, hiking, fly fishing, horseback riding, or other outdoor pursuits. The region is very popular in the autumn during the peak of fall foliage.
In Asheville, the 62-acre Biltmore Lake is a great place for boating, waterskiing, swimming, and fishing. Local museums, historic sites, and natural wonders are popular attractions throughout the region. Biltmore Estate, the former home of George Vanderbilt, features an impressive 250-room mansion and extensive grounds with a vineyard and beautiful gardens. There are also many sites to see along the famed Appalachian Trail or the scenic Blue Ridge Parkway.
Asheville is a thriving small city which has managed to maintain its local charm. Music and the arts are prominent in Asheville, and the city hosts many seasonal festivals and art shows. Local talent is well represented, but the area also draws many big name performers, particularly during popular events like the annual Warren Hayes Christmas Jam. Downtown Asheville also features some fabulous Art Deco buildings which give the city a hip, nostalgic flavor.
Active Adult Communities in Western North Carolina
Active adults looking to relocate in Western North Carolina are more likely to find age-targeted communities than those with specific age restrictions. The Asheville area is particularly popular with relocating retirees. They can settle in a mid-sized community like Biltmore Lake or opt for more intimate neighborhoods like Pinebrook Farms or Bee Tree Village.
Western North Carolina may be too rustic for some retirees, but it does offer 22 active adult communities to choose from. However, it could be an ideal fit for those who long for a tranquil, scenic retirement complete with mountain vistas and rural charm.