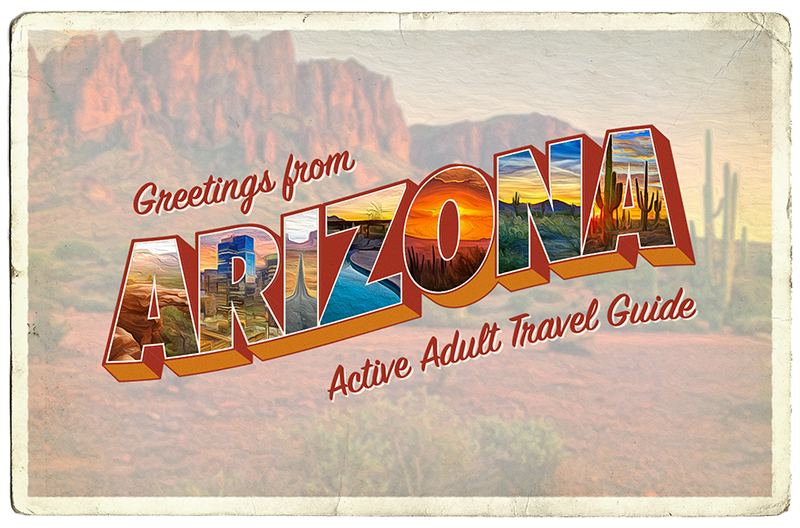 Arizona is a relative newcomer in relation to the American Southwest. The state itself is just over 100 years old, and while it's seen population growth since then, the advent of air conditioning is what really made it a destination. More recently, the Phoenix area is one of the fastest growing metropolitan areas and appears to be a long way away from slowing down.
Tourism in Arizona began in the 1920s as Tucson-area dude ranches became popular places for travelers to experience the American frontier. A decade later some of the first luxury hotels in the state opened in Phoenix. Post-WWII is when things really kicked off, as air conditioning became a staple and the Phoenix area began to grow and with it came attractions and visitors. Of course, this isn't even to speak of the state's many natural cultural wonders, from Pueblo dwellings to the Grand Canyon.
The beauty of visiting Arizona is the geographical and cultural diversity found throughout the state. Northern Arizona has a milder climate, expansive natural beauty, and quaint towns that offer things to do just steps from our nation's most popular natural wonders.
Central Arizona is perhaps the most popular for tourists, with Phoenix and its surrounding suburbs offering plenty to eat, do, and see. Then there's Southern Arizona, home to the eclectic city of Tucson which boasts festivals and art crawls all year, all while staying true its history.
So, where should you go when visiting Arizona? Below, we're taking a closer look at each popular region.
Northern Arizona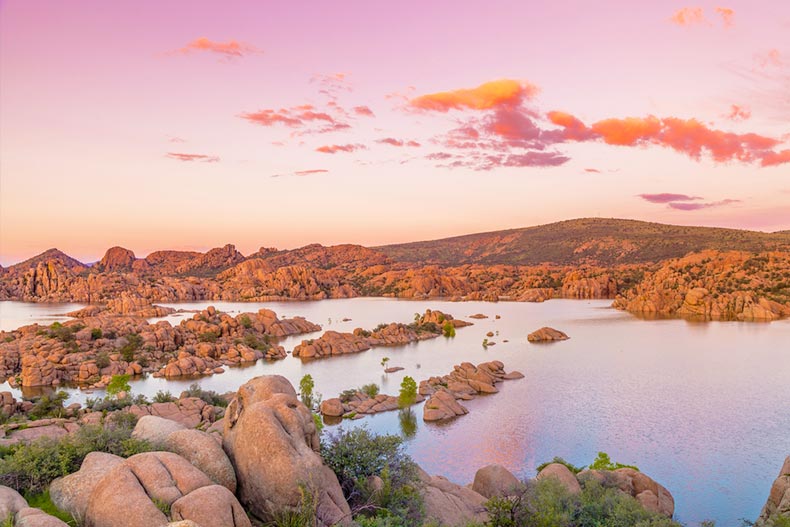 Spend some time at Watson Lake while you're here.
Top Cities
Northern Arizona cities are best described as outposts between the state's best outdoor recreation spots. Flagstaff is the biggest city in the region with a population of about 70,000. It's flanked by natural beauty, including the Colorado Plateau, Mount Elden, the San Francisco Peaks, and Humphreys Peak, the highest point in Arizona.
Prescott, while smaller, is another Northern Arizona city surrounded by natural beauty. Twice the capital of the Arizona Territory, Prescott is nestled between two national forests and includes several scenic lakes and trails.
Other notable cities in the region include Bullhead City, Sedona, Page, and Williams. Each of these cities features historical architecture, hotels, and resorts, and are surrounded by Northern Arizona's best outdoor attractions.
Top Attractions
National Parks and Monuments
There's no better place to start than one of the country's most popular natural parks. The Grand Canyon National Park has some of the best and most iconic views of the world's largest canyon. Currently the second most visited national park in the country, it is the jewel of Northern Arizona.
Between the North and South Rim, there are plenty of activities for visitors. Trekking through the North Rim is generally an individual effort as there few roads and few tours. Popular trails include the North Kaibab Trail, Widforss Trail, and Uncle Jim's Trail. All three lead to overlooks with incredible views.
The South Rim is more notable for its driving and walking tours that lead to some of the most popular and notable overlooks in the park. The Park Service provides free shuttles to and from the beginning of trails. Outside of the park, visitors can book flights from Phoenix, Las Vegas, or the Grand Canyon National Park Airport that will fly tourists over the Grand Canyon located outside of the national park. It is often said the Grand Canyon is one experience every American should have, so don't take our word for it, see it for yourself.
It's like trying to describe what you feel when you're standing on the rim of the Grand Canyon or remembering your first love or the birth of your child. You have to be there to really know what it's like. - Jack Schmitt
Besides Grand Canyon National Park, Northern Arizona is home to favorites like Petrified Forest National Park, Canyon de Chelly National Monument, and Navajo National Monument. The outdoor adventure extends into scenic regions like Monument Valley, Painted Desert, the San Francisco Peaks, and Red Rock Country.
Hidden Gems
As with most things in Northern Arizona, the fun is to be had outside. Come spring, Grand Falls in Leupp is a unique place to visit due to the brown and red color of the water as it crashes over the falls. The Navajo Nation also provides quite a few historical sites, including the Hubbell Trading Post, which was the traditional meeting point for the Navajo and European settlers. It features several historic buildings that can be toured inside and out. Other unique hidden gems include the Lowell Observatory, the Arizona Snowbowl, and a stretch of Route 66.
Things to Know
Northern Arizona is an outdoor lovers dream, so if that's what you're looking for in a vacation you can't go wrong in this region. Arizona as a whole has a reputation for blistering heat, but Northern Arizona has a much milder climate to enjoy.
It also sees much more precipitation than the southern areas of the state. That can sometimes result in snow, especially at the aforementioned Arizona Snowbowl. Another thing to know is that visiting Northern Arizona largely means driving. The area is home to a few regional airports, but if you're flying in it's best to fly into Las Vegas' McCarran International Airport or into Phoenix Sky Harbor International Airport.
Central Arizona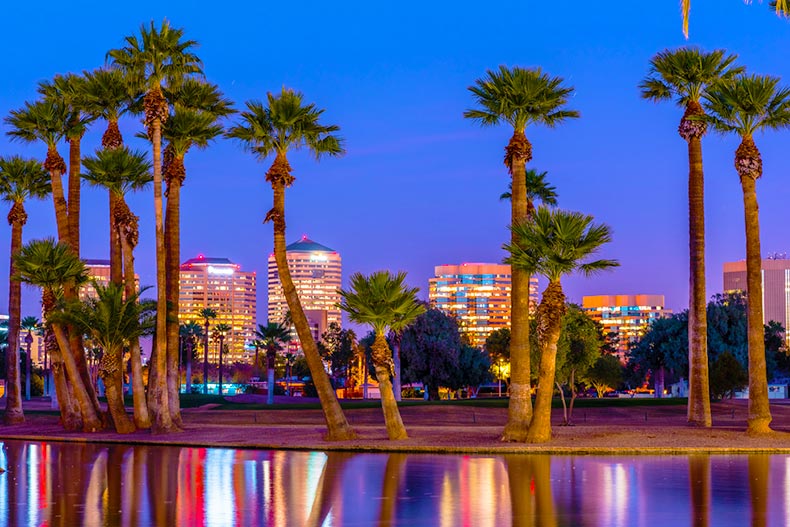 The lights of Downtown Phoenix reflect on Encanto Park lagoon.
Top Cities
Central Arizona is the most populous and most visited region in the state. Centered around Phoenix, the capital, the area is known for its entertainment options, cultural attractions, dining, and shopping scene. While Phoenix is the center of it all, plenty of the city's suburbs have a lot happening.
Scottsdale is known for its high-end lifestyle, from open-air malls to all the upscale chain restaurants you can imagine. Tempe is home to Arizona State University and a quaint downtown with plenty to see and do. Glendale is home to the University of Phoenix Stadium, home of the Arizona Cardinals and many events throughout the year. Other popular suburbs include Peoria, Mesa, Chandler, and Gilbert.
Top Attractions
Entertainment and Sports
The area has plenty of museums and science centers to visit, whether it's OdySea Aquarium, Dolphinaris Phoenix, Out of Africa Wildlife Park, or Butterfly Wonderland. Other fun things to check include indoor skydiving, scavenger hunts, the Heard Museum, the Phoenix Art Museum, and the Penske Racing Museum.
Professional sports are a big part of enjoying Phoenix. The city has teams in all four major professional leagues, so watching world-class sports is almost always an option. The NFL's Arizona Cardinals and NHL's Arizona Coyotes play in Glendale, while baseball's Arizona Diamondbacks the NBA's Phoenix Suns are in Phoenix. The area is also one of two hubs for spring training baseball. Represented by the Cactus League, there are 10 stadiums throughout the metropolitan area that host 15 MLB teams as they gear up for the season. A spring training trip is a must for any die-hard baseball fan.
Outdoor Recreation
The area's desert location means there are plenty of trails to be hiked and sights to be seen. The Desert Botanical Garden is a great place to take in the southwest's unique geography and flora. Great places for hiking include Camelback Mountain, Papago Park, South Mountain Park, or the more leisurely Tempe Butte.
Hidden Gems
With so many things to do in the Phoenix area, it's no surprise some events and sights slip through the cracks. One of them is Goldfield in Apache Junction, a restored ghost town that features shootout reenactments, a saloon, a zip line, mine tours, and much more.
Alwun House is a hundred-year-old bungalow turned non-profit art gallery just blocks from Downtown Phoenix. Hotel San Carlos was one of the first hotels with air conditioning in the state and it also hosted several movie filmings. It's a great place to stay for fans of Old Hollywood. Finally, when it comes to food, Taqueria El Fundado is one of the best and most overlooked restaurants in Phoenix, at least by tourists.
Things to Know
Obviously, Central Arizona is hot. If you want to enjoy the fun of the Phoenix area it's best to come sometime in late fall, winter, or early spring. Baseball fans should note that this makes Arizona a great winter and spring getaways for some spring training action. Central Arizona is easily accessible by flying into Phoenix Sky Harbor International Airport and Phoenix-Mesa Gateway Airport. Beyond that, for traveling around the metropolitan airport, getting a rental car is the best option.
Southern Arizona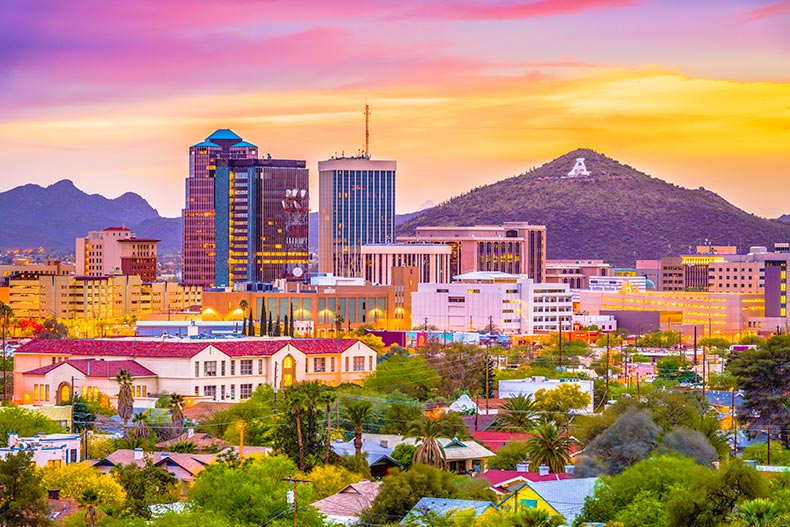 The city of Tucson at dusk.
Top Cities
The largest and most well-known city in Southern Arizona is Tucson. The second-largest city in the state, Tucson is known for its rich history, art scene, and variety of festivals and fairs it hosts year round. If you're traveling in Southern Arizona, it's likely you'll find yourself in Tucson at some point. While Tucson is the main city in the region, there are a few suburbs and former Wild West outposts that are of distinction, including Oro Valley, Sierra Vista, Yuma, and Casa Grande.
Main Attractions
Festivals and Fairs
Two of Tucson's biggest draws are the art scene and festivals. A few times a year those things collide. The Tucson Folk Festival in May celebrates national and regional musicians across five stages, all with walking distance. On hand are crafts, contests, food, and craft beer. The Fourth Avenue Street Fair in December is one of the city's biggest, taking place in December and March or April. Vendors set up booths of anything you can imagine while festival goers enjoy food and drink. Other events include All Souls Procession Weekend, the Tucson Rodeo, and the Tucson Festival of Books.
Architecture and Outdoors
The region is known for is historical architecture, including several famous missions. The most iconic is Mission San Xavier del Bac, a gem of baroque architecture. Old Tucson is a movie set and theme park great for movie buffs and fans of the Old West. Then there's the Pima Air and Space Museum, and the Tucson Museum of Art.
Much the like the northern parts of the state, Southern Arizona has plenty of mountains, trails, and recreation areas. Saguaro National Park is perhaps the biggest. It features the largest cacti in the world, the saguaro cacti, the only known place where they grow. Other popular spots are the Arizona-Sonora Desert Museum, Sabino Canyon Recreation Area, Seven Falls, and Gates Pass.
Hidden Gems
If you want to celebrate local and regional art, there's no better place to do it than DeGrazia Gallery. The gallery is actually a series of buildings that blend in with the desert around them, each hosting art by the late Ted DeGrazia. Tucson is a city known for its public art, one of the best and most underappreciated is the Diamondback Bridge. If you've ever wanted to walk through a snake while also walking on a pedestrian bridge, this is your chance. Finally, history or war buffs will enjoy the Titan Missile Museum, once an Air Force missile facility, now a unique museum.
Things to Know
Much like Central Arizona, Southern Arizona gets hot. It is a dry heat, but that doesn't make sweltering days much better. The best time to visit is from October to March, while sunscreen and a hat are always recommended. Getting to the region can be done by flying into Tucson International Airport or flying into a Phoenix airport and making the 110-mile drive southeast.