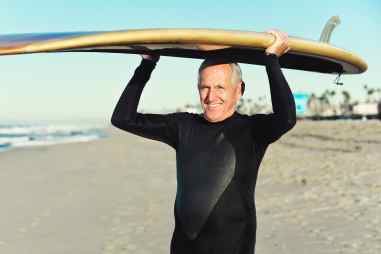 The Trilogy LifeScape Survey gave active adults a convenient and fun way to discover more about themselves and their ideas about retirement. Now that over 2,000 participants have taken the survey, Trilogy by Shea Homes has released its survey results, which clearly show that active adults are ready to live life to the fullest.
Trilogy LifeScape Survey Results
When it comes to their outlook for the future, 51.37 percent of active adults surveyed said that retirement is a time for re-invention and self-discovery. Many feel that retirement is different than it used to be (15.14 percent), and others see retirement as a time to play (8.12 percent).
Traveling is often listed as a top retirement dream, and it was an important goal for survey participants as well. Among the active adults who took the survey, 58.82 percent revealed that they are looking forward to traveling. However, when it comes to daily living, the desire to live within driving distance of family and friends was considered to be the most important factor in choosing a retirement destination.
Of course, local loved ones are not active adults' only source of socialization. When asked about collections, 53.58 percent of those surveyed listed collecting family memories as their top choice, and 37.28 percent said that they enjoy collecting friends on social networks. Further proving the point, Trilogy by Shea Homes tells us that over 85 percent of the 55 and older adults who took the survey found it through Facebook or Twitter links
Living within driving distance of family and friends may be important to active adults, but the survey also found that many respondents look forward to pursuing new interests and hobbies (42.82 percent), living near people with similar interests (35.94 percent), and having lots of activities to choose from (35.08 percent). Active adults who participated in the Trilogy Survey often cited an interest in having a more balanced lifestyle (50.89 percent) or becoming more active (46.18 percent). They understand that a healthy lifestyle includes exercising both the body and mind, which is reflected in the number of responses favoring family ties, social relationships, and having new experiences such as those discovered through travel.
"Today's boomers are still very active, adventurous, and connected, as our survey suggests. They want to travel and enjoy family and friends and are a vibrant part of the community," said Hal Looney, area president of Shea Homes Active Lifestyle Communities, in an official press release.