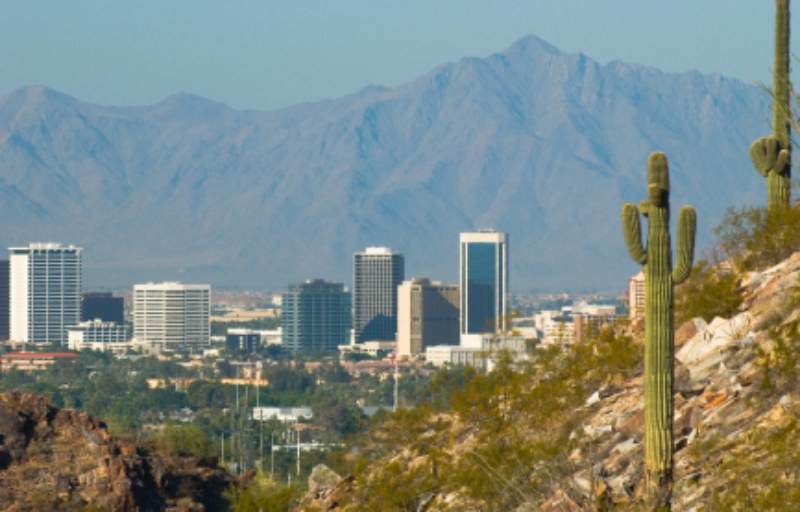 While you may know you'd like to retire in Arizona, pinning down a specific city can be a bit harder. Phoenix and Tucson are two popular retirement destinations to consider. These cities are less than two hours apart, yet they each have their own distinct features that appeal to different relocating retirees.
Phoenix Overview
Located in Central Arizona, Phoenix is both the capital city and the largest city in the state. It is also one of the most populous cities in the country, currently ranking sixth after New York, Los Angeles, Chicago, Houston, and Philadelphia. The Phoenix area is home to dozens of active adult communities, including Del Webb's original Sun City. Age-restricted communities range from sprawling developments with over 25,000 homes to intimate neighborhoods of less than 200 homes.
Tucson Overview
Tucson is located about 115 miles southeast of Phoenix. It ranks as the second-largest city in the state, yet Tucson's population is about one-third of the population of Phoenix. The smaller size gives Tucson more of a small-town feel, yet it still offers plenty of urban attractions, including a thriving art community. The Tucson area also includes many housing options for retirees with over a dozen active adult communities in a wide range of styles and sizes. From a financial standpoint, active adults may be able to find more affordable living in the Tucson area.
Home Prices
According to the Zillow.com city comparison report, the median sales price for homes is $171,300 in Phoenix and $148,800 in Tucson. However, home values are on the rise in both areas. Over the last year, values went up 12.7 percent in Phoenix and 11 percent in Tucson.
Weather
When it comes to climate, both cities provide hot summers and mild winters. Tucson's higher elevation typically causes it to be a bit cooler and wetter than Phoenix, yet both areas have many sunny days. In the city centers, Tucson's average temperatures tend to be about 5 degrees cooler. Yet there may be variations depending on the specific community chosen in either area. Snowfall is very rare in both areas, yet those in the Tucson area can enjoy skiing and winter sports at resorts like Summerhaven, at the top of Mount Lemmon.
Size and Access
With its larger size, Phoenix is bustling with more traffic and activity. However, an extensive, well-planned freeway system makes it easy to get in, out, and around the city. Tucson has just one major freeway, Interstate 10, which connects travelers to Phoenix in the north and to Interstate 19 and the Mexican border to the south.
With so many similarities, choosing between Phoenix and Tucson can be difficult. It often helps to start with a list of features you want in a retirement destination. Do you prefer a city or a town setting? How do you feel about the scenery and outdoor recreations? Tucson is surrounded by scenic mountains, while Phoenix has more lakes, rivers, and canals.
Before choosing either city, the best plan is to spend some time visiting both the Phoenix and Tucson areas. Visit during different times of the year and see which city speaks to you.