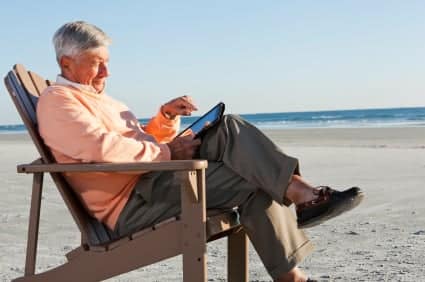 Have you ever thought about starting a different career during your retirement? Do you feel like you have more to contribute to the work force or miss the social camaraderie that you once had at the office? Well, you're in luck because there are plenty of alternative career options that retirees can check out. These aren't your traditional careers, but they still share similar qualities from your old job with social interactions and responsibilities. If you're thinking about getting a new job as a retiree, then check out these unusual and interesting career options.
Amusement Park Ride Attendant
Active adults can take up this seasonal or part-time job during retirement where they can earn extra money. If you love theme parks and don't mind children then this could work for you. You get to spend time outdoors, interact with people from various backgrounds, and watch thrill seekers ride roller coasters all day long. Working in an amusement park also means you're never too far to get some funnel cake or cotton candy during your break for a sweet treat.
Bartender
If you love talking to people and are comfortable making drinks behind the bar then a bartending job might be a great alternative career option. Retirees can enjoy the social atmosphere that bartending provides, and this career isn't limited to just the young and hip crowd either. Baby Boomers can take a few classes at bartending school and be on their way serving drinks at restaurants and bars. Other skills required for this job include a friendly personality, memorizing drink recipes, and great listening skills. Once you've mastered these skills, watch the tips roll in from returning customers.
Tour Guide
Apply your existing knowledge or work experience and educate others in a small group setting. Tour guides are typically needed for seasonal work during busy months when kids are out of school and on vacation with their families. Tour guides can work in museums, galleries, wineries, and historical sites where they provide information about a particular exhibit or showcase. If you are passionate about art or history and have extensive knowledge on the topic, then you can show off your skills and enlighten visitors with in-depth information about something you love.
Driver
If you enjoy driving and have a clean driving record as well as a valid driver's license and car insurance then consider a career as a driver. You can drive limousines, shuttle buses, cabs, school buses, or private car services for special events. With the rise of Lyft and Uber, drivers can also use these ride-sharing apps and their own cars to make money by picking up and dropping off passengers. Driving can be fun because you meet different people every day, explore a new part of the city, set your own hours, and make extra money with just a few rides.
Secret Shopper
Becoming a secret shopper is definitely an unusual but interesting post-retirement career option. Retirees who are self-proclaimed "shopaholics" will enjoy being secret shoppers because they are making money by doing what they love. Secret shoppers get paid to try new products or test out a rival company's item and give feedback through online surveys. Sometimes secret shoppers visit stores or restaurants and examine how they provide customer service or what marketing techniques are used to sell their products and services. Secret shoppers work as independent contractors with flexible, part-time hours.
Tollbooth Collector
Although it's not a luxurious career, and with more tollbooths becoming automated, jobs for tollbooth collectors are still in demand. This job requires you to sit in a small room collecting money for the toll from people driving through town. You'll need to know how to answer questions, work with the public, and handle money and make change quickly. You'll also need a lot of patience to deal with traffic noises, car fumes, and work independently with multiple shifts. Most tollbooth operators are employed by the state or city, and typically government jobs require applicants to have a minimum of a high school diploma or GED.
Message Board Administrator
The Internet is full of blogs and websites that have message forums where an online community comes together to discuss a topic or provide feedback. Message forums typically need to be monitored for spam or online bullying. A message board administrator, also known as a forum moderator or a forum leader, is the gatekeeper of maintaining message boards free from spammers, and negative online activity. Message board administrators ensure everyone participating in an online discussion follow forum rules in order to have an engaging and useful experience.
They also answer questions, encourage participation, or start new topic discussions within the online community. If you are Internet savvy and love being a part of an online community, then forum moderator might be a good career path for you to take on during retirement. You won't even have to leave your home!
Dog Walker
Another unusual career option for retirees is to become a professional dog walker. They typically make a decent hourly wage or flat fee if they have a consistent group of clients and obtain new customers due to positive recommendations and feedback. Dog walkers typically love to be outdoors and enjoy the company of furry friends. Not only do they have to love animals, but dog walkers also have to be well organized, on time, and professional. Also, retirees can increase their chances of getting more business and money if they have a dog handling certification to gain credibility with clients.
Would you consider an unusual or unique retirement career? We'd love to hear from you in the comments below!