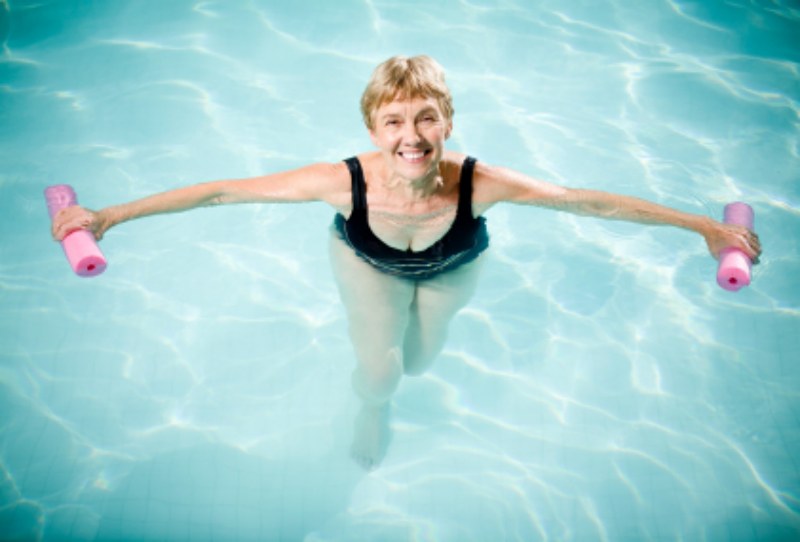 Water aerobics classes are often offered at active adult communities, yet preconceptions may keep some residents from signing up. Despite their popularity with older adults, water aerobics classes are not just for senior citizens. Healthy active adults can enjoy this low-impact activity as another beneficial aspect of their normal exercise routine. Water aerobics classes are easy on joints, great for meeting new people, and they are a lot of fun.
The Many Benefits of Water Aerobics
The most well-known benefit of water aerobics is that exercising in water reduces the impact on your body. This makes water aerobics an ideal low-impact exercise for those with osteoarthritis, those who are very overweight, or those who are recovering from an injury or surgery. Though, you should check with your doctor before beginning a water aerobics program, particularly after injury or surgery.
While water does cushion impact and reduce gravity's drag on your body, it also provides additional resistance. Moving your body through water takes more effort than moving through the air. To feel this for yourself, stand in water and simply pull your arms down to your sides. This resistance adds to your workout without the need for hand weights, resistance bands or other exercise equipment.
There is some debate over the number of calories burned during water aerobics, and this further depends on the specific exercises performed. However, a water aerobics class certainly is an activity that will exercise your body, particularly for those with physical limitations due to health problems or injury. In addition, water aerobics have some less considered benefits. As a group class, they promote social health and provide a network of motivation.
Being in the water helps keep your body cool as well, which can help prevent the overheating that can occur with other outdoor activities. Also, participants often feel less self-conscious when exercising under water. Bodies are relatively obscured by the water and missteps are unnoticed. Those who are uncomfortable in a bathing suit can easily cover up with a t-shirt and Lycra shorts.
Communities with Water Aerobics Classes
Many active adult communities across the country offer water aerobics classes. Just a few of these communities include Del Webb Naples in Ave Maria, Florida, Carillon North in Grayslake, Illinois, Lake Providence in Mt. Juliet, Tennessee, Solera Oak Valley Greens in Beaumont, California, and Frisco Lakes in Frisco, Texas. If you live in an active adult community and water aerobics sound like a class that might appeal to you, check with your Activities Director to see if there is a class available or if there is enough interest to merit adding a class to the future fitness schedule. Forget your preconceptions and give water aerobics a try, you may just find a great way to add some variety to your workout routine. Do you participate in water aerobics? Tell us about your experience in the comment section below!