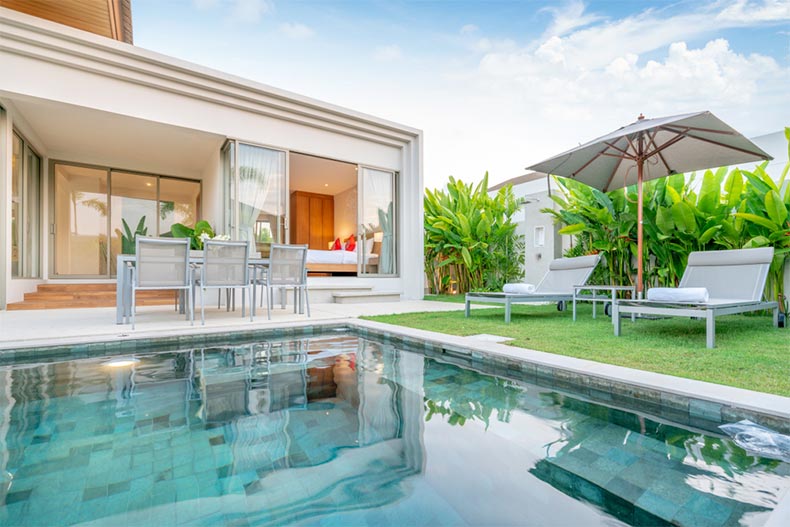 Over 150 of the active adult communities on 55places.com have "villa" in their name and many more advertise villa homes as one of their offerings. But what do communities and developers mean when they say "villa home"? Although the definition is broad, here's what to expect with a villa.
What is a villa?
The word villa is officially defined as a country estate or the rural residence of a wealthy person. Some people in the United States might still use the word villa when describing a large vacation home, but in British English, a villa can also be a detached or semi-detached urban home with a garden or yard.
When builders, developers, or real estate agents use the term villa, they usually mean an attached or semi-detached home that isn't necessarily large or luxurious. They often look or feel like a single-family home but can be attached to a neighboring house in a duplex, triplex, or quadplex layout.
Villas often feature outdoor space like a covered lanai, patio, porch, or garden. Like patio homes, a homeowners' association (HOA) for the community usually takes care of external maintenance and landscaping. However, patio homes are always attached, while some developers or builders may call a home a villa even if it's a single-family, detached home. Also, most patio homes (which can also be called garden homes or carriage homes) only have one story, but villa homes in active adult communities can be one or two stories.
Villa Homes for Sale
Many communities use the term villa in their name to envoke images of an intimate neighborhood with time for leisure. With its name, Tuscany Villas in California harkens back to the traditional idea of an Italian villa or estate. This small community of Italian-inspired homes has single-family models ranging from about 1,600 to 2,100 square feet. Windsor Villas in Milton, Florida also offers single-family homes in a similar size.
Many communities also advertise villas as a style of home offered. Here, the definition is usually what the builder or developer determines and can include attached or single-family homes.
At the new Avalon Trails in Delray Beach, Florida, homebuyers will be able to choose from eight attached models that 13th Floor Homes is calling villas. They range from about 1,300 to 1,600 square feet with two to three bedrooms and two baths. These homes are all single-story, with a one-car garage, patio, and lawn. Similarly, The Canyon Villas in the Denver area of Colorado offers six models of attached villas ranging from about 1,500 to about 1,800 square feet with two to four bedrooms and two to three baths.
On the other hand, at the new Taylor Villas community in Whitehall, Pennsylvania, the villa homes are single-family houses. They're similar in size to the attached villas with about 1,200 to 1,800 square feet, two to three bedrooms, and two to three baths.
Contact one of our experts today to find out more about villa homes in a community near you.