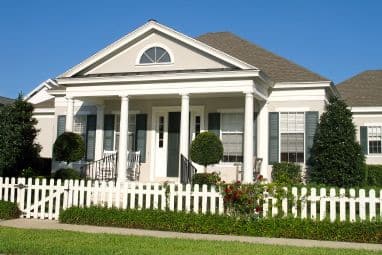 Owning your own home may be part of the American dream, but living in a planned community also means abiding by the rules of a homeowners association (HOA).
Choosing a home in a 55+ community adds age-related limitations as well. Is the active adult lifestyle overly-restrictive, or are there some valuable upsides to living in a community with rules?
General Rules
Many homebuyers like the idea of living in a resort-style community, but they are worried about being "ruled to death." They are afraid that they will give up all of their personal freedoms and find themselves in a Stepford-esque community with the homeowners association constantly peering over their proverbial fences.
Fortunately, that isn't quite the case.
While there are rules and restrictions within any planned community (age-restricted or otherwise), many homeowners find that the rules are very reasonable. They are designed to enhance the community rather than to make it overly-restrictive. Rules are often put into place to minimize neighborhood disputes and help protect the rights of every resident.
The basic rules and restrictions will vary from one community to another, but it's easy to see that many community rules are created to maintain property values. Communities frequently have rules about keeping up with exterior home or yard maintenance. They often have restrictions on making drastic aesthetic exterior changes without prior approval as well as on certain public behaviors that could upset neighbors and scare off potential homebuyers.
Community rules may prevent homeowners from leaving rusted cars on blocks in their front yard or from having loud parties that last late into the night. Yes, the rules may limit some of the things that you can do on your property, but they also limit your neighbors from making choices that would upset you or affect the value of your home.
Specific Active Adult Community Rules
Before buying into any planned community, homebuyers should have an opportunity to review the community's rules and regulations. This is particularly important for homebuyers considering an active adult community as there will be rules for conduct and usage of the community amenities.
Living in a 55+ community does not necessarily mean that everyone in the family has to be over the age of 55. Each age-restricted community has its own policy when it comes to eligible residents. In many communities, only one member of the family has to be over the minimum age, which is generally 55. Younger spouses or other members of the household may be allowed as long as they are over the community's minimum age, which is usually 18 but varies in each community's policy.
Similarly, the rules for visiting children may be less restrictive than potential residents realize. Most age-restricted communities are happy to have children visit. There may even be playgrounds or other special amenities for young visitors. There are likely to be restrictions on the length of extended visits (e.g. a month or longer) to respect the rights of other homeowners.
Active adult communities are created to foster a supportive, social lifestyle. While some rules and restrictions are necessary, they are designed to improve the community, not repress individual freedom. Before buying a home, make sure that the rules of the community fit your lifestyle. If they do, the restrictions will only help to protect your investment and support your retirement vision.