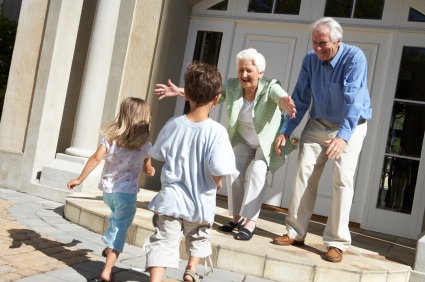 There are many reasons why active adults would decide to live in an age restricted community. Just as a young family may choose to live in a suburban neighborhood with many other school-aged children, active adults sometimes prefer living with neighbors who are at a similar stage in life. Choosing to live among adults does not mean that the residents dislike children.
In fact, most age-restricted communities welcome young visitors and may even offer specific amenities for visiting grandchildren. Active adult communities, such as Sun City Festival in Arizona and Sun City Huntley include playgrounds and parks specifically designed with visiting grandchildren in mind. Some active adult communities, such as PebbleCreek in Goodyear, Arizona, even offer a special grandchildren's pool for young visitors.
Things to Keep in Mind
Visits vs. Extended stay
While visits are encouraged, most age-restricted communities do have regulations to keep children and grandchildren from becoming permanent residents. Often these regulations limit the amount of time that visitors under the age of 18 or 19 are allowed to stay. These limitations vary from one community to another.
Some may only allow visits for a few weeks each year, while other communities allow grandchildren to visit for several months. Before moving to an active adult community, you should always ask about the guidelines for underage visitors.
Community events are for the community, not guests
Though grandchildren are welcome visitors in an active adult community, you should take care not to assume that every resident will want to share their clubhouse activities with young guests. Before your family visits, be sure to find out if there are any restrictions about when visiting children are allowed to use community amenities.
Amenities restrictions
Some age-restricted communities may have certain hours or days of the week set aside when grandchildren are allowed to use the clubhouse pool, game room, or other amenities. As a good neighbor, you should be aware of these guidelines and follow them to avoid upsetting any of the other community residents.
If there are designated grandchildren pools, playgrounds or parks, do encourage your visitors to use them instead of trying to bring them into areas that are intended for adults.
Holiday events
Holidays are a prime time for family visits and some active adult communities may plan special social events for visiting grandchildren. If there are currently no events planned in your community, it may be easier than you think to plan one.
Having breakfast with Santa Claus or storytime with Mrs. Claus can be a great way to entertain young visitors. A special holiday brunch or party that includes visitors of all ages can be a great way to meet each others' families and celebrate together. Those who are unable to visit with their own grandchildren over the holidays may enjoy attending as well or even want to help plan a holiday event.
Living in an active adult community does not restrict anyone from spending time with their families or having their children and grandchildren come for visits. Understanding and following the community's guidelines for young guests will show courtesy to your neighbors and help you to have a happy family visit.